After a 3-1-0 start the New York Islanders quickly went on a downward spiral going 2-7-3 in their last 12 games, reminiscent of their awful 21 game stretch last season. A key difference from last year to this year is they were able to bring up a reinforcement in Nino Niederreiter, the 5th overall pick in the 2010 NHL Draft, who made his season début Tuesday after being recalled from Bridgeport. He was quickly inserted into the third line along with Blake Comeau and Marty Reasoner, in the two games  he's played he's looked strong in getting to the front of the net and fighting for puck possession along the boards. As soon as he starts putting the puck in the net I'm sure he'll start his ascension on the Islanders depth chart.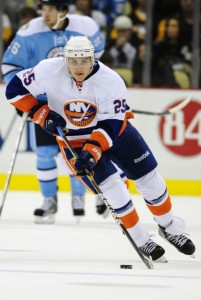 Their were high hopes for Niederreiter entering training camp, he skated mostly with the Islanders first line with John Tavares, and Matt Moulson before injuring his groin in the final preseason game causing him to miss the team's first 14 games. After being sent to Bridgeport for two weeks to get his legs under him he's back with the big club and ready to make an impact. After a nine game stint with the Islanders last season, where he became the youngest player to appear in a game and to score a goal in team history, he was returned to his WHL team and posted 70 points in 55 games in the regular season then 27 points in 21 playoff games. Those numbers opened eyes around the hockey world that he could become a major force for the Islanders this season and now he's out to show it's not how you start a season it's how you finish.
What stands out about Niederreiter is how big he is for a 19-year-old, listed at 6'2" 205 lbs he's almost as big as former Islander Alexei Yashin, and being an adolescent he's going to continue to grow and get stronger. His size enables him to get the front of the net and make a goalies life miserable, but also he has a very quick release and high hockey I.Q. helping him routinely find himself in the right place at the right time. Take a play from Thursday night's game v.s. the Canadiens, with less than a minute remaining and the Islanders clinging to a one goal lead. The Canadiens had the puck in the Islanders zone and as a Canadien player went to pass the puck along the blue-line Niederreiter slid feet first to break up the pass and knock the puck out of the zone causing precious seconds to tick off the clock. For a team that has continually struggled to get the puck out of their own zone a play like that can't be underrated.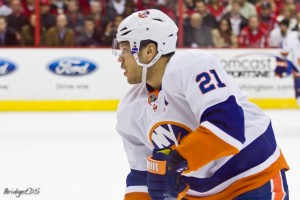 With Niederreiter fully entrenched in the Islanders lineup, forward Kyle Okposo has been a healthy scratch the past two games as coach Jack Capuano continues to try to find the right mix to get the team back on track. As I've said before a trade makes the most sense if they can find a willing partner, which shouldn't be a problem with the being able to trade talented under-achieving players such as Okposo, Josh Baily, Blake Comeau, or Evgeni Nabokov. But for now the team needs to focus on getting consistent secondary scoring from someone else besides Tavares, hopefully Niederreiter can be one the guys to lead that charge. Those may be lofty expectations for a 19-year-old but Niederreiter would seem to have the size and maturity of a veteran enabling him succeed sooner than a normal teenage player, but Islander fans need something to look for to give them hope the team can dig themselves out of this hole.