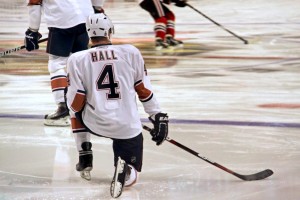 There's an old hockey cliche that says to have success, your best players have to be your best players. Earlier in the season, the Edmonton Oilers were getting strong goaltending and solid contributions from their young stars and were the surprise of the NHL. But with just one win in their past 6 games, the Oilers offense has dried up, particularly the offense of the kid line. Taylor Hall, the assumed future captain in the making, is enduring the dreaded sophomore slump, with just 2 assists and no goals in his past 6 games. He had 3 goals and 9 points through the first 11 games of the season, most of which were wins for the team. But Hall isn't the only young gun who isn't firing. Jordan Eberle has 1 goal and 3 points in his past 6 games, while Ryan Nugent-Hopkins has 3 points over that span as well. Those numbers for the most part aren't terrible, but for a team who struggles to score, and relies heavily on those three to carry the offense, it's a concern.
Other than Ryan Smyth, the secondary scoring has been hit and miss. After Smyth, Eberle and Nugent-Hopkins, no other player on the team has more than 3 goals. Smyth is the only player to hit 10 so far. In fact, other than the 4 afforementioned players, no one else has more than 9 points. Magnus Paajarvi, largely thought to contribute consistently to the offense, has yet to light the lamp this year, and has been a healthy scratch of late. Did the Oilers overachieve at the beginning of the season and have now settled into the team they actually are? By all accounts, it appears that way. Nikolai Khabibulin has struggled lately. He allowed 3 goals on 6 shots in a loss to the Ottawa Senators last night. The Oilers goals per game hasn't changed all that much, but one of the biggest reasons for their early success was the play of the goaltenders. Their stellar play masked for the most part, the struggle for the team to score a lot of goals. It's impossible to cover up now. The Sens won 5-2. And had just 16 shots on goal. By contrast, Edmonton fired 24 shots on Craig Anderson.
There's another hockey cliche that says no team is as good as people say when they're winning, and not as a bad as people say when they're losing. To label this season as another wash is premature at best. There has been progress in this young team, but the original problems cited before the season remains. The defense isn't strong enough and the goaltending is questionable. Can the Oilers challenge for a playoff spot? In a tough Western Conference, it won't be easy, but the team has to get back to all the little things they were doing right when they winning. Hall's current drought is something new for the second year player, but he's confident things will turn around:
"Last year, I don't think I went more than seven games without scoring, now we're at eight. It's new territory for me," said Hall. "But all it takes, sometimes, is one goal or a point or a really good shift that turns your game around. I know, personally, when I have confidence I feel like a different player out there." Like I said, there's a lot of things in my game I like right now, but I'm trying to fix a couple of things. Sometimes I'm skating past pucks – evidently I'm not in the right position in the offensive zone to get a lot of chances. I know if you get four or five quality chances a game, eventually you'll score. That's the way it is. I have to work on getting those and be good away from the puck." – Edmonton Journal
The team faces the Blackhawks at home on Saturday before embarking on another road trip. Things aren't going to get easier for the Oilers. But, things have a way of evening out in hockey. Hall will start to score goals again. As for a playoff spot, they're just taking it one game at a time.