If you have had the pleasure to watch the young Swede Gabriel Landeskog play for the Colorado Avalanche don't be ashamed if you confused him to be a veteran. Landeskog has wasted no time adjusting to the NHL game after being selected second overall by the Colorado Avalanche in the 2011 NHL Entry Draft. Thus far Landeskog has posted five goals, three assists, for eight points in nineteen games. Not to mention being an even plus/minus, getting 64 shots on goal, and maybe most impressively logging on average 17:47 of ice time a game.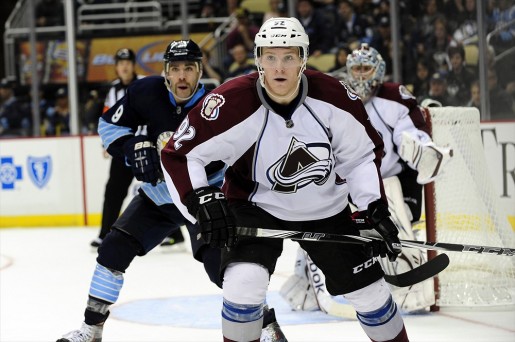 It isn't easy for a player to make his NHL club directly after his draft year, but last year scouts claimed he could have played in the NHL two seasons ago. He was claimed to be by far the most NHL ready prospect available in the NHL Entry Draft last Summer. Landeskog is no doubt everything they thought he'd be thus far. Though this is nothing new to Landeskog who is the youngest player to ever play in the Swedish Elite League at just sixteen years old. The Swedish Elite League is Sweden's pro league. Usually dominated by men. For a teenager to even suit up in that league is an accomplishment in itself.
Landeskog despite his NHL readiness still has ample room to grow. Landeskog will likely be the prototypical leader in the NHL. It's very likely that before Landeskog finishes his NHL career he will have a C stitched into his jersey. The Avs young core looks to be as bright as ever. Not since Sakic and Forsberg have the Avs had two prospects the caliber of Gabriel Landeskog and teammate Matt Duchene to build around.
Landeskog brings more to the game than scoring. Landeskog's versatility will allow him to play on all four lines this season, along with already seeing time on the penalty kill and power play. His strength and physical play, and acumen for the defensive end make him look like he's been a pro for ten years. As this season progresses, so will Landeskog. Landeskog will begin to put up more points, get more ice time, improve on the things he already looks so good doing. On a team that has seen more bad says than good recently Landeskog has been a glaring bright spot.
The Avalanche are far removed from their glory days when they won the Stanley Cup a decade ago. The Avs hope they can rebound and become contenders again on the shoulders of their young core lead by Matt Duchene and Gabriel Landeskog. Landeskog seems to be developing into the leader the Avs have lacked since Joe Sakic retired. A heavy burden – no doubt, but one he is surely capable of rising to.