The Flyers are headed to Winnipeg for the first time in fifteen years with some pretty good momentum they've acquired as of late. The Flyers are winners of four of their last five contests and have gained at least a point in the past 8 games. In fact, the last time they didn't gain a point was the crazy 9-8 loss handed to them at home by these Winnipeg Jets. This has propelled them right into first place in the Atlantic Division.
The Flyers will be looking for a much better result this time and a much more sound defensive effort than we saw on October 27th. It won't be easy as Winnipeg is once again one of the loudest buildings in the league, and definitely the most intimate with a seating capacity just over 15,000.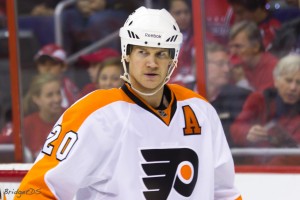 The Flyers did not have Chris Pronger in the lineup the last time they faced the Jets this season. Pronger had suffered an eye injury two games prior against Toronto. The Flyers had some issues last year and earlier this year playing without Pronger, but they seemed to have shored that up before Pronger's recent return. The defense has been looking much better lately, even before Pronger's return. "He's not here. There's nothing we can do about it," said Kimmo Timonen at the time, indirectly calling out his teammates. They responded. They responded in a big way to the tune of points in 8 straight games.
The Flyers will absolutely need to be more defensively responsible in this game than they were in the last game against the Jets. "You won't win many games when you have to score ten," Flyers head coach Peter Laviolette said after that loss. "We'll go back and we'll work on everything." They've worked on it indeed.
The Flyers hot streak and point streak will be heading into brutally cold Winnipeg, MB where as of the time I'm writing this article it is 1 degree farenheit. My friend in Winnipeg told me earlier it was 19 and snowing in the middle of the afternoon. That's hockey weather, eh? That also reminds many of the comments Ilya Bryzgalov made as a member of the Phoenix Coyotes last year when they were rumored to be moving to Winnipeg. He took some shots at the cold weather and the lack of attraction for potential free agents. "You don't want to go to Winnipeg, right?" Bryzgalov said at the time. "Not many people live there, not many Russian people there. Plus it's cold. There's no excitement except the hockey."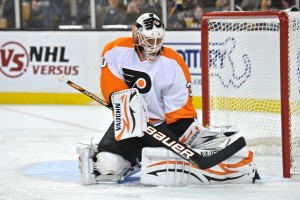 This will mark the first game in Winnipeg for Ilya Bryzgalov since his AHL days. Bryzgalov is sure to get heckled by the passionate Jets fans. Many of the Jets fans were critical of Bryzgalov's comments over the summer and I know many of them on my pal Darren Ford's JetsOwner.com forums had this date circled from the time the schedule came out. Not to mention the Flyers are always a good draw on the road.
Bryzgalov wanted to clear the air to reporters on Friday to let everyone know he meant no ill will, but I'm sure it's too late for the Winnipeg fans that are ready to heckle him all in good fun on Saturday afternoon. "We were losing, I was disappointed," Bryzgalov said. "Second of all, I don't want to move anywhere."
"I didn't mean it. I don't want to offend anybody. I sincerely apologize if I offended anybody."
The game will be the most important thing going on Saturday afternoon at 3 PM EST, but I'm sure the Bryzgalov chants and great atmosphere will ramp up the stakes even more. The Jets are on a little bit of a nice streak as well, with 5-2 and 4-1 wins against the Tampa Bay Lightning and Washington Capitals this week respectively. It all should make for a good Saturday matinee matchup in the 'peg. I won't be out there covering this one but I plan to make the trip in February.
With Jaromir Jagr out, the Flyers will depend on some of their younger forwards such as Matt Read, JVR, and Jakub Voracek to continue to step up. The chemistry gets better with each game. It's gotten better on both sides of the puck.
Max Talbot will look to continue his very solid play not just in his own zone but with some very respectable offensive numbers as well (11 points including 6 goals, and a +3 rating in 18 games).
With the Jets latest surge, the Flyers continued hot streak, a chill in the air and memories of the 90's and "The Coolest Game on Earth" campaign, it should make for a very special Saturday afternoon for the Flyers and the Jets and their fans.
Game Notes/Tidbits:
• This will mark the Flyers first regular season game in Winnipeg since March 22, 1996, a 4-1 loss to the Jets. Dan Quinn had the lone Flyers goal in that game from Eric Lindros and John LeClair. Keith Tkachuk had a four-point night with former Flyers goalie Dominic Roussel picking up the victory, with Ron Hextall taking the loss in his home province.
• Flyers forward Jaromir Jagr will miss this game with a lower body injury, and is questionable for Monday's game against Carolina. He did not make the trip to Winnipeg.
Justin Johnson is a Senior Correspondent and has been covering the Philadelphia Flyers for The Hockey Writers since the 2008-09 season. Justin has covered all levels of hockey across the United States and Canada. Justin is a graduate of Rider University in Lawrenceville, NJ and currently resides in Southern New Jersey.