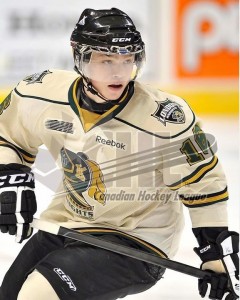 If you didn't know his last name was Domi, you would never guess that he's the son of a legendary hockey enforcer. Max Domi's elite offensive talent and vision have already made him a scoring threat in the OHL, even though he's only played 20 games with the London Knights.
The son of Tie Domi (best known for his scraps while with the Toronto Maple Leafs), Max plays a very different style of game than his father did. While Tie was a fighter, Max prefers to call himself a playmaker, but he also has tremendous goal scoring ability.
"I like to pass and make the guys around me better. It's a natural instinct for me to pass and not shoot on a two-on-one," he says. Whether it's a pass or a shot, opposing goaltenders are already beginning to fear facing Domi in any situation.
Max graduated from the Don Mills Flyers AAA program after last season, a season in which he offensively led his team to win 60 of 74 games, and the Greater Toronto Hockey League title. In an article from The Canadian Press, his former Flyers coach Bob Marshall had this to say about Domi:
"Max has outstanding offensive skills and instincts," said Marshall. "I think what gets lost with all his offensive abilities is how sound he is defensively and how hard he has worked to learn and continue to learn how to play in his own end and without the puck. Some kids are gifted and they just take it for granted and get by on that, but Max is one of the hardest working kids I have been around in practice and in his off ice training. I think that's what will separate him from the pack."
Coming into this season a lot of people were questioning whether Max would able to handle higher levels of hockey because of his size, and also because of the target automatically placed on him due to his last name. So far he's proving the doubters wrong.
Domi has 19 points through 20 games with the Knights this season and is leading all OHL rookies in scoring. He's a must-watch player every time he steps on the ice, and has already become one of London's top forwards. The fact that the Knights are the number one team in the CHL right now makes it even harder to believe that Domi's one of their best scoring weapons.
"He's an elite player," said Knights assistant GM Misha Donskov. "He's a great kid and a character player. He has vision on the ice and impresses everyone with the hard passes right on the tape."
Domi was originally selected eight overall by the Kingston Frontenacs last May in the Ontario Hockey League Priority Selection, just one spot ahead London, who chose Bo Horvat with the ninth pick. It became clear almost immediately that Max had pretty much no interest in playing for Kingston.  With one of Tie's best friends, Doug Gilmour, being the Fronts general manager, it was definitely an interesting situation. Max was drafted by the USHL's Indiana Ice earlier in the year as well, as at the time, it sounded like he would prefer to go the NCAA route, and play for the University of Michigan Wolverines further down the road. However, Domi did make it known that if  he were to play in the OHL, it would have to be for the London Knights, and no one else.
Since London was very interested in acquiring Max's services, they sent three second-round picks to the Frontenacs, two coming in 2012, the other in 2015. By drafting him and having Domi not show up for training camp, the Frontenacs also obtained a compensatory first-round pick in next year's first round. The trade appears to be a good one for both teams, as Kingston really loaded up on high draft picks, and London got exactly who they wanted.
Max was diagnosed with diabetes five years ago. His father Tie says, "When the doctor told him, the first thing Max said was 'will I be able to play hockey?'" The doctor looked at Max and said 'play hockey? Do you know Bobby Clarke had diabetes? He was one of the toughest players ever." That's the reason Max wears number sixteen, and it just so happens that Max's current roommate, Jared Knight, is also a Type 1 diabetic.
Max is clearly a player with a high skill level, and new Knights assistant coach Dylan Hunter will be one of the first to tell you so, saying this about the budding star:
"Max has exemplary skills. He is a very powerful skater with a strong stride, and for his age he's very hard to knock off the puck," said Hunter. "He's a tremendous athlete, who passes the puck hard — he doesn't chip it forward to his teammates, he wires it."
With a good mix of veteran forwards like Jared Knight, Tampa prospect Vladislav Namestnikov, plus Seth Griffith and Dane Fox, along with a great trio of 2012 NHL Draft eligible sophomores in twins Matt and Ryan Rupert, and Andreas Athanasiou, Domi will have lots of offensive mentors on the Knights this season, and he should be able to learn a lot from them. Max has been a factor in nearly every game he's played in the OHL, and he's been earning plenty of playing time on the penalty kill and powerplay.
Even though he plays a very different style than his father, Max is still making Tie proud, and he's certainly making London very happy they traded for him.