Follow Lukas on Twitter @LukasHardonk for more Leafs coverage.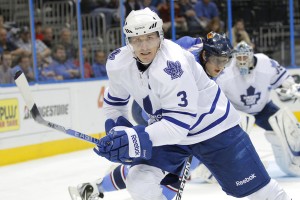 For whatever reason, the Toronto Maple Leafs have really been struggling to get back into the win column lately. They have lost five of their last six games, which is certainly enough reason for Leafs fans to get worried. However, unlike years past, there are multiple positives that can be taken out of this year's November slump.
For one, this time the Leafs have not stopped attacking. Over their previous three games alone, the Leafs have been able to put 109 shots on the opposing goalie; an average of 36.3 per game.
Phil Kessel has not slowed down one bit. By now, most Leafs fans are used to Kessel being in the midst of a goalless or pointless streak. This season has been different, though, and Kessel is still at the top of the league in both goals and points going into Saturday's action.
Another one? Alright, the Leafs' power play is still in the top-half of the league at 17.8 percent, again going into Saturday.
Are you starting to notice a trend? All of those positives come on offence. It can be difficult to find one in terms of defence, especially where goaltending has been a massive question mark over the last month.
With sophomore James Reimer currently on the Injured Reserve, netminding duties have been passed over to the inexperienced Ben Scrivens and the shaky Jonas Gustavsson.
Scrivens appears to have won the starting job, but that doesn't mean he's the answer. In his first seven games of the season (which are also the first seven games of his NHL career), Scrivens is 2-3-1 with a 2.95 goals against average and a .899 save percentage.
Gustavsson, 27, has played much worse. In nine games, the Danderyd, Sweden native owns a record of 4-4-0, a goals against average of 3.78 and a save percentage of .878.
This is why rumours of Marty Turco to the Leafs have been floating around the Internet. Signing Turco doesn't seem to make sense to this writer, though. Is it really worth it to spend the money on a 36-year-old guy who had a 3.02 GAA last season and would only be needed for about two weeks or so when the team is already just $530,000 shy of the salary cap?
No, it doesn't.
In fact, it doesn't really make much sense to make any sort of transaction at the moment, unless we are talking about a necessary minor-league contract.
Going into a season, each team has their roster set. It may seem like a cliché, but that roster is the one in which the team will live and die with. At the beginning of the season, we all saw what the Leafs are capable of; in other words, they were living. Now, in the midst of a rather unwelcomed slump, they are dying.
So, if it's not sensible to pull the trigger on a trade, a free agent signing or whatever else (including firing the coach), just what can be done? Well, right now all general manager Brian Burke can do is wait.
Let's go back to what was mentioned just a few sentences ago: At the beginning of the season, we all saw what the Leafs are capable of.
Toronto began the season 10-3-1, which gave them a sniff at first in the league and what it felt like to be a top-notch team; something that Leafs players have not been able to experience for quite some time. During that time, everyone was running on full gear.
Head coach Ron Wilson described captain Dion Phaneuf as the best defenceman in the league "by a country mile"; Phil Kessel was, and still is, leading the league in both goals and points; Mikhail Grabovski had notched 10 points already; Mike Komisarek had shown that he is an improved player; Jake Gardiner was still impressing; Joffrey Lupul was also near the top of the league in goals and points.
Those are just some of the players who were leading the Leafs at the time. A few of them are still playing the same way they were before, but others, such as Mikhail Grabovski, are not.
So here is what can be done about the Maple Leafs: Get some secondary scoring, clean up a few things in their own end, and get some consistent goaltending. All of these can develop if certain players can get back to the way they were playing; Grabovski is one.
In his past five games, Grabovski has no points and owns a minus-6 rating. It hasn't just been him, though. His linemates, Clarke MacArthur and Nikolai Kulemin, haven't been able to put up any points, either.
For MacArthur, it's just a matter of a slump. With Kulemin, though, nothing is looking good right now; he has just two goals and seven points in 19 games.
Those three are just an example. Other Leaf players that have room for improvement include Matthew Lombardi, Cody Franson and Ben Scrivens, to name a few.
If the Leafs can get those guys going again, it's only a matter of time before the Buds are back near the top.
Salary cap numbers provided by CapGeek.com.
Twitter: @LukasHardonk | Email: lukas.hardonk@gmail.com | Lukas' archive
For every Leafs article on THW, follow @THW_MapleLeafs on Twitter.
Lukas, a student at the University of Ottawa, covers the Toronto Maple Leafs on a part-time basis for The Hockey Writers. Contact Lukas at lukas.hardonk@gmail.com or follow him on Twitter, @LukasHardonk.