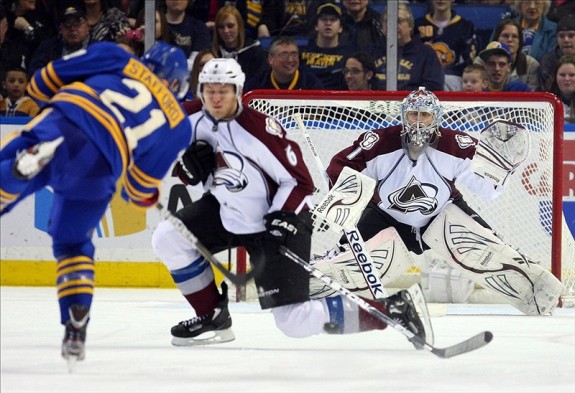 Everyone heard the numbers this year. The Colorado Avalanche possession numbers were among the worst in the NHL this season. Every Avalanche fan is very familiar with phrases like regression to the mean, and less mathematical phrases like crashing back down. Despite their poor possession numbers they went on to finish first place in one of the leagues toughest divisions. Eventually the inexperienced Avalanche were taught quite a stern lesson in the playoffs. Despite the early playoff exit it was a season to be proud off for Colorado. Detractors of the team will go on to say that unsustainable goaltending and shooting percentages will see Colorado come crashing down next season if defensive issues are not addressed this off season.
Defense is a key issue for Colorado, and it's one reason their possession stats were as bad as they were. If Colorado plan on keeping the same group of defenders headed into next season then they will likely need Seymon Varlamov to be every bit as good as he was this season. Sustainability is the name of the game in Denver. A below average defense is not going to win in the NHL. Every Avalanche fan will admit that apart from a few players the team's defense isn't going to be winning any championships on their own merit. So the question becomes what to do with the team, and do they need to look at the possession numbers when evaluating players for next year's lineup.
Colorado Avalanche F.C.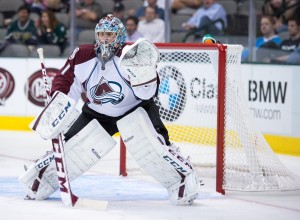 Understanding what Colorado did this season is very important when trying to improve the team in the future. The Avalanche had bad possession number, a good offense, and excellent goaltending. Every step of the way pundits were expecting the team to regress. The idea here is that if you let the other team have the puck then you're going to give up a lot of scoring chances. Yes, Colorado did let their opponents have the puck more a lot. It's not hard to see why Seymon Varlamov faced more shots than any other goalie in the league. He faced almost 300 more shots than the next goalie. This isn't a recipe for success, and Varlamov bailed the team out on many occasions. But there is a silver for Colorado and it involves their system. Colorado's man coverage system tries to limit quality scoring chances and keep teams to the outside. The team's speedy forward group try to force turnover, which is something they did rather will this season. Forcing turnover's and using a quick transition game was a basic aspect of Colorado's attack.
In their own zone they tried to keep the play out of the high percentage areas and force low percentage shots. Obviously this wasn't successful 100% of the time, but that was more to do with the talent available. Patrick Roy implemented a system that  worked best for the players he had at his disposal. The way he used his players in a system that played to their strength and attempted to cover over any weaknesses is one reason Roy is a finalist for the Jack Adams. For soccer fans, it could be said that Colorado play a counter attacking style. In soccer some teams are more than willing to concede possession to the opposition in hopes they will be able to attack quickly up field and catch the other team on a break. There are definitely some major differences between the two sports, particularly the size of the playing surface and hockey's physicality. However, for Colorado the concept is the same. Keep the opposition from penetrating towards the front of the net, keep the play to the outside and exploit turnovers with speed. It's not the system that will look good the advanced stats sheet, but if done correctly it can be effective.
Above is an example of the time of game Colorado plays. While Jonathan Toews does create a good scoring chance for himself, The Avalanche are quick to recover and move the puck up ice, creating a great scoring chance and a goal. This video is a perfect capsule for Colorado's season. On one end of the ice, a chance for the opposition quickly turned into a goal for Colorado going the other way. Toews is a world class player, so he's going to make those plays on even the best defenders. Colorado in that game did just enough to prevent Toews from scoring, and their quick break out did the rest.
Moving Forward, getting better
Colorado's style of play isn't something that should be relied upon for an extended period of time. As next season approaches it would benefit Colorado immensely, as well as the blood pressure of Colorado Avalanche fans to improve on their possession game.  Their man coverage system was successful but NHL teams have a way of adapting. Colorado needs to have a more varied defense moving forward. Upgrading the defense is important for Colorado, but to improve their possession numbers they need to things. 1, a good puck moving defenseman and 2, Tyson Barrie to continue his rise as a key part of the team's defense.
Colorado have two defenders who did a great job shutting down other team's top lines. In addition to players like Paul Stastny and Gabe Landeskog, the pairing of Erik Johnson and Jan Hejda kept opposing forwards off the score sheet with some regularity. On the other hand, Colorado was severely lacking a player that could move the puck with skill up the ice. Relying on Forward to start a breakout limits options moving forward, because it essentially takes one forward out of the rush. A few of Colorado's defenseman like Nate Guenin and Nick Holden, while they had their moments this past season, they never were all that good moving the puck up ice. Colorado need to find a defenseman that can move the puck and stretch the play. Teams like Chicago who have a defense that is capable of utilizing stretch passes, are very hard to play against. Colorado's formidable offense is capable of more if they have that type of trick up their sleeve.
Tyson Barrie is the closest thing to a solid puck moving defenseman that Colorado have. He had a breakout season for Colorado this year until Matt Cooke ended it in Game 3. He's still young, and has room to improve, especially in his own end. But what is so valuable about Tyson Barrie is that he's capable of organizing an offense moving up ice.
Tyson Barrie player grade from Adrian Dater of The Denver Post
But what has made him a very good player is his ability to get the puck in his own zone and get it out quickly, either with his fast feet or a slick pass. We always knew he had good wheels, but it wasn't until around the mid-season mark that something seemed to click in his mind and he became a much more confident looking player. He talked about it a lot with me and other reporters, and that's all it was that turned his whole season around — confidence. He gets most of the credit for his turnaround, though, because it couldn't have been easy for him early in the year, when his new coach didn't seem to have much confidence in him. 
It's likely that Barrie will continue to gain confidence considering his play this past season. It's important for the team that he does. His skill on the blue line is something that Colorado need more of. He's so good at all ends if the ice. He is a restricted free agent now, so Colorado do need to consider what he's worth and sign him. There isn't much doubt though, baring any unfortunate break downs in contract negotiations Colorado should be able to sign him.
Relevance, not regression
After one of the more surprising season's in team history there is a lot to like about the Colorado Avalanche. The young offensive core is one of the best in the league. Seymon Varlamov is making Greg Sherman look smart for making that trade and Patrick Roy has been deified by some fans. But the next season one is an important one, maybe more important. So many want to write the Avalanche off as a fluke, as a team that overachieved with the help of some kind of herculean effort from their goalie. Avalanche fans are not going to deny the holes in the team's lineup. But with a system that has been successful, and the potential for some off season acquisitions, it's not impossible for Colorado to continue to get better. Step one is improving their defense. The style they played this year can work, but moving forward they need to be adaptable, because when an experienced team figures out the best way to beat Colorado's man coverage, they need to have options. They are a young team and the potential is there.