It seems that on a week-to-week basis the Metropolitan Division standings are just not budging. They look the same every time you check. Washington is alone in first place while Columbus, Pittsburgh, and the NY Rangers follow in order. Because the division has been so good, nobody has been able to completely separate themselves from the others.
The Capitals are 44-14-7 and, as of this writing, hold a five-point advantage over Columbus and Pittsburgh for the division lead. They looked like the best team before the deadline but after acquiring defenseman Kevin Shattenkirk from St. Louis, it is inevitable that Washington will repeat as winners of the Presidents' Trophy.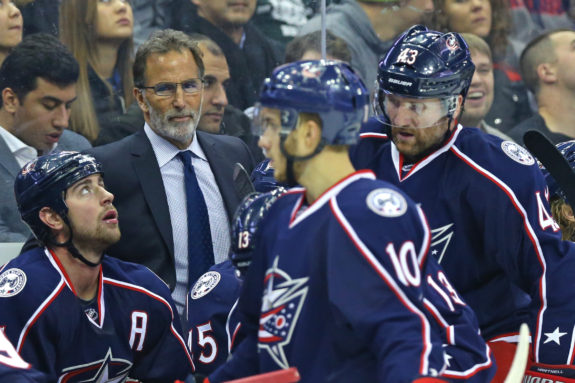 But what if I told you that the Columbus Blue Jackets will overtake the Capitals and win the Metropolitan? You probably wouldn't believe me. Heck, I might not even believe myself. But I'm going to give you a couple of reasons why you could buy into this idea.
Post-Bye Week Performance
The bye week had a different effect on Washington than it did on Columbus. The Caps dropped their first two games out of the break a week before the Jackets took theirs. Columbus came out refreshed after five days off, throttling the Islanders 7-0 and Rangers 5-2.
Before Thursday's game in San Jose, Washington held a 5-3-1 record since their bye week, outscoring opponents by a slim margin of 20-18. Columbus is 5-1-1 since their bye week with shutouts in four of those wins and they have outscored their opponents 20-6 during that stretch.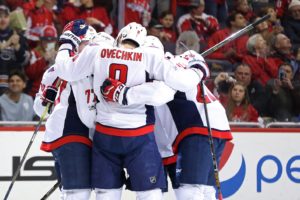 It's not like the Capitals are falling off the map but they're not winning games at the pace they had been. Meanwhile, the Jackets are generating momentum while gaining ground on the Caps. At this rate, it is possible for the Jackets to regain the top spot in the division for the first time since their 16-game winning streak.
Strength of Schedule
The remainder of March looks favorable for the Jackets. They beat New Jersey twice in three days, outscoring them 5-0. After that, their following eight games are: Buffalo twice, Philadelphia, Florida, NY Islanders, New Jersey again, then Toronto before facing Washington on the road.
Fifteen of their final 19 games consist of New Jersey, Buffalo, and Philadelphia three times each, Toronto twice, Florida, NY Islanders and Carolina. All of these opponents could miss the playoffs. Now they also play Chicago, Pittsburgh and Washington twice but that's only four games against Stanley Cup contenders.
On the contrary, the Capitals start a five-game stretch on Thursday against San Jose then follow with Los Angeles, Anaheim, Minnesota and Nashville. Only six of their last 17 games are against teams currently outside of the playoffs. They have a difficult schedule down the stretch opposed to what Columbus has left on their plate.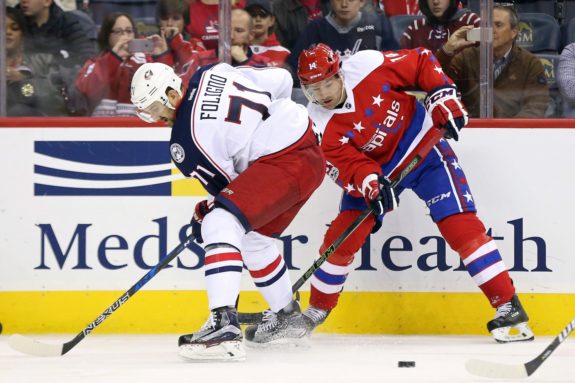 Extremely important to note is the fact that Columbus and Washington square off twice in the last three weeks. Those games could determine who comes out on top of the division.
The Metro Is up for Grabs
Don't think for a second that it's only a two-team race.  As of this writing, Pittsburgh is deadlocked with Columbus with 90 points for second place then there's the Rangers at 88. However, they have played more games than the top three teams in the division.
So, three or four teams could still win this loaded Metro, not just the Capitals or Jackets. But Columbus has been revitalized and looks like a team destined to overtake the top spot in the Eastern Conference. Again, not saying it's bound to happen. I'm just saying 'watch out' because the Jackets are hot again.