The Winnipeg Jets have made some great draft choices since the franchise returned to Manitoba. Good enough that the Jets were named the 2019 Stanley Cup champions. Or your 2020 Stanley Cup champions, if you caught Devin Slawson's 2015 article from The Hockey Writers.
From 2011 to 2016, the Jets have drafted regular roster players like Adam Lowry, Jacob Trouba, Connor Hellebuyck, Josh Morrissey, Nic Petan, Andrew Copp and Nikolaj Ehlers, plus Manitoba Moose contributors like Eric Comrie, Jack Roslovic, Chase De Leo, Kyle Connor and J.C. Lipon. That lineup is impressive and enough to give the Jets some firepower in 2019.
But there are two picks that stand out over the others. One of the picks was luck. The other was an example of good drafting.
Winnipeg's First Ever Draft Pick
Before the Jets even had a logo, they had drafted a kid who they hoped would be their new number one center. However, it was not the player most people thought they would draft. With the seventh overall pick, most scouts assumed the Jets would draft Sean Couturier, another highly ranked center.
Instead, they took Mark Scheifele, the 16th ranked skater by Central Scouting. The Hockey News had him being selected 30th by the Toronto Maple Leafs. Some Winnipeg news outlets thought the Jets were reaching with this pick.
Most Points Since Jan 1, 2017:#Bruins Marchand – 39#Caps Backstrom – 37#NHLJets Scheifele – 35#Sabres Eichel – 33#Blackhawks Kane – 33

— Sportsnet Stats (@SNstats) March 9, 2017
Six years later, the critics have been silenced. Scheifele is now considered one of the elite centers of the League. Many thought he was snubbed from the All-Star Game this year. He's been much more than Kevin Cheveldayoff and company could have hoped for.
The New Finnish Flash
Of course, Scheifele has had a bit of help this year. When the Jets snagged the second-overall pick in the 2016 draft lottery, they used it to select Patrik Laine, the biggest hockey name to come out of Finland since Teemu Selanne.
Patrik Laine's goal total also has him in a tie for 2nd on this list of fine rookies from Finland- well behind another great to play for WPG pic.twitter.com/M3821UGgHG

— StatsCentre (@StatsCentre) March 5, 2017
Some have referred to him as this era's Finnish Flash. He's received praise from many people, including Selanne himself. His scoring prowess has impressed many, including himself. He has scored more hat-tricks than any other 18-year-old in NHL history, leads the rookie goal-scoring and point race and looks to be taking a serious run at both the Calder Trophy and the Rocket Richard Trophy. Laine has already been named an All-Star and it will likely be the first of many.
Better Together
As good as each player is on their own, Scheifele and Laine have devastated opposing goalies while playing together. Whether Scheifele is setting up Laine for the one-timer, or Laine is getting to Scheifele down low, these two seem to click.
What a pass from Patrik Laine. Really sold the shot. pic.twitter.com/SErlBjBA8w

— Brady Trettenero (@BradyTrett) March 5, 2017
Dynamic duos aren't new. Within the top-30 scorers in the NHL this year, you have combinations like Jamie Benn and Tyler Seguin, Patrick Kane and Artemi Panarin, Nicklas Backstrom and Alexander Ovechkin, or  Evgeni Malkin and Phil Kessel. Another duo in that group? Scheifele and Laine, who sit sixth and 14th in scoring.
Could Scheifele and Laine go down as the next Brett Hull and Adam Oates? They have a long way to go, but less than one season into their time together, they are trending in the right direction. Yes, there is a lot they have to work on. But combined, both players are still younger than Jaromir Jagr. Other parts of their game will come.
Third Man In
A forward line is not complete without a third player. Scheifele and Laine are dynamic together, but they need another. Paul Maurice had Ehlers on that line for a while before moving over to Mathieu Perreault. Which player is better on the other wing? Is there another option?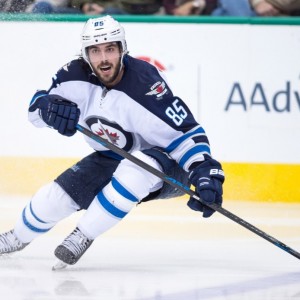 Mathieu Perreault
Since returning from injury, Perreault has basically lived on the top line with Scheifele and Laine. Maurice seemed to be expecting him to bring a veteran presence to a line that was all under the age of 23.
Whether it's the veteran presence helping or not, something is working. Perreault has 12 points in 15 games, while Scheifele has 17 and Laine has 18. Perreault has also scored on 10.3% of his shots.
Before he got on the line, Perreault only had 16 points in 36 games, while only scoring on 5.3% of his shots. While Scheifele and Laine's points-per-game are slightly up since Perreault joined the line, it doesn't seem that his presence is truly causing a difference in their offensive game. It has, however, helped Perreault immensely.
Nikolaj Ehlers
Before being paired with Blake Wheeler and Bryan Little on the second line, Ehlers was tearing it up with Scheifele and Laine, scoring 45 points in 53 games, while Scheifele and Laine were at 51 and 41.
Nikolaj Ehler is already one of the most electrifying and entertaining players in the #NHL. Tremendously talented player. #nhljets pic.twitter.com/eBHENHIGtj

— Grady Sas (@GradySas) January 24, 2017
Since the switch 15 games ago, his points-per-game has dropped from 0.85 to 0.60. More interesting is that both Wheeler and Little's numbers have also dropped (though Little was on fire after coming back from his injury and has since cooled down).
Part of this has to do with being used in a different role, but it's also possible that Ehlers' style doesn't quite fit that of Wheeler and Little.
Nic Petan/Kyle Connor
There isn't enough evidence to support either theory, but it's possible that either one could slot into that third spot on the top line.
Connor has been described as a "dynamic two-way center with speed and creativity to burn." With the incredible shot of Laine and the great finishing ability of Scheifele, could the line use a fast, creative player on the other wing? It sounds a lot like Ehlers.
Petan is also an option on that wing. Like Connor and Ehlers, he is a fast and creative player. A little smaller, standing at five foot nine, Petan isn't exactly afraid of getting dirty if needed. Maybe that passion is what's needed to fill that wing.
Jets' Future
It almost doesn't matter who fills in on the wing. Scheifele and Laine are going to stay a dynamic duo for the rest of this season. The future is always unclear, but it looks like the Jets are going to have many great years with these two running the ship.
Stanley Cup champions of the past all have a couple of players that stand out above the rest. The Jets have two of the brightest young stars in the game and they are only going to get better. The season may be lost, but the future is looking great.
Judson Rempel was born and raised in the Great White North, skating on ponds and watching hockey every Saturday night in small town Manitoba. When he's not watching hockey, he's playing hockey with his son and daughter, and trying to convince his wife to let him watch more hockey.