Another game and another lackluster Vancouver Canucks performance. Vancouver was in San Jose Monday night and dropped a 3-2 game to the Sharks. The loss has the Canucks trailing Minnesota in the Northwest and barely hanging on to fourth in the Western Conference.
With a day before the NHL trade deadline can the Canucks be saved?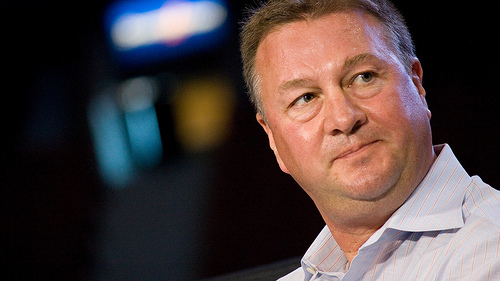 It seems unlikely. There may not be a deal big enough for Vancouver to make that will solve all of their problems.
Before losing to Edmonton on Saturday the Canucks had ripped off six straight wins. Those wins were important but they may have hid some problems. They only scored three or more goals twice in those games and relied on some spectacular goal tending from Cory Schneider.
Vancouver needs help but is there any available?
Too many issues to address?
Vancouver has a myriad of issues this year and there doesn't seem to be one player who can solve them all. For starters, they are paper thin at center. With Ryan Kesler still out with an injury, and no guarantee that he will be effective if and when he returns they Canucks have had to rely on a mish-mash at center.
They have moved Alex Burrows to center for the moment — a position he had not played before this year. They have called up, sent down and called up again both Andrew Ebbett and Jordan Shroeder. The two have played in 45 games and have put up a combined 13 points. That's just not going to cut it.
Kesler is rumored to be back within the week which could relieve some of the need at center, but they still could use an established third line guy. That is of course, if Kesler is healthy and can stay healthy — hardly anything you would want to take to the bank.
Vancouver also has struggled on the power play and are currently ranked 29th in the NHL with an ugly 12.8%. They need help there as well.
They have also had some inconsistent play on the back end and are getting no secondary scoring. Jannik Hansen is tied for third on the team's scoring list. Hansen has played well this year but he should not be relied on to provide the third most points on the team.
With this many holes, it seems unlikely that they can all be solved at the deadline.
Lack of assets
Another issue with the Canucks is that they don't have a ton of assets to offer a potential trading partner. Sellers are usually looking for a player that they can control long term in return for a veteran. These are your younger players, prospects.
With what seems like every team in contention there may be a limited number of teams selling this year. That will bring the price up and Vancouver may have to give up more than they want or miss out entirely.
The Canucks do not have an abundance of high level prospects that they can part ways with in the first place. They just called up Nicklas Jensen, perhaps their top prospect, and they have last year's number one pick in Brendan Gaunce who is still in junior. Both are nice players but it is hard to imagine other GM's drooling over them.
They have some decent goaltending prospects in Eddie Lack and Joe Cannata who might garner some interest but again, it seems likely they would get moved.
Even if you did move a prospect you are weakining what is already a questionable prospect pool. Mike Gillis has talked about the need to get younger and sending off prospects feels like it would defeat that purpose.
The Canucks could move some future draft picks but should be careful in doing so. As the team begins to age they may need those draft picks to re-stock the team.
Luongo
Without a doubt, the Canucks biggest asset is Roberto Luongo. It's the trade that the entire hockey world has speculated about since the summer. Is it time to move him now?
Not necessarily.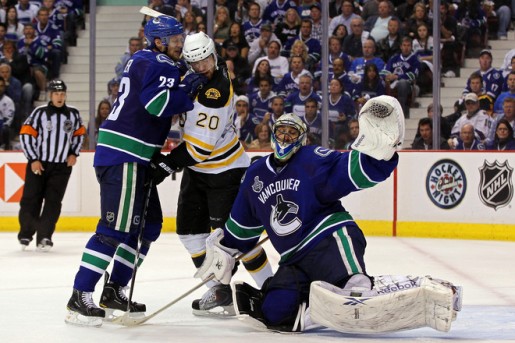 There may not be a huge market for the goalie at the deadline. Most teams in contention are already set at goalie and would not be interested at this point of the season. It seems that there is only one player — The Toronto Maple Leafs.
A Luongo to Toronto deal has been rumored to be on and off and on again since what seems like the end of time. The Maple Leafs have had inconsistent play in net all year and Luongo would be a huge get for them.
The problem for Vancouver is that they may be the only bidder right now and that will drive the price down. The rumors are that Vancouver is asking for Tyler Bozak.  Bozak is a nice player, and if Kesler comes back, could be a nice addition. But it is hard to imagine him putting the Canucks over the top.
Bozak is in his last year of a contract and Gillis has said he doesn't want a rent a player. Trading Luongo for a month of Bozak smells like a fleecing of some sort.
Vancouver may be able to get a better deal for Luongo in the summer, as teams are stacking up and more likely to give up more in return.
Stay the course
What is most likely to happen at the deadline is that Vancouver will make some 'depth' moves. They don't have the assets or the trading partners to make a splashy big time move. One that will make them favorites.
The better route, or at least most realistic one, seems to be to pick up some depth guys and try to win with stingy goaltending, tight defense. Something that has worked for them at times during this season.
Will that work in the playoffs?
It did last year as the Kings were hardly an offensive juggernaut. They also managed to win the Stanley Cup with a power play that was limping along at 12.8%. It might be Vancouver's best option at this point.