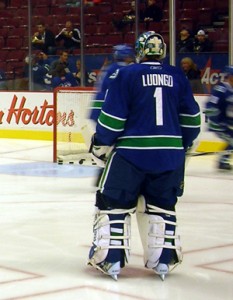 Almost a year ago rumours surfaced that Vancouver Canucks goaltender and former captain Roberto Luongo was on the trade market. Since then, Canucks GM Mike Gillis has been unable to move Bobby Lou for the assets he feels his team requires in return. There are less than two days remaining until the NHL trade deadline occurs and if Gillis can't make a deal in that time frame he will enter the Stanley Cup playoffs exactly how he did one year ago – with two starting goaltenders and one net.
Gillis has his back against the wall. A few months ago it may have seemed as though trading Luongo would be done before the season began. Rumours circulated last Summer and into the lockout that a Luongo trade to the Chicago Blackhawks, Florida Panthers or Toronto Maple Leafs were all possibilities. Some speculation even implicated the Philadelphia Flyers as a destination for the Canucks' former leading man. For various reasons, none of those alleged scenarios have transpired yet.
Luongo to Chicago seems impossible now. After losing in the first round two straight times the Chicago Blackhawks may have been exploring the possibility of improving their goaltending before this season started. However, given the domination they have showcased thus far, that deal appears to have no chance of happening now. Blackhawks goaltenders' Corey Crawford and Ray Emery have both been excellent this season for a Hawks team that is primed to finish first in the Western Conference and enter the playoffs as one of the best defensive teams in the league. Trade rumours aside, given the recent history of the Blackhawks/Canucks rivalry, it's easy to believe Luongo to Chicago was never actually close to happening.
The Florida Panthers don't seem interested in Luongo. And why should they be? The Panthers are going to miss the playoffs again this season. It feels like they've been rebuilding for the last fifteen years, and after many disappointments and under achievers in their stable of prospects they now have one of the best young trios in the game. Goaltender Jakob Markstrom, D Erik Gudbranson and C Jonathan Huberdeau form a very impressive trio at key positions. The Panthers could possibly benefit from adding Luongo now, but at what cost? Definitely not one of the blue chip prospects mentioned above. And what does Florida do if Markstrom and the boys come around at the same time but Luongo's big contract prevents them from adding the pieces they need to become a contender? Florida isn't exactly a rich NHL team. Not getting Luongo seems like a risk worth taking.
http://www.youtube.com/watch?v=klKlHw8oSok
A lot has changed regarding Luongo to the Toronto Maple Leafs. Before the lockout shortened season began the Maple Leafs were a team that hadn't made the playoffs in eight years and could be desperate to add a franchise player like Luongo. This year the Leafs have surprised and now look to be a playoff bound team, making any trade over the next few days very difficult for Leafs GM Dave Nonis. On November 30, 2012 Sportsnets' Daren Milard Tweeted:
" I have heard bozak and kadri and I think Luongo is a Leaf post lockout"
If that was ever a possibility it probably isn't anymore. Kadri's having a breakout year, sitting 6th in league scoring with less than a month remaining. Even if the deal were now just Luongo for Tyler Bozak the Leafs may not want to do it. Their goaltending has been good enough to see them playing well above 500 and Bozak is their first line centre.
A Luongo deal could get done over the next few days. According to TSN's Farhan Lalji the Canucks are currently in talks with four teams about Luongo. Lalji Tweeted today:
" Gillis re #Luongo, "we're talking to 4 teams with varying levels of activity and various proposals" #canucks "
Kipprusoff and Miller could be competition for Mike Gillis. If the rumours are true that Calgary Flames' Miikka Kiprusoff and Buffalo Sabres' Ryan Miller are also available it could make trading Luongo ever harder over the next few days. Gillis may have too high of a price and not be able to pull off a deal, especially if the amount of available goalies exceeds the amount of interested buyers. For Gillis and his Canucks, everyone would be better off if they could put this situation behind them and avoid having it as a distraction when the playoffs begin.
Featured Writer | Contributing Leafs Writer for TheHockeyWriters.com | Editor & Founder at TheHockeyDaily.com | FOX Sports affiliate | Yardbarker Network | Follow on Twitter @S_Ientile & @TheHockeyDaily for daily hockey featured stories and discussion.