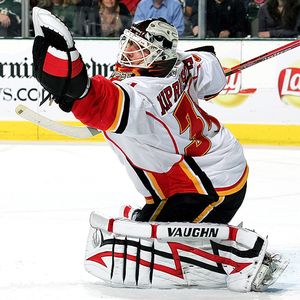 After months of speculation that the Toronto Maple Leafs would eventually make a move for Vancouver Canucks goaltender Roberto Luongo, it appears as if the Toronto Maple Leafs are looking elsewhere.
According to TSN, the Maple Leafs have been granted permission by the Calgary Flames to speak to goaltender Miikka Kiprusoff's agent and have also discussed a possible contract extension.
This latest news comes on the heals of Sportnet's Nick Kypreos report via Twitter that Kiprusoff told the Flames that "if they trade his rights he will not report", citing family reasons.
Kiprusoff, 36, added a son (his second child) to his family last week. With his newborn son undoubtedly taking up much of his time nobody could blame Kiprusoff for not wanting to make wholesale changes to his life, but with the Flames recently dealing captain Jarome Iginla to the Pittsburgh Penguins and the team clearly in a re-building mode, Kiprusoff may want to reconsider.
For the record, Kiprusoff does NOT have a no-trade clause and he has one year remaining on a six-year deal that carries a cap hit of $5.833 million US per season, his actual salary for next season is just $1.5 million.
With the Flames granting the Maple Leafs permission to speak to Kiprusoff's agent one has to believe there is a deal in principal on the table. Kiprusoff may be looking for as many as three years on an extension. Given his considerable achievements, Kiprusoff could demand as much as $5-$6 million per season, which the Maple Leafs would likely deem affordable and a good length.
A perennial Vezina Trophy candidate, Kiprusoff has registered a career 317-208-7-69 record to go along with a .0912 save percentage, 2.48 goals against average and 44 shutouts. Kipper also brings a 25-28 career playoff record, posting a 2.32 goals against average and a 0.921 save percentage.
This season Kiprusoff has posted a 6-9-0-2 record with a bloated 3.52 goals against average and a sub-par 0.873 save percentage. Injuries and a poor team in front of him have contributed to Kiprusoff's poor season. He registered a very respectable 35-22-11 record with Calgary last season, posting a .0921 save percentage and a 2.35 goals against average.
Kiprusoff won the Vezina and William M. Jennings trophies in 2005-2006, posting a 42-20-11 record to go along with a .0923 save percentage and a tidy 2.07 goals against average.
Toronto Maple Leafs general manager Dave Nonis has been patient with the goaltending duo of James Reimer and Ben Scrivens. While neither one has been "lights-out", they have managed to post a combined 20-12-4 record, good enough for sixth place overall in the Eastern Conference standings and ninth overall in the League standings.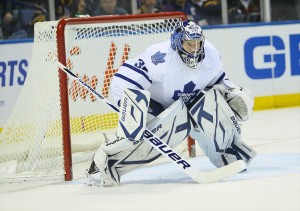 Still, Reimer and Scrivens are both inexperienced goaltenders and weak puck handlers, which has Nonis considering his options as the Maple Leafs continue to make a push for a playoff spot for the first time in what feels like a decade.
Should Kiprusoff Join the Maple Leafs, Nonis could take his time with his prospects and add a goaltender who is capable of being a great mentor.
With Flames' general manager Jay Feaster already shipping Iginla to the Penguins for college forwards Kenneth Agostino and Ben Hanowski (hardly top-end prospects) and Pittsburgh's first round draft choice in the 2013 NHL Draft, it would appear as if Featser looking for a similar return for his veteran goaltender.
Kiprusoff had been tied to a number of trade rumors including one which would have sent him to the Ottawa Senators in return for a package which would have included Senators goaltender Ben Bishop.
The Maple Leafs have a number of young goaltenders in their system including the aforementioned Reimer and Scrivens, as well as Mark Owuya, Garret Sparks and the highly-touted Jussi Rynnas.
A package including one of Toronto's young netminders would likely get the deal done. The Maple Leafs have tremendous depth in terms of defensive prospects, including the likes of Korbinian Holzer (who spent some time with the big club this season), Juraj Mikus, Petter Granberg, Tom Nilsson and Stuart Percy. Fellow defensive prospects Morgan Rielly, Matt Finn and Jesse Blacker (all three highly touted) are not likely to be included in a deal for Kipprusoff.
At this point a Kiprusoff to Toronto trade is just a rumor. Time will tell if this deal comes to fruition.