Brett Ritchie, the second-round (44th overall) pick of the Dallas Stars in 2011, has officially ended his junior hockey career and was assigned to the Texas Stars on Monday.
Ritchie, 19, spent the past season and half playing for Niagara of the Ontario Hockey League. The Ice Dogs were eliminated from the postseason this past week by Oshawa, losing the series 4-1.
Ritchie previously signed a three-year entry-level contract with Dallas back in July. By playing out the remainder of this season, he will exhaust the first year off that contract.
Following a respectable start to his junior career, first in Sarnia and then in Niagara, Ritchie exploded this season to establish himself as one of the top scorers in the OHL. After scoring 58 goals in his first 167 games in the OHL, Ritchie scored 41 goals in 53 games, playing most of the season alongside former New York Islanders first-round pick Ryan Strome.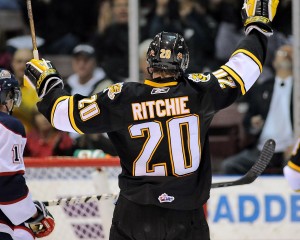 Ritchie shattered his career highs in goals (41; previous was 24), assists (35; previous high was 21) and points (76; previous high was 45). He finished the 16th in the OHL in scoring during the regular season. He finished sixth in the league in goals, despite playing between three and 15 fewer games than the five players who finished in front of him. His 76 points were second on Niagara, only trailing Strome's 94.
Now, he will join a Texas Stars team that is currently on top of the AHL standings. Despite leading the league with 89 points, Texas does not have a primary offensive threat; Matt Fraser leads the team with 33 goals and 46 points in 62 games. The scoring-by-committee approach should help ease Ritchie's transition to the professional game.
What many Dallas fans would like to know is: what is the chance Ritchie finds his way to the NHL level this season? The answer to that is: not likely.
Even though the Stars have already shipped captain Brenden Morrow to Pittsburgh, and even though there is a good chance that Derek Roy and/or Jaromir Jagr find themselves leaving the Lone Star State, the fact of the matter is Dallas has other AHL options and can afford to let Ritchie get adjusted.
The two obvious choices for a call-up before Ritchie are Fraser and Alex Chiasson. Fraser has already had a brief cup of coffee with the big club this season, scoring once in three games, and Chiasson was recently called up as an emergency precaution; he still has yet to make his NHL debut, but is third on Texas 43 points in 57 games.
Regardless what happens with the big club, Dallas management has to be happy to have Ritchie under their direct supervision for the rest of the season, especially as they look to head back to the Calder Cup Finals for the first time since 2010.