After missing the first six games of the 2013 season because of a contract dispute, PK Subban finally signed a two-year pact worth $5.75 million with the Montreal Canadiens. The bridge contract has proven to be a genius move by rookie general manager Marc Bergevin when we look at Subban's production on the ice. Thanks to his improved attitude and near-perfect play, the 23-year-old rearguard has shut up his most severe critics since the beginning of the season.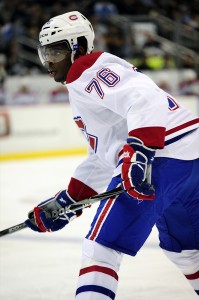 In 28 games for the Canadiens, the puck-moving defenseman is leading all NHL blue liners with 10 goals to go along with 17 assists for 27 points, good for 3rd in the NHL, only one point behind Kris Letang and Ryan Suter, who both have 28 points. The Toronto native has also cut down dramatically on his penalty minutes after earning 124 and 118 penalty minutes in the past two campaigns respectively. So far in 2013, Subban has only received 22 penalty minutes with no more than 4 penalty minutes in a single game.
Subban has also improved his shot efficiency drastically compared to last season, a direct result of him no trying to kill the opposing goaltender. Instead of winding up to reach the ceiling of the arena, Subban has been trying to hit the net more with quick slapshots and well as accurate wrist shots.
After scoring only 7 goals in 81 games last season on 205 shots for a putrid shooting percentage of 3.4%, Subban has been much better during the shortened campaign for the much-improved Habs, recording his 10 goals on only 86 shots, for an increased efficiency of 11.6%.
Paired with shot-blocking specialist Josh Gorges, Subban is also playing very well in his own zone compared to the previous two seasons, minimizing the turnovers on the rush or in the defensive zone. As a result, Subban has a +10 differential in 28 contests this season, good for second on the team, only to Brandon Prust.
Playing only 22:45 per game, good for 45th among NHL defenseman, Subban will be fresh for the playoffs, which will certainly help veteran Andrei Markov, who is currently playing 24:42 minutes per game despite dressing for only 20 games over two seasons prior to the NHL lockout.
Markov and Subban are respectively 1st and 2nd in power play time per game among NHL defensemen with 4:58 and 4:30 minutes respectively, a situation that was made necessary following the injury to Swiss-born player Raphael Diaz, out with concussion symptoms.
"I hope he keeps up his antics … that they end up trading him to the Bruins because I'd love to see him on this team because I think he's a very talented player," Hall of Fame defenceman Ray Bourque told former Hab Chris Nilan on Nilan's Off the Cuff radio show on TSN Radio 690 last week.

"I like his game," added Bourque, a five-time Norris Trophy winner. "I think he's so talented. He's got the speed, he's got the skill, he's physically strong and he gets under your skin. He moves the puck … he does some great things. And I think as he matures his game is going to tighten up to the point where when you talk about Norris Trophy contenders he may be one some day. He's got that amount of skill."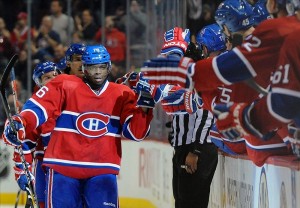 The Subbanator, who was selected in the second round (47th overall) of the 2007 NHL entry draft, has been the steal of that draft along with Dallas Stars forward Jamie Benn, who was picked in the fifth round. Subban is one of those rare players who performs at his best when the spotlight is the brightest, the only player to do so in Montreal since Patrick Roy left for greener pastures in 1995.
With only 25 giveaways, or less than one per game, Subban has learned to minimize the defensive mistakes and has more often than not opted for the safer play instead of trying the long pass or the end-to-end rush that were so common in the previous season. The league leader in that department is Toronto Maple Leafs' captain Dion Phaneuf, who has 41 giveaways.
The unstoppable Subban was even named NHL's second star for March, notching 7 goals and 11 assists for 18 points in only 14 games with the Habs. 11 of those points were recorded on the man advantage, this cementing his candidacy for the Norris Trophy awarded to the league's best rearguard. Subban had 7 multi-point games in March, seven!
Subban also became the first Bleu Blanc Rouge defenseman since Mathieu Schneider in February 1994 to score 7 goals in a month! Heck, even controversial commentator Don Cherry, a frequent Subban critic, compared Pernell Karl to his all-time favourite player Bobby Orr in his last HNIC rant.
If we use advanced statistics to quantify Subban's play, we can confirm the flashy defenseman is having an all-star calibre season. His on-ice Corsi of 15.29 (On-Ice Shot Differential (goals + saves + missed shots + blocks) is good for sixth among NHL blue liners who have played at least 20 games this season. The oldest Subban is also fifth among defensemen with 0.9 penalty drawn per game, which leads to more power play opportunities for the Canadiens, where he has been excelling in recent games.
http://youtu.be/5AsgaDSAC-s
PK Subban scores on a wicked slapshot
What is scary about Subban is to think that he will only turn 24 in May and that he has yet to reach his full potential… I would not be surprised to see him score more than 80 points in a single season, especially under the wise tutelage of new head coach Michel Therrien. As for this season, Subban will have to beat Kris Letang (currently injured), Ryan Suter, Niklas Kronwall and perennial candidate Zdeno Chara for the prized hardware given to the most deserving NHL defender.
Do you think Subban will win the Norris Trophy this season?