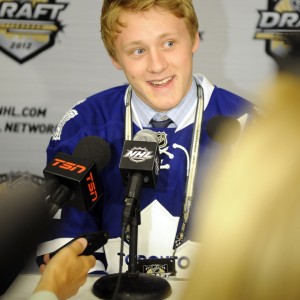 Heading into the 2012 NHL season NHL.com ranked the top ten prospects in the Toronto Maple Leafs system. Joe Colborne was ranked number one while, Jesse Blacker, Brad Ross, Tyler Biggs, Morgan Rielly, Greg McKegg, Jerry D'Amigo, Matthew Finn, Leo Komarov and Korbinian Holzer rounded out the top ten.
Another trusted online source, Hockey's Future, had a slightly different view of the Maple Leafs top prospects with Morgan Reilly being ranked number one, while Nazem Kadri, Joe Colborne, Jesse Blacker, Matthew Finn, Matt Frattin, Stuart Percy, Carter Ashton, Tyler Biggs and Brad Ross rounded out the top ten.
While there were no guarantees, in the minds of many experts, both Kadri and Frattin looked like decent bets to make the Maple Leafs roster out of training camp, thus the omission of these two players from NHL.com's top ten list.
With December almost behind us a few players have shot to the top of the Maple Leafs top ten prospects list. Defenseman Morgan Rielly looks as if he could play in the NHL right away, while Leo Komarov is all but assured a checking role with the big club once the NHL and the players put together a new CBA and the NHL season begins (fingers crossed).
But what of the others? Where do the likes of Colborne, Kadri, Ashton and Biggs rank, and how close are Greg McKegg and Carter Ashton and how do they fit into the Maple Leafs' plans?
With all this in mind, let's take a look at the Maple Leafs top prospects and how they are developing with their respective teams this season.
Morgan Rielly:
Date of birth: 03/09/1994
Age: 18
Height: 6'0"
Weight: 190
Position: Defense
Shoots: Left
Drafted: First round, fifth overall in 2012 by Toronto
Selected fifth overall in the 2012 NHL Entry draft, Morgan Reilly has rebounded well from the 2011-2012 season in which his play was limited to just 18 games due to a severe knee injury.
Known for his smooth skating, puck handling, poise, strong passing and strong offensive awareness, Reilly has made significant strides playing with the Moose Jaw Warriors of the WHL this season registering seven goals and 21 assists through 33 games played.
Rielly is also one of the most responsible players on the planet with just 28 penalty minutes over the past three seasons, spanning a total of 116 games.
Rielly is expected to be a major factor in the upcoming World Junior Championships for Team Canada and by all accounts looks NHL ready. Without question, Reilly is the Maple Leafs' top ranked prospect and perhaps the only blue chipper in the entire organization.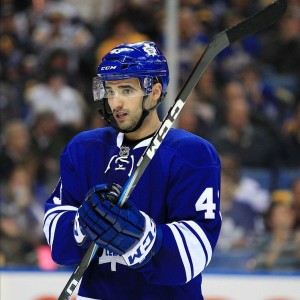 Nazem Kadri:
Date of birth: 10/06/1990
Age: 22
Height: 6'0"
Weight: 185
Position: Centre/Wing
Shoots: Left
Drafted: First round, seventh overall in 2009 by Toronto
While his upside seems to be diminishing, Nazem Kadri looks to be turning the corner as he slowly rounds into a legitimate threat to crack the Maple Leafs lineup.
Heavily criticized for his lack of fitness and defensive shortcomings, Kadri has shown signs of maturity this season, working hard on the ice and making a more concerted effort to stick to his training and healthy eating regiment.
Through 24 games played with the Toronto Marlies at the AHL level, Kadri is tied for the team lead with 24 points on the season including seven goals. Kadri is also a healthy plus-3 on the season— a testament to his commitment to defensive play.
Kadri will need to continue to develop his frame in order to make it to the pros, but his overall game has the Maple Leafs encouraged that they did not waste the seventh overall pick in 2009 with which they drafted Kadri.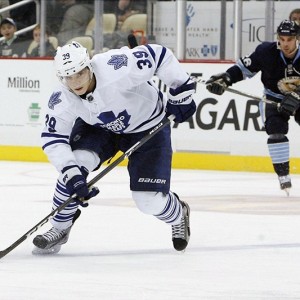 Matt Frattin:
Age: 24
Height: 6'0"
Weight: 200
Position: Right Wing
Shoots: Right
Drafted: Fourth round, 99th overall in 2007 by Toronto.
Matt Frattin surprised many when he made the Maple Leafs out of training camp last season. Frattin managed to play 56 games with the Leafs, registering eight goals and 15 points before being sent down to the Marlies.
Frattin registered 14 goals and 18 points with the Marlies through 23 regular season games, adding 10 goals and 13 points in the playoffs. Frattin's excellent playoff was derailed when he suffered a knee injury, which required off-season surgery.
With his knee troubles finally behind him, Frattin started the 2012-13 season with the Marlies. After a long layoff Frattin scored two goals in his debut with the Marlies and has registered eight goals and 12 points through 13 games with the Maple Leafs' AHL affiliate.
Frattin's strong compete level, accurate shot and ability to find open space means he has the tools to be a legitimate sniper at the NHL level. Time will tell if Frattin can crack the Leafs' top-six, as it stands now he should serve as a bottom-six forward with the Maple Leafs right away, with the potential to be a 20-goal scorer in the not so distant future.
Matthew Finn:
Date of birth: 02/24/1994
Age: 18
Height: 6'0"
Weight: 192
Position: Defense
Shoots: Left
Drafted: Second round, 35th overall in 2012 by Toronto
Known as a solid two-way defenseman, Matthew Finn has taken his game to another level this season. Playing with the Guelph Storm of the OHL, Finn has registered a career high 11 goals and is on-pace to match his offensive production of 2011-12 (48 points in 61 games) with 23 points in 28 games played.
Finn has earned a plus-7 rating, compared to his lofty minus-13 rating from 2011-12, while also cleaning up his penalty minutes notching 18 PIM's this season compared to 58 in 2011-12.
Finn's all around game, ability to think the game and puck moving skills should translate well at the NHL level. He still lacks size and his grit comes into question, but he should make his way to the NHL as a top-six defenseman before long.
Having been selected 35th overall by the Maple Leafs in the 2012 NHL Entry Draft, Finn is looking like a steal, which should bode well for the Maple Leafs in the not so distant future.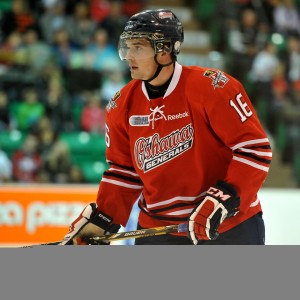 Tyler Biggs:
Date of birth: 04/30/1993
Age: 19
Height: 6'3"
Weight: 209
Position: Right Wing
Shoots: Right
Drafted: First round, 22nd overall in 2011 by Toronto
Coming into the 2012 season many experts felt Tyler Biggs had what it takes to be an elite physical player. What was holding him back from being looked upon as a top power forward prospect was his inability to put the puck in the net and create offense.
In an effort to improve his overall game, Biggs made the decision to leave the NCAA in favor of joining the Oshawa Generals of the OHL. Through 34 games with the Generals Biggs has registered 15 goals and 33 points, while boasting tidy plus-11 rating and 44 penalty minutes.
While Biggs' offensive numbers are not off the charts, the adjustments he has made to his game are very evident. Biggs is quicker, his shot is developing and he is regarded as one of the most physical players in the entire league.
Biggs blocks shots, scores goals, fights, lays opposing players out with big hits and is demonstrating excellent leadership and effort both on and off the ice. If Biggs continues to grow his game he will see the experts change their minds from projecting Biggs as a solid third liner to projecting Biggs to be one of the NHL's better power forwards.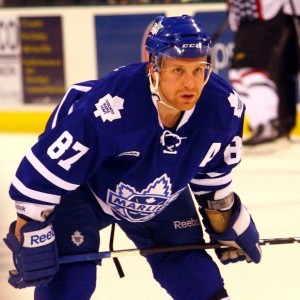 Leo Komarov:
Date of birth: 01/23/1987
Age: 24
Height: 5'11
Weight: 198
Shoots: Left
Position: Left Wing
Drafted: Seventh round, 180th overall in 2006 by Toronto
Known as an agitator and a forceful hitter, Leo Komarov impressed the coaching staff of the Marlies this fall, registering six goals and nine points through 14 games while keeping his penalty minutes in check with 22.
With a hefty contract in comparison to what he was earning in the AHL waiting for him in Russia, Komarov chose to leave the Marlies to play with Dynamo Moskva of the KHL where he will continue to develop his strong checking game. If not for the lockout, Komarov likely would have cracked the Maple Leafs' lineup before long as a third line centre and part-time penalty killer.
Given his strong presence and refusal to give in to opposing players physical play, Komarov could also be a valuable contributor on the power play where he could set up shop in front of opposing goaltenders.
Komarov may not be a blue chip prospect, but talent like his does not grow on trees, which should serve him well in the coming years.
Carter Ashton:
Date of birth: 04/01/1991
Age: 21
Height: 6'3"
Weight: 205
Position: Right Wing
Shoots: Left
Drafted: First round, 29th overall in 2009 by Tampa Bay Lightning. Acquired via trade with Tampa Bay.
An excellent skater with a knack for digging pucks out of the corners, Carter Ashton looks destined to be a good two-way forward with the ability to shut down opposing players.
Offensively, Ashton struggles. Through 25 games with the Marlies this season he has registered five goals and eight points while earning a plus-7 rating. That said, Ashton did register a combined 22 goals and 38 points through 63 games split with the Marlies and Norfolk Admirals last season.
Still, Ashton projects as a third line forward who, with the right coaching, should be a valuable penalty killer as well.
Stuart Percy:
Date of birth: 05/18/1993
Age: 19
Height: 6'1"
Weight: 195
Position: Defense
Shoots: Left
Drafted: First round, 25th overall in 2011 by Toronto.
Patient, smart and mature beyond his years, Stuart Percy projects as an above average stay-at-home defenseman with a physical upside.
Playing with the OHL's Mississauga St. Michael's Majors (now called the Steelheads) last season, a concussion limited Percy to just 34 games where he registered five goals and 25 points, while posting a tremendous plus-18 rating.
At first glance Percy's numbers (eight goals, 20 points through 33 games played) with the Mississauga Steelheads this season might look like a regression, but scouts have been raving about his sound positioning and his ability to read the play.
Percy will need to add some weight to his frame, but once he rounds out he should be a solid addition to the Maple Leafs lineup. The good news is with so many young defensemen in the fold Percy will not need to be rushed, which will give him ample time to continue to add some weight and develop a little more offensive upside.
Jesse Blacker:
Date of birth: 04/19/1991
Age: 21
Height: 6'2"
Weight: 190
Position: Defense
Shoots: Right
Drafted: Second round, 58th overall in 2009 by Toronto.
Known as a tremendous skater and an excellent puck rusher, Jesse Blacker is quickly evolving into a solid two-way defenseman.
Through 58 games with the Marlies last season Blacker registered one goal and 16 points, while posting a reasonable plus-8 rating. This season he has been asked to work on his positioning and defensive game, which has contributed to his less than stellar offensive numbers with the Marlies in 2012-13 (no goals, two points through 18 games played).
Still, Blacker projects well, but with so many good defensemen with the big club already and the likes of Morgan Rielly, Matt Finn and Stuart Percy knocking at the door it is likely that Blacker will have to wait a few more seasons before he cracks the Maple Leafs lineup.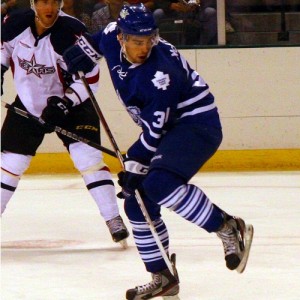 Greg McKegg:
Date of birth: 06/17/1992
Age: 20
Height: 6'0"
Weight: 190
Position: Centre
Shoots: Left
Drafted: Third round, 62nd overall in 2010 by Toronto.
Known as a sniper with good hands and the ability to think an offensive game, Greg McKegg is a slippery forward who projects as a top-six talent.
Currently developing his game with the Marlies, McKegg has struggled to find the back of the net this season, registering four goals and seven points through 19 games played.
Clearly, McKeeg is a couple of seasons away from being an impact player at the NHL level, but the Maple Leafs believe he will evolve into a solid scorer.
Brad Ross:
Date of birth: 05/28/1992
Age: 20
Height: 6'1"
Weight: 173
Position: Left Wing
Shoots: Left
Drafted: Second round, 43rd overall in 2010 by Toronto.
Another gritty player with offensive upside, Brad Ross brings a ton of energy, heart and a measure of snarl to the rink every night.
Much like Komarov, Ross is a pain in the butt to play against and he is not afraid to back up his physical play with the odd tussle.
Stuck behind a plethora of talented players on the Marlies roster, Ross has struggled to stick in the lineup, limiting his play to just nine games where he has registered one goal thus far.
The good news is Ross is a plus-3 over those nine games and he has kept his play in check with just seven penalty minutes.
Given more ice time, Ross should be able to demonstrate his worth to the Marlies with his inspired role as an agitator. Ross' worth is made stronger by the fact that he is a left winger, where the Maple Leafs could use some additional grit.
Like many young prospects, Ross is still a few seasons away from cracking the Maple Leafs lineup, but the skill set is there for him to have a successful career with the Blue and White.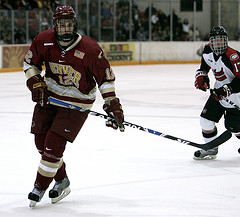 Joe Colborne:
Date of birth: 01/30/1990
Age: 22
Height: 6'5"
Weight: 219
Position: Centre/Wing
Shoots: Left
Drafted: First round, 16th overall in 2008 by the Boston Bruins. Acquired via trade with Boston.
Coming off an injury riddled season which included a lacerated finger and a broken bone and torn ligaments in his wrist, Joe Colborne was limited to just 65 games with the Toronto Marlies last season.
Through all his trials and tribulations Colborne showed a tremendous amount of moxy, registering 16 goals and 39 points. Colborne's totals were seen as a disappointment by many, but given the circumstances, they were not that bad.
Fast forward to the 2012 season and Colborne looks to have taken a significant step backwards.
Through 22 games played with the Marlies Colborne has just one goal and seven points. On the positive side, Colborne has a plus-4 rating, but with his offensive numbers taking such a nosedive, there are fears that Colborne may not have what it takes to make the jump to the NHL.
Known as an honest, opinionated and trusted writer, Mark Ritter brings a unique view on the Maple Leafs and the NHL in general. Mark has been writing about hockey for almost ten years and is known for bringing an honest view on the Maple Leafs. You can view more of Mark's work at www.theslapshot.com
Please follow Mark on Twitter: @theslapshot