Located in the tiny upper peninsula town of Houghton, Michigan Technological University is home to the Huskies, a team with a long and proud hockey history that has taken a severe beating over the last few years. NCAA Tournament Champions in 1962, 1965, and 1975, the team has failed to make an appearance in the NCAA tournament in over three decades. The team's last winning season came in 2006-2007, and in a truly nightmarish stretch from 2007-2011, their winning percentage dropped consecutively for four seasons from .423 to .262 to .176, reaching an astounding low of .158 with a 4-30-4 record in the 2010-2011 season. Relegated to the laughing stock of NCAA Division 1 Hockey, a change in not just coaching, but the entire culture of the Michigan Tech hockey program was sorely needed.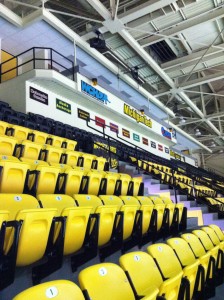 The Mel Pearson Era Begins
Mel Pearson, a former Michigan Tech player and graduate himself, had been serving under legendary coach Red Berenson as an assistant coach at the University of Michigan since 1988. Following the resignation of Tech's former head coach Jamie Russell and Michigan's loss to Minnesota-Duluth in the 2011 National Championship, Michigan Tech aggressively pursued Pearson for the head coaching duties. Pearson originally turned down the offer to lead Michigan Tech, but reconsidered and accepted the position in May of 2011. The regime change was swift and effective; Michigan Tech opened up the 2011-2012 season with four straight victories, including two thrilling overtime victories over a Justin Schultz-led Wisconsin team, matching their 2010-2011 win total in the first two weeks of the 2011-2012 season in impressive fashion.
Backstopped by senior goaltender Josh Robinson and led by senior Captain Brett Olson, the Huskies found success that hadn't been seen in Houghton for years. Their 16-19-4 record by season's end may not look impressive, but one year removed from a 4-30-4 record, it's a truly incredible feat. Mel Pearson inherited a roster of players who, besides incoming freshman, had only known defeat and molded them into one of the most surprising and impressive teams in the NCAA, unsurprisingly earning him WCHA Coach of the Year honors. The Huskies defeated Colorado College in the opening round of the 2012 WCHA tournament and advanced to the quarterfinals for the first time since 2007. They eventually fell to Denver, but the Huskies finished the 2011-2012 season knowing that a new chapter in Michigan Tech hockey had begun.
New Year, New Problems, New Opportunities
The 2012-2013 season has provided a number of new challenges for the bustling Huskies, looking to capitalize on the previous season's success. As of this writing, the Huskies are a disappointing 4-10-3, but with more than half a season to play, things aren't all doom and gloom just yet. The loss of goaltender Josh Robinson, who is now excelling in the ECHL with the Idaho Steelheads with an 11-0-1-1 record, has left the Huskies with a revolving door of goaltenders, none of which have proved they're ready to be the full time starter. Senior Kevin Genoe has seen the most action with 11 games played, while freshmen tenders Pheonix Copley (7 games played) and Jamie Phillips (3 games played) have each tested the waters. Brett Olson's departure for the AHL's Abbotsford Heat, who in addition to being the Captain was also the team's leading scorer, left a massive hole in the offensive punch that the Huskies' upperclassmen provided.
Michigan Tech's current top five leading scorers are all either freshmen or sophomores, highlighted by sophomore leading goal scorer Blake Pietila, a 2011 fifth round selection for the New Jersey Devils, who's 10 goals in 17 games has already matched his goal output in the 2011-2012 season. Freshman Jujhar Khaira, a 2012 third round selection for the Edmonton Oilers, has provided 3 goals and 9 assists in 17 games this season, slowly but surely finding his place on the team and adjusting to the college game. Sophomore forward David Johnstone and freshman forward Alex Petan are the team's scoring co-leaders with an identical 4 goals, 9 assists, and 13 points. The Huskies are young, rough, and still growing together as a unit, but their season thus far has provided glimpses of just what they can be. They opened up conference play against number one ranked Minnesota on October 19th and dominated with a shocking 5-3 victory, highlighted by this incredible goal from Alex Petan:
The Huskies still have a long way to go before they can hope to return to the days of routine NCAA Tournament appearances, but the team features a stock of players that, while still young, are a potent mixture of proven talent and untapped potential. They're a team to watch in college hockey moving forward and a team not to be underestimated by opponents. Michigan Tech is still striving to get it right, but in the mean time, they're continuing to grow and mature under the guidance of Mel Pearson. The Huskies will be returning to action on December 29th in the annual Great Lakes Invitation versus Michigan, as good a place as any to close the book on a mediocre first half of the season and open a new one for 2013 and beyond.