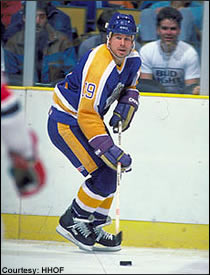 When Kings fans think of career "heart and soul" franchise players, a few obvious choices come to mind. Dave Taylor has to be the natural first consideration, as he spent his entire 17-season playing career with the Kings, followed by a nine-year term as General Manager in which he helped lay the groundwork for the team's eventual Cup. Marcel Dionne had a stellar twelve years in Los Angeles and resides securely within the hockey Hall of Fame. Let's not forget about Luc Robitaille, one of the greatest left wingers in NHL history, who played in 1077 games over 14 seasons sandwiched around stints with the Pittsburgh Penguins, New York Rangers and Detroit Red Wings. Like Dionne, Robitaille is also in the Hall of Fame, and currently serves as President of Business Operations. How about Matty Norstrom, the long-time Kings captain who spent eleven years patrolling the blue line? Mike Murphy, Mark Hardy, Jay Wells, Bernie Nicholls, Ian Laperriere, even Dustin Brown could be mentioned at least in passing within the conversation.
It's a bit too easy to forget Jim Fox — the loudly quiet "Mr. Kings".
Born in Coniston, Ontario on May 18, 1960, Fox led the Ottawa 67's in points with 166 in 1979-80, setting himself up perfectly for the draft. Selected #10 overall the very next year by Los Angeles, Fox was amongst the best draft choices the Kings — notorious for trading them away during that era — ever made. As a matter of fact, the Kings had one of their most successful drafts ever that year, as they also picked Larry Murphy (#4), Steve Bozek (#52) and Bernie Nicholls (#73), amongst a handful of others. At just 5'8″, 185 lbs., Fox was certainly small in stature (not as much of an issue back then as it would be in today's bigger, stronger NHL) but big in heart. His speed and hockey sense were his calling card, along with his knack for being in the right place in the right time.
During his rookie season, he recorded a respectable 18 goals and 42 points in 71 games. His breakout season, however, came the following year. With Charlie Simmer missing 31 games due to injury, Fox stepped up, scoring 30 goals and 68 points in 77 games, third on the team after stalwarts Marcel Dionne and Dave Taylor. Although Simmer came back strong the next season, Fox had earned his keep. Between 1981-82 and 1984-85, he averaged 30 goals and 73 points, never finishing worse than fifth on the team in total points.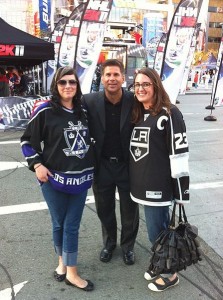 Fox was remarkably consistent. In his four biggest consecutive years with the Kings, he scored 30, 28, 30 and 30 goals. Never a bruiser or a grinder, he played smart and stayed out of the penalty box, averaging 15 PIMs a season during his career. He stayed on the ice, period, with only two seasons of less than 71 games played until his final year when he retired after just eleven games, still just 29 years old.
Fox only played eight full seasons, but was productive enough to end up ranking ninth in goals scored amongst all-time Kings players, eighth in assists and eighth in total points. It was a different era when Fox played, but for comparison's sake, consider this: Fox averaged .83 points per game throughout his career. To date, current Kings superstar Anze Kopitar has averaged .91.
As solid of a playing career as Fox had, that isn't even half the story for the loudly quiet lifetime King. The second part of his career is when he became really loud.
Shortly after retiring, Fox joined long-time Kings announcer Bob Miller in the broadcast booth. He remains there after 22 years, color commentator/analyst to Bob Miller's inimitable play calling. His unique, at times almost sing-song cadence perfectly balances Miller's descriptive, melodic style, forming one of the best broadcasting teams in the NHL. He's not shy about venturing his opinions, unabashedly at times, as evidenced here:
As would be expected after two decades of consistent, solid work in a role that fits like a glove, Fox had earned gravitas as a commentator. He was one of the speakers when Bob Miller received his star on the Hollywood Walk of Fame in 2006. He won the Southern California Sports Broadcasters Sports TV Color Analyst award in 2012 (Bob Miller won the Sports TV Play-by-Play award the same year). Speaking of 2012, the Kings' winning of the Stanley Cup prompted Fox to say this:
"I think you have to grow up where I grew up [to be able to appreciate that]. I think a lot of small town Canadian kids did the same, but I think you have to go through that to understand what the Stanley Cup means. It means a lot. Maybe the Super Bowl means the same here, maybe Major League Baseball, I don't know. I assume that it does. I see now that World Cup soccer is the one thing that brings out the most passion in nationalities. But that's what it does. It brings me back to playing on an outdoor rink learning how to skate, learning how to play, joining a team. That's what it brings me back to because you're always following the NHL, and, of course, at the end of the year, the Stanley Cup."
For once, Fox was nearly at a loss for words when describing his feelings about the Kings winning the Cup:
Jim Fox: the loudly quiet "Mr. Kings".