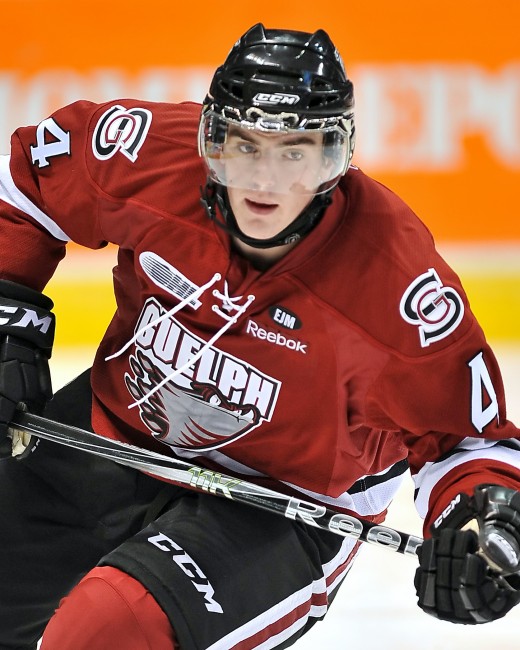 Heading into the 2012 NHL Entry Draft, Guelph Stotm defenseman Matthew Finn was ranked 13th overall by the International scouting Service, while The Hockey News had Finn ranked 18th overall in their annual Draft Preview issue.
Listed at 6'0" and 195 pounds, Finn was the Storm's go-to defenseman, playing an integral role in every facet of the game. Through 61 games with the Storm in 2011-12 Finn registered 10 goals, 47 points and a plus/minus rating of minus-13, good enough to lead the team in scoring from the blueline.
Finn's skill set includes great skating, the ability to rush the puck, a physical element, the ability to run the power play, decent size, tremendous leadership skills and a good two-way game.
Even with great offensive numbers and all the skills that Finn brings to the table, he managed to slip through the first round of the 2012 NHL Entry Draft, landing in the Toronto Maple Leafs' lap in the second round of the draft at number 35 overall.
To say that Toronto Maple Leafs general manager Brian Burke was thrilled to take Finn with the 35th pick overall is an understatement. Burke was all smiles when he took to the podium to announce thatToronto was selecting Finn and with good reason. Given Finn's performance with the Storm this season Burke's smile is only going to get wider.
Through 16 games with the Storm Finn has lit the lamp a total of seven times, added eight assists and improved his plus/minus rating to a plus seven.
Watching Finn play against the Oshawa Generals Friday night I was able to observe a confident player who controlled the puck with ease and dictated the pace of the game. His ability to read the play was strong and his offensive prowess was quite evident. Finn's physical side was also on display, as was his strong power play quarterbacking abilities.
Finn, a huge fan of the Maple Leafs growing up, would end the night with two points, including a strange goal. With his team pressing the Oshawa Generals Finn skated into the Generals' zone, fired the puck at the boards and watched as the puck hit the opposing goaltender in the back and into the net. It was a lucky goal, but one wonders if Finn had practiced that shot in anticipation of using it in a game?
Either way, Finn's strong start to the 2012-13 season with the Storm is a good indication that Finn might just be the steal of the 2012 NHL Entry Draft.
With continued development and patience Finn is expected to evolve into a solid two-way defenseman at the NHL level. Not bad for the 35th pick overall.