Elliotte Friedman made waves throughout the media earlier this week when, in his 30 Thoughts column, he took an "educated guess" at the group of owners who are driving the lockout.
While the players believe Boston Bruins owner Jeremy Jacobs is calling the shots, an educated guess at the final group includes but may not be limited to Anaheim, Columbus, Florida, the Islanders, Phoenix, St. Louis, Washington and Dallas
Of all the teams identified, the Dallas Stars, newly owned by Canadian Business Executive Tom Gaglardi, sticks out the most. Gaglardi's one year anniversary of being formally introduced as owner of the Stars will come on November 18th. In Dallas, he is viewed as the savior to a financially fledgling franchise, a franchise that had missed out on the playoffs for three straight years at the time of his purchase of the team, and now four straight years by the end of the 2011-2012 season. He brought an immediate and swift regime change that excited Stars fans and gave them hope for the future.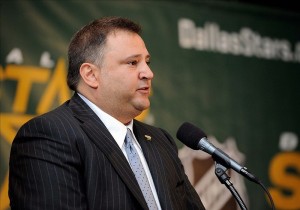 The Stars disappointed in the 2011-2012 season, allowing another late-season collapse to ruin the team's chances of a playoff berth, but Tom Gaglardi and the rest of Stars management marched headstrong into the offseason, ready to make the moves necessary to create a winning team. The Stars first traded away Mike Ribeiro at the 2012 NHL Draft to the Washington Capitals in exchange for young center Cody Eakin and a 2nd round draft pick. The team then moved into free agency with open wallets, something they had been prevented from doing in previous years without adequate ownership.
What followed was three straight days of headline-making moves. They signed Ray Whitney to a two year, $9 million contract on July 1st, traded franchise staple Steve Ott and depth defenseman Adam Pardy to the Buffalo Sabres for Derek Roy on July 2nd, and capped it off with the signing of future hall-of-famer and hockey legend Jaromir Jagr on July 3rd to a one year, $4.55 million deal, making him the highest paid player on the team.
Does that seem like the moves an owner who was ready to lead a lockout would make?
Brandon Worley of Defending Big D wrote about just how unlikely Tom Gaglardi being apart of the "hardliners" group is and how absurd that notion is for a team that is so desperately in need of success. His points are valid and he's completely right in saying that the Dallas Stars and Tom Gaglardi did their best to build a team that would win in the 2012-2013 NHL season, allowing the Stars to bridge the gap between the present and the future, retaining and re-building a fan base whilst doing so.
But Tom Gaglardi is a businessman, a very successful businessman at that. In a year that saw the Stars hit both the highest attendance in franchise history, and the lowest since the team moved to Dallas, Gaglardi knows the Stars can withstand extremes and that the fans are there to be found. He could very well be a part of those hardliners, because even though he clearly made moves to bring the team immediate success, Gaglardi is in it for the long-haul. He's here to build a Stanley Cup contender, not a team that merely manages to make the playoffs, important though that is.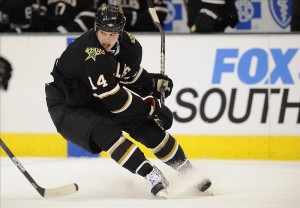 I'm an optimist at heart and I always have been. It's easy to see why a lost season could be dangerous for the Dallas Stars, but it's also easy to see why they would survive such an event. Dallas is by nature a fair-weather fan base. The recent success of the Dallas Mavericks and Texas Rangers, coupled with the failings of the Dallas Stars, magnified their situation.
If the Stars return and can't find success then attendance will continue to suffer. That's not ever going to change. This is a city spoiled by champions and a city that is not satisfied by anything less. If the NHL season is lost, but the Stars come back in 2013-2014 and prove themselves to be one of the better teams in the league, will the seats really remain empty? No way. A full season lockout, as tragic as it would be for hockey fans everywhere, will not and cannot kill the Dallas Stars, because Dallas won't allow that to happen.
The idea of Tom Gaglardi as one of the hardline owners may seem far-fetched, but if you look hard enough, the reasoning is there. He wants to turn around a business that has lost $92 million from 2008-2011. Who's to question how he does that? Perhaps if there were to be an NHL season, he would lose more money than if there weren't one. As a savvy and successful businessman, it should not be surprising if he's willing to take that blow. No one but Tom Gaglardi knows what Tom Gaglardi's thinking and all we can do as fans is sit back and wait for a resolution.
Hockey will return eventually, and with it so will the Dallas Stars. If they continue to lose, they'll continue to lose fans and watch their attendance numbers remain near the bottom of the National Hockey League. If they win, the fans will flock to the American Airlines Center in downtown Dallas like they always have. Tom Gaglardi has a plan to make this organization into a perennial Stanley Cup contender once again and that won't happen overnight. Stars fans have endured four years of futility and disappointment, four years of promise and hopefulness down the drain, and four years of waiting for the clouds to lift. And now we have to suffer through a lockout? You can see why the notion of Tom Gaglardi being a hardliner is bewildering and unacceptable to the average Stars fan, but you can also see why, when it comes to the business of this sport, it's a possibility we might have to accept.