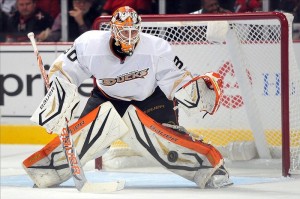 Let's be honest. Viktor Fasth's pristine record in his NHL debut was something that couldn't last forever.
The remarkable rookie run had finally hit some speed bumps in the month of March, where he went 2-3 in that span and was pulled on Mar. 22nd after allowing three goals on 11 shots against the Detroit Red Wings.
As Fasth's performance struggled, so did his team's. I'm not saying that the Anaheim Ducks' fate lies in the hands of Fasth, but I will admit that it makes all the difference in the world when a team trusts and is confident in their netminder.
After the Ducks experienced their first dose of adversity –losing three straight at home– the team set out for a desperately needed road trip. The change of scenery may not have turned the Ducks around, but they're slowly getting back to their stellar form; going 1-1-1 with their final road game of this trip being last night in Dallas.
Monday night's game between the Ducks and Dallas Stars was a must win for Anaheim, but for a different reason than Dallas'.
Anaheim, playing the second half of a back-to-back, needed to close out the road trip with two points; falling short after their relentless efforts against the Columbus Blue Jackets the night prior.
It wasn't publicly put forth, but Fasth's performance last night was going to be put under the microscope regardless of anything. The team didn't just need a win for the sake of their confidence, but Fasth was vying for a win to preserve his credibility with the staff and his teammates.
Last night, Fasth resent the message that he still remains as one of the breakout goaltenders in the league as he came up with big saves against known names such as Jamie Benn, Stephane Robidas and Ray Whitney. Not only did the Ducks win, but they got a well deserved shutout.
Fasth ended up notching his third shutout of his short career, but last night's was pretty special. It was the first time in Anaheim's franchise history that they shutout the Stars in Dallas.
All positive notes that the Ducks' needed in order to move forward from their lackluster performance in March.
For more information throughout the season follow me on twitter @m_drinnenberg and on Facebook here.