This really has gone to the dogs and that is not a bad thing always. All we keep hearing is just how bad it is getting trying to navigate rosters full of red on people's spreadsheets. The anger that owners exhibit this time of year borders on sheer lunacy. You never think of issues like ATOI (Average Time On Ice) more than in April. It is time to get to the bad in the fantasy hockey night, salute our F-U Player Of The Night, and some more dishonorable mentions of varying degrees. You have been warned!
Get this guy a Krusty Krab Chum Bucket already!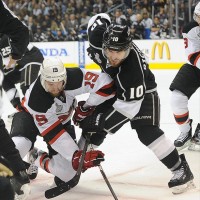 Playing through injury and illness is a fact of life for hockey players but there are limits. At some point Travis Zajac cost fantasy owners in a way last night as he just did not look the same as he usually does. Even with the awful season (13 points in 35 games), tonight may have been a new low for Zajac as he looked like he should not be on the ice for long stretches. It was too noticeable and obvious. This was all despite the fact that Zajac did have one assist tonight but in just 13:31 of ice time.
There were reports (later confirmed) that the center was running to the locker room faster than Usain Bolt. What we have here is a situation where someone dropped the ball. Was it Zajac himself or was it the medical staff? Either way, the fact remains that he probably should have just taken the night off. Ultimately, he was more harm than good on a night where the better course of valor was probably needed. We may never know what exactly happened but truthfully if I am a Zajac owner, the assist was nice but the 6 1/2 to 7 1/2 minutes less ice time is going to leave a mark this week.
Own up to this one Mr. Kindl!
It has been abundantly clear that Jakub Kindl has been "defensively irresponsible" for the Detroit Red Wings at times. We would like to present this to the judge and jury as Exhibit A fantasy fans.
The exact whereabouts are fuzzy on Kindl or at least it seems like it for a guy who looks like he is on a permanent vacation out there! Basically here is a guy who seems to almost be on the ice for every goal against it seems. Reality calls that a myth but fantasy owners could argue this one a little. Playing in the NHL is a privilege that Jakub Kindl clearly forgets. Maybe Mike Babcock should listen to the fans and media then take Kindl for a ride on the pine! He more than deserves it!
Fantasy FU POTN
David Clarkson — RW — New Jersey Devils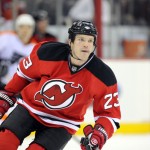 Signs were made for Clarkson and still owners got nothing! The fantasy hockey world was ecstatic to see David Clarkson play so well and now they pray for his immediate benching and not just a "for the game" type of splinter reaching exhibition. Since a nice game against the Philadelphia Flyers on February 15th, the right winger (in a contract year) has gone ice cold with only four points in his last 22 games. Compare that to the 16 points he had in his first 14 games and you have the recipe for sickness the likes that Travis Zajac has not even seen. Clarkson's almost predictably have been a killer for anyone who still owns him. It hurts to watch the same bad habits over and over like a broken record without much of any accountability. If anyone deserves to sit and stew over what he has not been doing right, it is a guy like Clarkson period! Talk about a guy who really has flipped the bird to those who have patiently been waiting for him to put his big boy pants on and start playing like a NHL player once again. Fat chance!

And now for the dishonorable mention or in this case….the final insult!
Dishonorable Discharge Mention
Miikka Kiprusoff — G — Calgary Flames
Simply he has been Johan Hedberg Devils losing slide bad. It has been so bad that the reality dictates there is only one thing to say to explain everything. We will simply just drop the mic. He is done and we're done! Frankly he gave up three goals on six shots tonight and even Rick DiPietro could play better right now. Yes we went there!
---
That is all for now. As always you can send your nominations via Twitter @ChrisWasselTHW. We are out!