With the 2021 World Junior Championship (WJC) in full swing, Team Canada is off to a hot start, despite the loss of their captain, Kirby Dach, to a long-term injury. In a recent video, Anaheim Ducks prospect Jamie Drysdale praised Buffalo Sabres' prospect Dylan Cozens for his efforts stepping up as a leader in Dach's absence.
Through Canada's first two games of the WJC, Cozens scored three goals and seven points, which leads all players in the tournament so far. While his scoring totals are inflated by a 16-2 victory over Team Germany, it is still an impressive start to the event.
Related: 2021 Guide To the World Junior Championship
However, Cozens did more than just score after this blowout victory. In a tight game against Slovakia, he had the primary assist on Philip Tomasino's game-winning-goal while providing "leadership on the bench, just making sure we all stay cool… it's really nice to see out of your leaders" as said by Drysdale.
Cozens Could Prove He's NHL Ready at WJC
As the seventh-overall pick at the 2019 NHL Draft by the Sabres, there are big expectations for Cozens heading into the 2020-21 season. While he is only 19 years old, he dominated the WHL, posting 84 and 85 points in back to back seasons, despite 2019-20 getting cut short to just 51-games.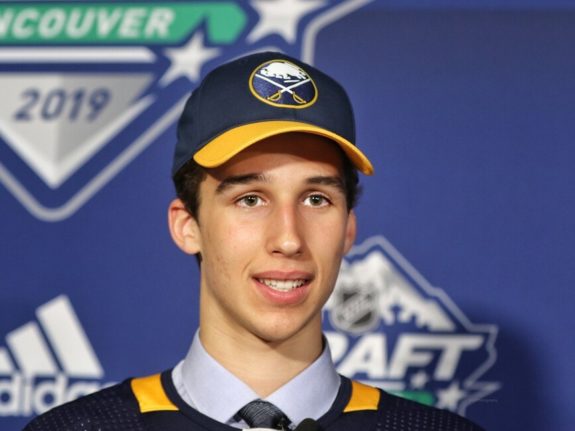 With the injury to Dach, Cozens is primed to be not only a driving offensive factor for Team Canada but their emotional leader as well. This maturity on and off the ice can help showcase how ready he is to step into an NHL role, which Buffalo will likely take into consideration as training camp kicks off in the coming days.
Related: THW 2021 World Juniors Coverage
In a best-case scenario for Cozens, he can help lead Canada to their second-straight WJC gold medal, then turn around and start his NHL career with a Sabres franchise that is looking to end their decade-long playoff drought.