Sure, it was an only a pre-tournament game. But for Team Canada's juniors, an opening night thumping of the defending gold medalists had to feel good. Sure, Finland didn't have three of their biggest stars (Laine, Aho and Puljujarvi), but it was important for Canada to hit the ground running. The international talent gap has closed dramatically and Team Canada is no longer the shoe-in for gold it once was. The road to glory is going to be difficult, something not lost on the players. Said Julien Gauthier (who had two assists on the night):
"The boys were happy about the win but we're not satisfied yet. We have a lot of work to do but we're in the right direction."
Special Teams Will Be Key
I get it… it's exhibition… but this is nice!! #TeamCanada #WJC2017 ??

— Kate Beirness (@KateBeirness) December 20, 2016

Canada had three power play opportunities but failed to convert, something to be expected in a tournament such as this. It takes a while to find cohesion and chemistry on the power play when you just throw a bunch of players together for the first time. But coach Dominique Ducharme was pleased with the way his team performed with the man advantage.
"I liked the way we moved the puck and the chances that we had [on the power play]. We need to stay aggressive and not try to become too perfect, and keep a shooting mentality. There were different options that we used; if [our power play] becomes unpredictable, it's hard to defend."
What wasn't so good, however, was the team's discipline. Canada gave Finland seven power plays — something they cannot afford to do on a game-to-game basis. Canada's penalty kill was perfect, but they can't continue to take so many penalties and expect to come out on top. Discipline has been a problem for Canada's juniors in recent years, and it's something that they'll have to work on correcting. But other than the frequent trips to the sin bin, Canada performed well.
"Overall, we're happy with tonight's game. We're always looking to get better – it's something that's engrained in us. From day to day, we want to elevate our game. There are certainly some positive things that we did tonight, and some things that need improvement."
The Biggest Tests are Still to Come
Canada's team is deep, perhaps even more so than last year, despite big names not being present (and that includes the potential first overall pick in this summer's draft Nolan Patrick). But Canada boasts a lot of skill and grit and a solid blue line. Getting the top seed in their group is going to be key because the last thing they want is a quarterfinal date with Team Sweden. With all due respect to Slovakia and Latvia, it will likely be a three-horse race between Canada, Russia and Team USA.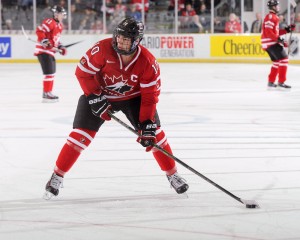 The Americans have a strong group of forwards, but a less than formidable blue line. Russia is always a tough out in these tournaments and they could be a dark horse to go deep. Early predictions place Canada as the Group B winners, but it's far from a guarantee. When it comes down to the all-important position of goaltending, Canada's number one guy played quite well in their tilt against Finland. Carter Hart made 25 saves en route to a shutout and looked solid doing it.
He's having a good season with the Everett Silvertips (he was recently named the WHL Goaltender of the Week), but he enters the tournament with very little international experience. Canada has a solid blue line, so they don't necessarily need Hart to steal games, but he has to make the key saves at the key times. Other than missing some top talent, goaltending may be Canada's Achilles heel at this years Wolrd Juniors.
Up next for the Canadians is their second pre-tournament game against the Czech Republic on Wednesday, before finishing off the exhibition round against Switzerland on Friday. The tournament officially kicks off on Boxing Day where Canada will face Russia.
*Stats courtesy of Hockeycanada.ca