Bergevin dips his toes in the free agent pool
After an extremely busy free agent frenzy on July fifth, things have certainly slowed down around the league in the following days. One could say nothing exciting happened for the Habs since the window to sign free agents opened, but that's hardly the case. Whether or not Marc Bergevin's moves (or lack thereof) have been of the blockbuster variety, they've certainly got the hockey starved fanbase of the Canadiens talking.
To start things off, Bergevin signed former Flyer (and Sabre) Daniel Briere. Briere's acquisition has for the most part been subject to criticism by just about anybody with an opinion. Any negativity seems to stem from his lack of size as well as his lack of, well, youth. It's no secret that the Habs are overwhelmed with undersized players who make up for their small stature with grit, determination and the ever popular "character". I've never been a firm believer that you need a huge team to win, but it's hard to argue that the Stanley Cup can be won with a top six consisting of no more than one or two players allowed to ride the roller coaster.
Something Old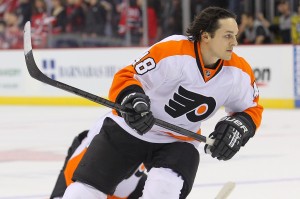 Briere comes to the Canadiens with a 5'10" 179 lb frame at age 48. Okay fine, 48 was the number he wore in Philly, he's only 35. The fact is, he isn't exactly on the right side of the prime of his career.
With a lot of young guns ready to play their way onto the roster, it comes as a bit of a surprise that Bergevin would go and recruit a player of Briere's age let alone his size.
I won't deny that Briere can help the Habs powerplay and that he's one of the top playoff performers over the past few years. Marc Bergevin stated early in the month that you need players to get you to the playoffs and players to get you through the playoffs. Briere is the type of player that can help any team get through the playoffs, but he can't do it himself, the team still lacks that physical presence necessary to keep the opposition at bay.
Enter George Parros
Something New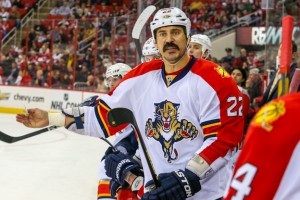 Parros may not be new to the league but he brings something new to Montreal. An established enforcer who can and will drop the gloves for his teammates. No, that is not a knock on Prust and yes, that is a knock on Laraque.
Parros and his epic stache bring the size that fans in Montreal have been calling for. At 6'5″ 228,  George Par-Stachei-os (best I can do on the spot, I'll keep working on it) will make it tougher for any team to push around the Habs smaller guys, namely Alex Galchenyuk and pesky Brendan Gallagher. The presence of  Parros will also benefit Brandon Prust. At 6'2″ 195 lbs, Prust is hardly a heavyweight. With the parting of Travis Moen a year back, Prust has been solely responsible for protecting the Habs stars.
What's that? Moen still plays for the Canadiens?… I see. Regardless, Moen hasn't done much for the Habs in recent memory and so Prust can play the role Moen was brought in for more effectively while Parros can play the role Prust was brought in for more effectively. While nobody in Montreal woud question Prust's willingness to drop the gloves for anybody on his team, Parros is a much bigger, much more intimidating enforcer who any player would prefer to have on their side of the ice.
With these two moves, it could be argued that the Habs are a better team then they were last year. Briere may be older and smaller than the departed Michael Ryder, but aside from last season, Briere tends to be more consistant than the Newark bound Ryder. Parros will provide the more skilled players the oppurtunity to enjoy a bit more freedom and comfort on the ice.
"I'm Never Finished"
Marc bergevin held a press conference at the end of the day on July first to discuss the days moves. When asked by a reporter if he was finished with his twaeking of the line up Bergevin answered "I'm never finished". That's a response everybody in Montreal should be happy with. For those who are opposed to the signings of Briere or Parros (or both) it's good to know that Bergevin is aware that it's not quite enough to win. Supporters of his moves thus far should be happy as well as even they should realize that Briere and Parros are not the pieces missing from the Stanley Cup puzzle.
With the absence of  Ryder, the Habs could use a big bodied top six winger. As for defense, hard hitting defenseman Alexei Emelin is out until December leaving a gaping hole in the top four. Jarred Tinordi will likely see plenty of action in the NHL this year but is not ready for the minutes that Emelin plays.
Writer for www.HabsAddict.com, MontrealHockeyTalk.com and TheHockeyWriters.com