If anything can be considered for certain in an off-season that has already seen Daniel Alfredsson snub the Ottawa Senators and Ilya Kovalchuk defect to the KHL, it's that the Toronto Maple Leafs' controversial acquisition of goaltender Jonathan Bernier will be rehashed repeatedly.
At first, opinions on the trade generally ranged from mixed to negative. They have only worsened since then. Perhaps those in favour or indifferent to the trade are content not to revisit the topic whereas those opposed feel the need to reiterate their stances because they haven't fully captured how aggravated they are by the team's decision to complicate its crease. Whatever the reason for this increasingly embittered discussion of the trade, I thought I'd take the unpopular view and try to defend the acquisition of a second starting goaltender.
I'm not going to argue that Jonathan Bernier is better than James Reimer or vice versa. Rather, I'm going to counter some arguments against the trade in order to suggest that it should either, at best, benefit both goalies concerned and the Leafs as a whole or, at worst, have no effect on the team.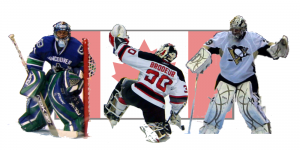 Incidentally, Team Canada has already proven that a team can have three #1 goalies.
Personal Narrative versus Team Identity
Personally, I like Reimer, and I wouldn't be at all disappointed if he became the Leafs starter after dueling for icetime with Bernier. That said, Reimer has not proven himself as an indisputable #1 goaltender just yet. To date, Reimer has not played the number of games expected of a starting goalie in a single season, and the two seasons in which he was given the chance to seize the starter's position with the Leafs were both mired in injuries. These complications do not necessarily mean Reimer is injury prone, or that he lacks the fortitude to play as many games as expected in the future, but they do offer cause for concern. Dave Nonis, therefore, shouldn't be faulted for potentially erring on the side of caution by getting a backup with promise as a starter ahead of next season in case Reimer again falters.
Despite Reimer's relative inexperience, commentators often remark that he deserves better from the team's managements, and that it is flagrantly unfair of the Leafs' brass to make Reimer fight for his job after his success over the past three seasons.
These claims seem caught up in sentiments surrounding the situation rather than the reality. Reimer has a great story as a kid from a small town in Manitoba who, after being called up midseason to play under the bright lights of the Air Canada Centre, managed to steal the job of a lifetime. For disillusioned fans, Reimer perhaps offers hope that a person can rise swiftly from obscurity to fame based on merit, and succeed without the struggle to prove oneself repeatedly while preventing the doubt of others from affecting one's own confidence.
Yes, Reimer's backstory has all the necessary elements to make a Canadian idyll: a genuine, humble young man from a rustic community uses his skills at Canada's national sport to seize the spotlight in the centre of the hockey universe. On top of that narrative, Reimer also has a smile that is so infectious that–if weaponized–it could pacify thousands of insurgents.
While these aspects of his character make Reimer's accomplishments appealing as a feel-good story, they do not guarantee his success. Indeed, they might jeopardize his future if fans and management become so enamoured of Reimer that they become complacent with his development. To prevent such counterproductive contentedness from stunting Reimer's growth, Nonis acquired a player who will help Reimer improve by making him compete for his job.
Showing unwavering support in a player with the most compelling personal narrative works well for a struggling team, but not for the Toronto Maple Leafs. A team that has difficulty filling seats can afford the risk of giving an unproven player a key roster spot if his underdog story can capture the hearts of casual supporters and turn them into ardent fans. As the richest franchise in the NHL, the Leafs are entirely unsuited to conduct themselves as underdogs. They simply have too much money to spend on players, scouts, coaches, platinum-plated urinals, etcetera, to settle on a starting goaltender by choosing the player with the most gumption and heart (the last comment shouldn't be construed as a jab at Jonas Gustavsson's medical history).
When James Van Riemsdyk joined the Blue and White, he gushed about how exciting it was to play for the "New York Yankees of the NHL." The performance of the Leafs, however, since their last championship has been perhaps more like the Chicago Cubs: they are perennial regular-season stragglers and championship no-shows. By bringing in Bernier to motivate or overtake Reimer in the crease, the Leafs are on the right track to performing like the powerhouse franchise that they are. Sure, this approach to team building subjects players to intense pressure in order to separate the diamonds from the coal dust, but overcoming such crucibles is what it takes to play for one of the greatest teams in the history of sports.
Is Bernier the right guy to push Reimer forward, or could former backup Ben Scrivens accomplished the same goal? Some commentators have scoffed at Bernier's supposed pedigree as his stats aren't better than Reimer's and he's even less proven. True, but the idea that Bernier has a better pedigree (a notion that I'm sure Reimer has heard of hundreds of times by now) makes him a more potent threat to Reimer than Scrivens was.
The Goaltending Controversy
Many writers have suggested that the acquisition of Bernier may cause a goaltending controversy that could ruin the Leafs' chances of building on the success of the 2013 season. This perspective seems nearsighted since there is a goaltending controversy looming over every team each year.
Whenever a team loses, commentators immediately ask whether or not the goalie is to blame. They may or may not claim that to be the case, but the possibility will be on their minds as well as those of fans and casual onlookers. Simply put, the netminder, as the last line of defence, will always be scrutinized whenever the team loses.
Consider, for example, the Leafs' meltdown in Game 7 of the 2013 NHL Playoffs. As James Mirtle observes, even though Reimer's performance pushed the Leafs' series against a superior opponent to a seventh game, the spectre of trading for Luongo would again haunt the club as the media debate the merits of such a move in light of the team's 3rd period collapse.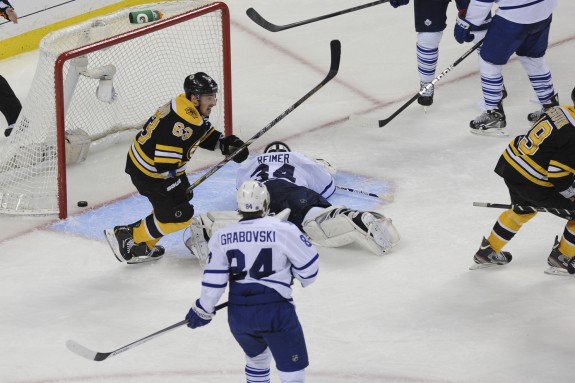 In case you forgot what the worst moment in Toronto Maple Leafs history looked like, here's a reminder.
The inevitable discussion of whether or not a team needs to trade for a new starting goaltender happens so often because that position is the least represented in the league. Ideally, the combined number of goalies in the NHL during a full campaign would be 60 (one starter and one backup per team). Even with injuries, that number wouldn't likely rise above 80. In contrast, there are more than twice as many defencemen and four times as many forwards holding permanent spots in the league during a season.
The sheer scarcity of spots for goaltenders means that there is always another one waiting in the wings for an opportunity to seize the crease. Furthermore, while forwards and defencemen can see prospects as potential linemates or partners, goalies cannot help but see other net minders in their team's system as rivals who strive to unseat them from the net.
Given these circumstances, there's always potential for a goaltending controversy whether the heir to the blue paint is sitting on the team's bench, biding his time in the AHL, developing in another league, or (as in Bernier's case) hoping to get traded to a team looking for a starting goaltender. If goalies don't consider that they just played themselves out of their job with their last loss, then they're either deluded as to the reality of their situation or have found a state of inner piece that makes them unsuitable to play in competitive sports.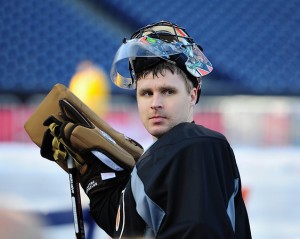 Based on his musings about the universe, Ilya Bryzgalov might fit into the "uncompetitive due to achieving inner peace" category.
If you're not convinced that a goalie is always on the verge of losing his job, consider the following examples. Although different circumstances resulted in the trade of Cory Schneider and the buyout of Ilya Bryzgalov, both cases reveal that a goalie is always in a precarious position no matter how long his contract is or what his team has previously said about their plans for him moving forward.
The Devil You Know
For centuries, monarchs had to oversee various matters of foreign and domestic policy with the knowledge that their subjects might oppose their actions and rebel.  As a result, the heir to the throne became an ambiguous figure to the ruler, who often felt both affection as well as apprehension toward his or her successor. After all, history offers many examples of heirs who claimed their inheritance ahead of time.
Starting goaltenders in the NHL face similar problems as they must maintain a professional relationship with a person whose boyhood dream has been to snatch the coveted #1 position for himself. Even when goalies have the most amicable relationship (even when they openly joke about the obvious rivalry between starters and backups), the issue of succession looms over each #1 netminder. Heavy is the head that wears the goalie mask!
For many goaltenders, the succession is unclear. They have capable backups who take over briefly while the starters are resting or injured, but the backups serve more as stewards maintaining control in the ruler's absence than upstarts trying to wrest the net away from their teammates. Often the threat to established #1 netminders is external and unknown.
In this way, Reimer can actually benefit from Bernier's presence in the dressing room as he will get a chance to learn about his rival and use that information to enhance his own performance. If Bernier's five-hole springs a leak, Reimer will double his efforts to make his own airtight. If Bernier's glove hand is easily beaten, Reimer will make his seem like an attachment on a vacuum cleaner designed to clean up rebounds. By learning Bernier's weaknesses, Reimer can focus on developing those areas into his strengths.
Of course, the less Machiavellian benefit of playing alongside one's closest competition is the opportunity to learn techniques and gain insights from the competition. Unless a soap opera-like level of hatred forms between Reimer and Scrivens, they will most likely improve as professional athletes by working together.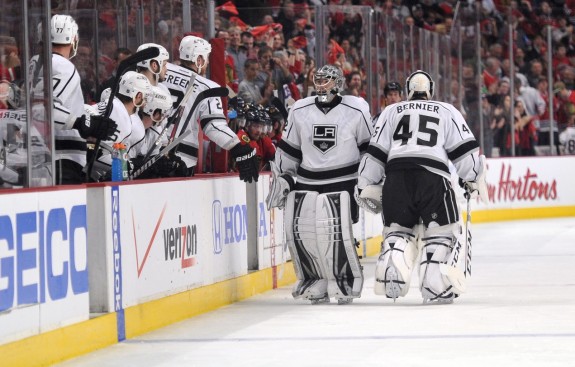 Proof that two highly competitive, ambitious goaltenders can at least pretend not to hate each other during games.
While it's possible that their working relationship will become dysfunctional, they will have to overcome those difficulties as part of an intensely competitive team. If the Carlyle Leafs have proved anything last season, it's that they are willing to bench or send down any player. That philosophy caused some puzzling decisions such as demoting and scratching future stars such as Jake Gardiner, but even that strange move will pay dividends in the future by emphasizing that each player must prove himself before being allowed to play.
Since that competitiveness applies to every position on the roster, Reimer and Bernier won't be able to justify open animosity toward each other by blaming it on tensions between them as rivals. Indeed, they will need to show a willingness to get along in order to prove that they can handle playing on a team that promotes internal competition in order to cultivate success.
Future Considerations
The conflict Reimer and Bernier over the crease will probably unfold in a similar manner as that between Bernier and Quick: both will vie to be the acclaimed starter, and one will emerge as the #1 while the other accepts being the backup until a trade can be arranged. It might take some time, but that request will likely be fulfilled. This situation is far from a detriment to the Leafs. Indeed, this end of the Reimer-Bernier tandem is ideal as it will drive up the price of whichever goalie is chosen to be traded.
Of course, both will be older by the time one is traded, but that shouldn't diminish either's value significantly. I doubt this tandem will last more than two years, so, when the time comes, neither will be older than Cory Schneider. The Canucks managed to get a solid prospect out of the deal that sent Schneider to play for the New Jersey Devils, and that's after Mike Gillis had allowed the goaltending controversy in Vancouver to plague both netminders throughout the 2013 season and playoffs.
Some commentators have suggested that Toronto might suffer a similar goaltending controversy as Vancouver did, but differences between the circumstances surrounding the Luongo-Schneider and Reimer-Bernier tandems suggest that the former pairing won't endure what the latter went through. Neither Bernier nor Reimer has a millstone of a contract weighing down his value and ability to perform up to expectations created by that very same pact. The tension in Vancouver didn't stem from having two goalies vying for the starter's position, but retaining two #1 goalies when the starter had already been chosen.
With both Reimer and Bernier signed to cap-friendly contracts, the Leafs will likely have few problems moving either of them when the time comes. Furthermore, Nonis didn't give up franchise players or a top-tier pick in order to acquire Bernier, so, if he ends up being a bust, his diminished trade value won't make the initial deal seem too costly.
At best, the Reimer-Bernier tandem will reap a significant return in the long run, and, at worst, it will result in a negligible loss. So the situation will likely be "win-win" or "win-somewhat lose" depending on how each goalie weathers the uncertainty surrounding his career.