Only in sport do you hire a replacement before the preexisting employee has quit, been fired, or demoted. Only in professional sports do the words "it's only fair" rarely dictate the outcome that would be only fair. It's tough mentally, and of course physically to be a professional athlete, but the stress on Maple Leafs goaltender James Reimer has just remounted on top of his shoulders.
The move to acquire talented, young, and somewhat proven goaltender Jonathan Bernier had been slowly coming together for months. Nonis had not been comfortable moving forward with Reimer in net moving into the playoffs let alone next season if this deal was in place months ago. The problem with the deal is not the never ending storyline of battling number one goaltenders in Toronto, but the apparent inability to trust the goaltender that carried your team all season.
Nonis argues this is isn't a "knock" on Reimer, but a move that helps the organization rather than try and complicate things. Sure, you always want to know that the guy on the bench can come in and be just as good as the guy who had to leave the game. When you have two very capable number one starters playing keep away like that, you're playing with fire.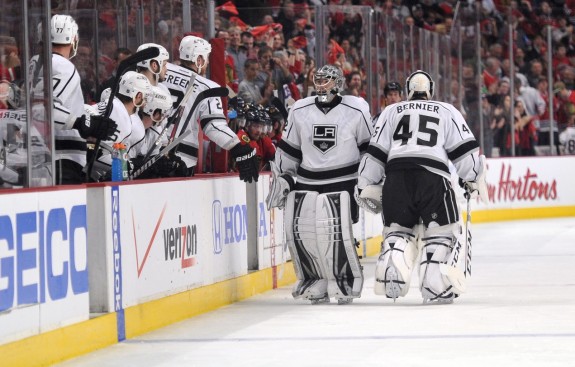 Bernier is an RFA this summer after making $1.525 million this season with the LA Kings. He is leaving LA because he doesn't want to play second fiddle to Jonathan Quick who has run away with the number one job. Of course he wants to play, he knows he's talented and he wants to go to a team that needs a number one starter. The Maple Leafs already have one, or so we thought.
From the age of 19-24, Bernier has been with the Kings organization playing 62 games in the span of 5 seasons. In 62 games, he has a W/L record of 29-20, a career save percentage of .912%, a 2.36 GAA with 6 shutouts. He seems to be able to hold is own when he is needed, but that is not the role Bernier wants to play, and he figures he will have his desired role in Toronto.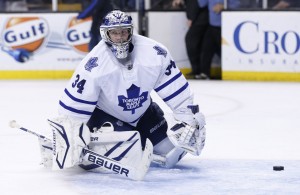 James Reimer fell into the number one spot for the Leafs when he was called up after playing 15 games for the Marlies in the 2010-11 season. He didn't look back. Once he got the call, he made sure he played the way he needed to in order to impress and stay up. These chances don't come often, especially for goaltenders. In 104 games for the Maple Leafs from 2010-2013 (three seasons), Reimer has a save percentage of .915%, a GAA of 2.71, 10 shutouts, and a record of 53-32. You couldn't ask much more of a goaltender making $1.8 million at the age of 25.
The money Reimer makes is irrelevant. That would never dictate how well he, or any other player performs during the season. You can speculate a large contract would make a player guilty (Milan Lucic) and they might try too hard to live up to it. You can also argue that just playing in the NHL and doing your best every day no matter what your salary could be a better option to go with. You can tell Reimer is thankful and wants to be in this position, especially after battling concussion issues and injury.
It is apparent Bernier wants to be the number one guy. He wants to play 60 games for the Leafs next year and spend all his time in the crease, not riding the pine. The same can be said for Reimer who has been that guy and proved he can carry the team when they need it for parts of three seasons.
Nonis is trying to play it safe. If Reimer is injured, he wants to know he has a capable goaltender waiting in the wings. I can understand that theory and of course I support it. Bernier is not the guy to do it. He needs to be signed to a contract and he'll want first string goaltender cash. The Leafs first priority should be to pay Reimer and lock him down, rather than pay a guy that hasn't donned the uniform or proven he can play a full NHL season. Predicting what a player is going to do and projecting results for the next season is very difficult, if not, impossible.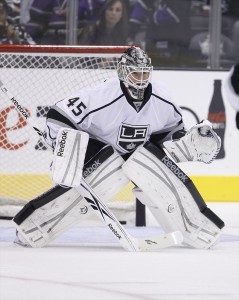 The Leafs are taking a big chance on creating a tense goaltending environment. I'm not saying Reimer won't greet Bernier and make him feel like part of the team, but he is the competition. He's the guy coming in to steal his job. You never want to see anyone fail, but seeing someone fighting for your job succeed is not something you will congratulate either.
We'll have to wait to see the contracts that are given to each goaltender when the time comes. The issue with money is the cap will be going down this coming season and there is a laundry list of players left to sign. What the Leafs needed more than anything and have needed for years is a number one centre, followed by a number two centre. None of those issues have been addressed with this trade, and their need for a top defenseman isn't either. The work Dave Nonis and the organization have to do this summer is mounting. If the Leafs are going to complete a major shake up, they might want to look around at other teams like the Penguins and Flyers who have been making deals that haven't all worked out as expected.
There's no question the Leafs need to get better. Does this trade make them better immediately? Not at all. To those suggesting this trade was made because Reimer just wasn't good enough, I'd like you to go back and watch those games Reimer stole in the playoffs. Go watch some of his regular season performances when he wasn't injured. He should be the Leafs number one guy, and this trade plants a seed of doubt in his mind. It's just fair for Reimer to be number one, but that's not the way this business works.
Katie Flynn is a News Editor at theScore and theScore App as well as an NHL Analyst for H4TV Sports News.