We're six days away from the 2013 NHL Draft.  Seems like we've been talking about it for an eternity already.
Much has been made of Darcy Regier's declaration that the Sabres want to trade up.  Of course they do – historically, the picks the Sabres hold (8th and 16th) don't pan out and this draft has four to five potential franchise players at the top of it. Yeah, I'd want to trade up, too.
With all the talk of where the Sabres might trade up and what they might have to relinquish to do that, one important thing has been forgotten: they might not actually move anywhere given the value teams are putting on the first four or five picks.  Is moving up a spot or two really worth what they'd have to give up? It might just be more valuable to them to stay where they are and take the best guy available.
So the question is: who might that be? This got a bit lengthier than I'd anticipated so we're going to cover the 8th pick today and 16 on Thursday.
The Candidates
There are four names that come up commonly and usually a few names thrown in as a wild card depending on which mock draft you're reading that day. Some have guys like Hunter Shinkaruk (more on him later) as high as five and as low as the late-teens. Others have Ryan Pulock (also more later) as high as the Sabres at eight and as low as 18 or 19. There is very little consistency after the top four.
Elias Lindholm, C/W Sweden – Lindholm has been all over the place in most mocks; as high as 5th and as low as 8th, the consensus on the young Swede is that he has the potential to be a very special player.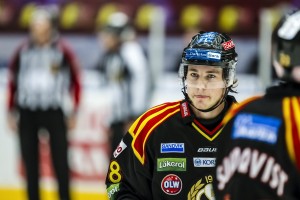 He possesses good speed and is a strong skater in general and has a high hockey IQ. He's a strong two-way player and an excellent playmaker at this point. An excellent stick-handler, he does struggle to finish but could see that skill improve as he grows as a player.
On top of his skill set, he's flexible as far as where he can play.  He's seen time at wing and center so while the Sabres have a growing depth at center, Lindholm could potentially add to that or slide to wing.
The quick, easy comparison has been Peter Forsberg but let's not get ahead of ourselves.  That kind of ceiling would be fantastic but the Sabres would love to grab a good two-way forward with a strong offensive game.
Darnell Nurse, D Sault Ste. Marie (OHL) – He'll be around near the Sabres pick but this one feels like an Oilers pick more than anything else. They need defense badly and he's a high-upside defender with great size.
A bit lanky at 6'4" 185 lbs – and really, what big defenseman isn't lanky at this point in their development – Nurse is projected to be a shutdown, top-pairing defenseman. He's big, physical, not afraid to drop his gloves, and uses his size well in his own zone to shut off opponents from the net. On top of that, he's a strong skater for his size and has the frame to pack on a few more pounds without it affecting his skating.
The one concern with Nurse's game is his offensive ability. Reports say his shot isn't nearly as booming or heavy as guys his size tend to have and, while he produces in the OHL, it remains to be seen whether that's something he can replicate on the big stage.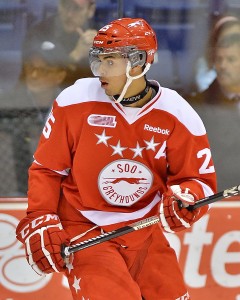 Should the Oilers go in another direction, a big, physical masher could be a great fit for the Sabres as they don't currently have anyone like that on the roster.
Valeri Nichushkin, RW Chelyabinsk (KHL) – The true wildcard of the draft. Nichushkin, who's size is up for some debate (he's 6'2" some places, 6'4" others), has drawn loft comparisons to fellow countrymen Alexander Ovechkin and Evgeni Malkin.
Considering to be a potential star possessing a ton of natural gifts, Nichushkin is an elite skater with the ability to dance through all five defenders and score a highlight-reel goal. He's obviously big and he uses his body to his advantage which can be overwhelming considering his one-on-one skills.
There are obviously caveats, otherwise this guy would be considered with Nathan MacKinnon and Seth Jones. It's been said that he lacks the vision to use his teammates effectively I.E. he's selfish.  He tends to be a one-man show a lot of times.  There was a concern over the "Russia" factor but he's reportedly come to terms with Dynamo Moskva on a termination of his deal so that he can come to North America to play right away. Also a surprise to no one who's covered Russian prospects in the past: his defensive game could use a little bit of work.
For teams looking for that high-end, boom-or-bust type of prospect, Nichushkin is your guy. He clearly is one of, if not THE, most talent players in the draft. For a team like Buffalo, stashing a prospect like this in the pipeline could pay huge dividends.
Sean Monahan, C Ottawa 67's (OHL) – Once thought to be a sure-fire top-five pick, Monahan has found himself sliding in some mock drafts and that might not even necessarily have anything to do with him.
Monahan is a tremendous two-way center who is considered to have natural leadership qualities – something teams really covet out of young players. A strong playmaker, he doesn't have an overwhelming skillset.  He has good size and uses it to protect the puck well.  A "complete" player with very good two-way abilities.  Compare him to any previous two-way leader and I'm sure someone has already beaten you to the punch.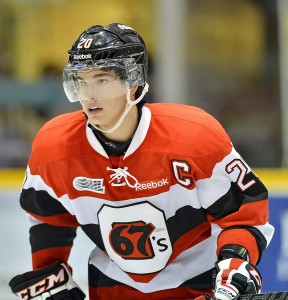 The knocks on him, and there are few, are that his skating abilities are good but not dynamic. He doesn't have that explosiveness to take him to the next level.  Also, while he does have good size, he's not considered a physical player by any definition of the word.
All of that aside, Monahan looks to be a very good two-way center who could potentially develop into a star scorer. At worst, you're probably getting a dependable, responsible center with strong upside.
Rasmus Ristolainen, D Finland – Sometimes, the steady, safe pick isn't the way teams want to go. They want to make that sexy pick that will excite their fan base and hold the potential to unlock the game's next great star.
For Ristolainen, he won't fall into the latter category anytime soon but the 6'4" Finn is as dependable as they come. Big and mobile, he uses his size and skating to play a strong defensive game.  He's also shown the ability to jump into the rush from time to time, showing the type of skater he is for his tremendous size.  And speaking of that size – at 205 lbs, he's got an NHL-ready body right now.  That's not something most defensemen at this age can claim.
The knock on Ristolainen, as it is with Nurse, is his offensive capabilities. While he shows the ability to jump into the rush from time to time, he doesn't possess overwhelming offensive skills. He clearly shows greater promise in his own end, which is kind of important for a defenseman, but teams tend to fall in love with defensemen who can do it both.
For the Sabres, depending on who is left on the board, Ristolainen could be a great fit for this team and see action as early as this season depending on the team's plans for him and his impact in camp.
So Who's The Pick?
Not everyone from this group is going to be there. It's entirely likely that Monahan, Nichushkin, Nurse, and Lindholm could all be gone by the time the Sabres pick, which would leave Ristolainen as the default choice from this group.  And really, you can't go wrong with a player like him.
In an ideal world where every one of them is available, the Sabres should take the best player on the board given their dearth of talent.  Nichushkin has by far the most upside and could tantalize the scouting department.  The Sabres aren't going to dig themselves out of this hole they've created without swinging for the fences.
The pick: Nichushkin
Check back on Thursday when we take a look at the potential options when the Sabres pick for the second time in the first round at 16th overall.
Follow me on Twitter: @RWTFC
A long-time (and long-suffering) Buffalo sports fan. Sometimes optimistic, always weary. I write other stuff for a lot of other people.