It's the most wonderful time of the year. The time for 211 dreams to come true. The time for fans to dream of the next wave of talent for their team. The 2013 NHL Entry Draft gets underway at 3 P.M. EDT on Sunday, June 30 in Newark, New Jersey. The Tampa Bay Lightning currently hold six selections, including the third overall. In this five part Lightning draft preview, the consensus top three available draft prospects in Seth Jones, Nathan MacKinnon and Jonathan Drouin will be put under the microscope. Also included will be names to watch when the Lightning are on the clock with the 33rd overall selection and possible names to keep in mind for their remaining four selections.
Tampa Bay Lightning 2013 Draft Preview Part Two – The Case for Nathan MacKinnon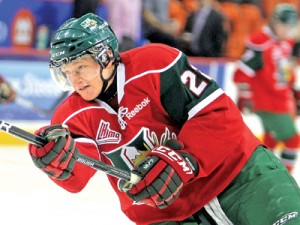 The Tampa Bay Lightning have a burgeoning system ripe with talent up front. They do not, however, possess an elite forward. The future is certainly bright with Alex Killorn, Tyler Johnson, Richard Panik, Ondrej Palat, Vladislav Namestnikov, J.T. Brown and Nikita Kucherov developing their games, but none appear to have top line upside. The Lightning could certainly stand to use a jolt at the center position. While Johnson and Namestnikov seem likely to develop into NHL caliber players, and Johnson arguably already at that point, adding a top end center wouldn't hurt.
Nathan MacKinnon should develop into exactly that. The Hockey Writers' own Shawn Reznik ranks MacKinnon as the top available draft prospect. This sentiment is shared by ISS and HockeyProspect.com. When watching MacKinnon, it becomes easy to understand why he would be ranked so highly. He has an impressive array of physical ability that is complimented extremely well by his understanding and feel for the game. He doesn't possess intimidating size (6-foot, 180 pounds) but he uses his incredibly strong frame to play a controlled, but explosive, brand of hockey. Everything he does on the ice is executed with a tremendous amount of force. He is an explosive skater, has a rocket of a shot and exhibits tremendous drive and determination on the ice.
MacKinnon has a lot of exciting elements in his game, but none are better than his skating. His top speed is electric and it doesn't take him long to get there.
"MacKinnon is an extremely explosive and powerful forward that can shred defenses in almost any way imaginable. His skating is probably his best attribute as he has probably one of the best first two strides I have ever seen." – Zenon Herasymiuk, Future Considerations

"His skating is excellent with first step quickness that is exceptional which allows him to beat defenders and create opportunities in a flash." – Craig Button, TSN Scout

"Off the rush he is dangerous, with fantastic cuts, and the type of lateral agility that is very rare in a player and gives defenders nightmares. He can make that first step in either direction and be gone before the defender knows it." – Ben Kerr, Last Word On Sports
MacKinnon also exhibits all the ingredients to be a top goal scorer for many years to come. His shot is not only extremely heavy, but comes with pinpoint accuracy. His instincts and skating allow him to find open ice with ease. A player possessing these attributes is difficult to contain.
"When he gets to top speed he likes to use power moves to drive the net, but also uses his vision and shot to bring a different looks to the table every shift. He is unpredictable and unstoppable when he is at his best. " – Zenon Herasymiuk, Future Considerations

"His shot is quick and accurate and he doesn't allow goalies to get a read on it. He is forceful and at times may be inclined to shoot first but his playmaking is very good." – Craig Button, TSN Scout

"MacKinnon is a pure goal scorer, he knows how to finish plays in-tight, and has an excellent wrist shot and release from further away. With excellent hockey sense he is always in the right position, and his good vision and playmaking skills make him a threat to set up plays as well." – Ben Kerr, Last Word On Sports
MacKinnon is also lauded for his on-ice determination. His natural talent is obvious, but the inner drive he displays is also quite impressive.
"His on-ice intensity is world class and I have zero doubt that he will become an allstar for many years in the NHL." – Zenon Herasymiuk, Future Considerations

"He is single-minded player in his approach and his determination along with his skill allows him to impact the game. A clear cut number one center." – Craig Button, TSN Scout
The Tampa Bay Lightning are fortunate to already have a young top line center in Steven Stamkos. If the Lightning found themselves selecting Nathan MacKinnon on Sunday, it would seem a very difficult task for teams to match up with a Stamkos-MacKinnon duo up the middle. Elite goal scorers will always be in demand, as will elite centers. While it may not be a likely scenario, it is one that will provide Lightning faithful with plenty of warm and fuzzy feelings leading up to the draft.