It was six months ago to the day that my Top 90 midseason rankings came out.  A lot has happened over that time span.  Players have grown; players have stumbled; players have surpassed expectations; players have came up just short.  With less than a week before draft day, it's time I give a final rankings list.  There will be some shockers – I'm sure of it.  For someone like me, who follows prospects during their most important year, articles like this always tend to be my favorite to write.  In case you want to know more about each prospect I've ranked, I have linked their names to their prospect profiles that THW has done for the past few months.  So here goes nothing:
1. Nathan MacKinnon – C, Halifax Mooseheads, QMJHL
It was a tough decision to rank MacKinnon ahead of Seth Jones, who is the best defenseman the draft has to offer, or his teammate, Jonathan Drouin, who burst onto the scene in the Q this season, but after a tremendous outing in the Memorial Cup that saw the Halifax Mooseheads be crowned champion, MacKinnon solidified himself as the best prospect.  He's fast, has a great build, great moves, finishing ability, etc.  He's the total package and the obvious best choice at forward.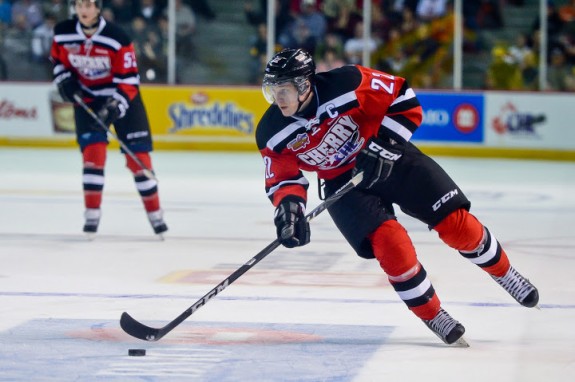 2. Seth Jones – D, Portland Winterhawks, WHL
Despite his team losing in the Memorial Cup Final to his friend, Nathan MacKinnon, Jones continues to leave scouts in awe of the mixture of size and skill.  Franchise defenseman are very difficult to come by, but Jones is as close as you can get in this draft.  He reads his opponents well, uses his size to his advantage, has great vision and hockey sense, and is as effective with the puck as he is without.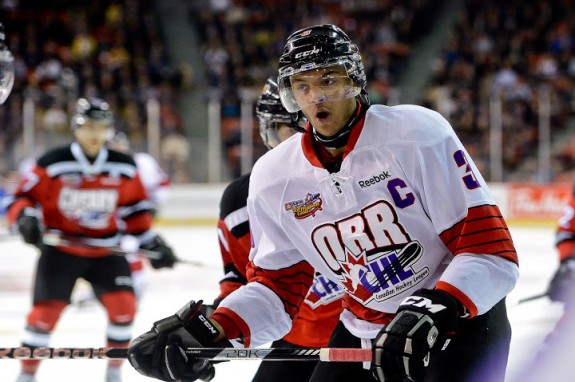 3. Jonathan Drouin – C/LW, Halifax Mooseheads, QMJHL
Drouin easily surpasses his draft class in skill set alone.  He seems to always have the puck glued to his stick.  With the softest hands you may ever see, Drouin was the QMJHL's leader in points-per-game with 105 points in 49 games.  Drouin rounds out the "Big 3" because of his ability to control the puck, create opportunities, dance around defenders, and make his teammates better.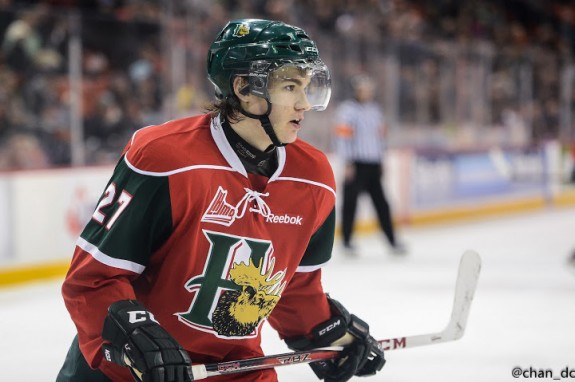 Barkov has played in the SM-liiga since he was 16.  He's already developed physically and mentally, but he can dominate with his moves and his creativity.  He has the grittiness you need, but also possesses superior control of the puck and can slow the game down at a moments notice.  With a great set of hands and sometimes flashy play, Barkov is a simple choice at this position.  Not quite the level of the top 3, Barkov will still do very well in the NHL.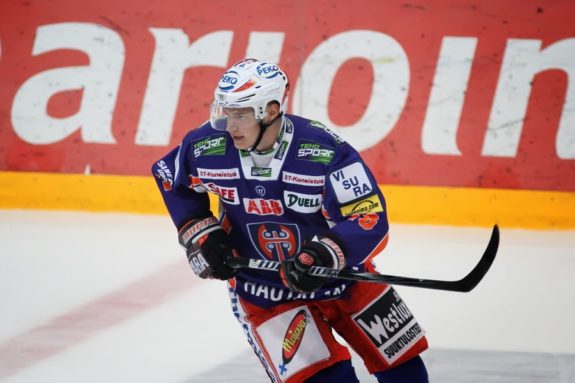 Brynäs is fortunate to have a player like Elias Lindholm.  He is a slick skater that is a pure playmaker.  He can feed passes in tight spaces at will, and does so with almost no effort.  Lindholm can change a game with one rush up the ice.  He seems to have eyes on the back of his head and his hockey IQ is through the roof.  With that kind of talent, one team in the top 6-8 will have a key piece for years down the road.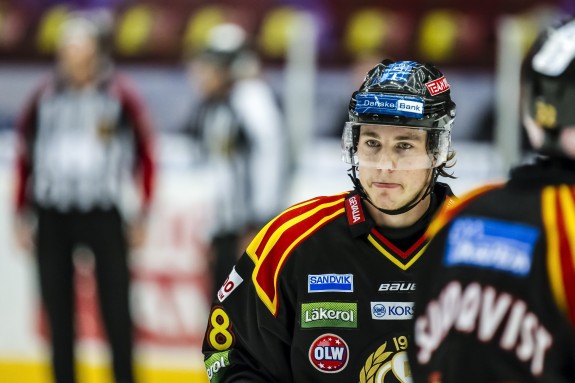 This may be the first shock of my rankings to some people, but I feel it is warranted.  Since last season, I've always been impressed by Ristolainen.  The poise he has with the puck is second to none and he takes care of business in all three zones.  He certainly has the size and strength to punish opponents – which he does from time to time – but Ristolainen is also a great offensive player that can lead the rush up ice and be an anchor on the powerplay.  He's as close to Seth Jones without being Seth Jones, in my opinion.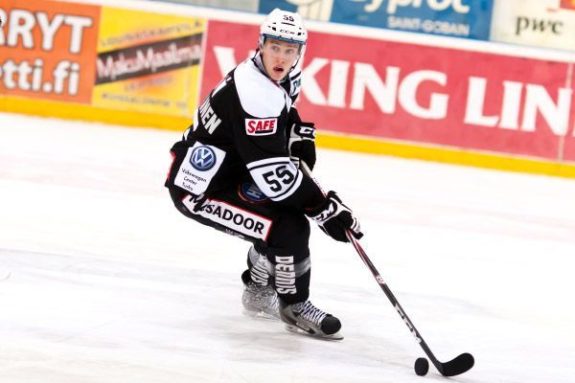 Nichushkin has a will to win and compete that you don't see too often from Russians.  While many are labeled "soft", Nichushkin is quite the opposite.  He has a hulking frame and uses it effectively when driving to the net.  He may be looked at as a bull on skates, however he also has the finesse that you see from guys like Kovalchuk, Semin, among others.  The "Russian Factor" may very well scare off GM's from selecting him, but he's a tremendous asset to have in the pipeline.
8. Sean Monahan – C, Ottawa 67′s, OHL
A prototypical two-way forward, Monahan has great size and hockey smarts to succeed in the NHL.  He's almost NHL ready, but may benefit from one more year of juniors before making the transition.  He's strong on his skates and difficult to knock down.  Always in the right place at the right time, Monahan cuts down gaps in the defensive zone and can do some real damage with his shot/passing in the offensive zone.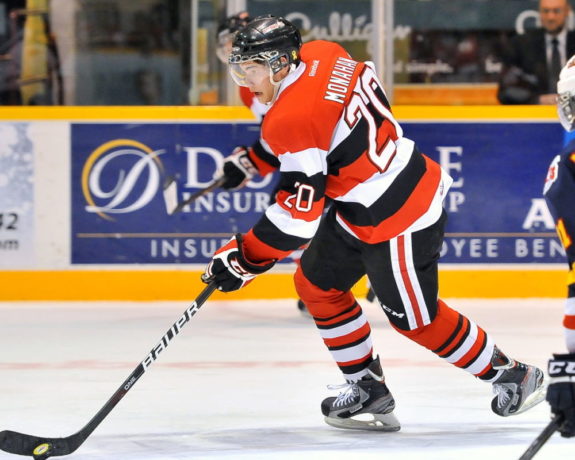 9. Bo Horvat – LW, London Knights, OHL
Horvat showed up for the Memorial Cup in a big way.  He went from being a probable Top 30 pick to a surefire Top 15 pick.  Arguably the best finisher in the draft, Horvat's game is played in and around the net.  But he can also dish the puck as well, and rarely shys away from defenders.  With a heavy wrister, a quick release, and a booming one-timer, Horvat has climbed the rankings since the 2nd half of the season…..and for good reason.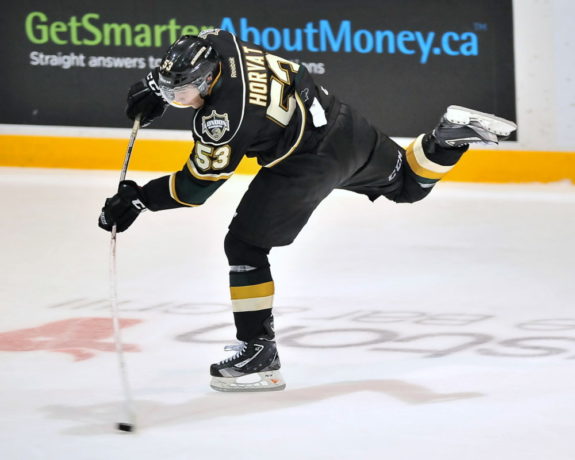 10. Hunter Shinkaruk – C, Medicine Hat Tigers, WHL
Whatever the Medicine Hat Tigers are feeding their players, it seems to improve their speed.  They had Emerson Etem last year who was a bullet, and now they have Hunter Shinkaruk who is a bullet train.  Shinkaruk thinks the game at a very high speed, which helps since that is precisely what his game is built around.  He maneuvers with ease through defenders with his quick hands.  A marvel to watch at times, Shinkaruk should do just fine when he makes it to the pros.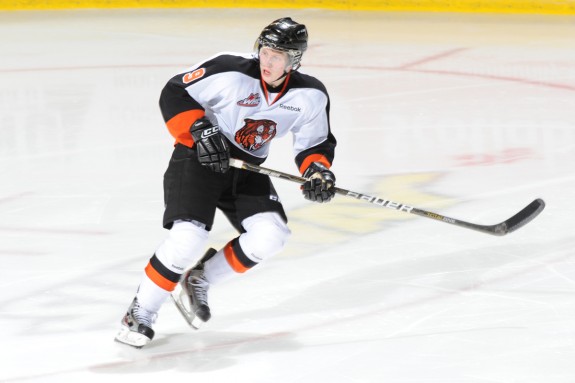 11. Josh Morrissey – D, Prince Albert Raiders, WHL
The 2nd shocker of these rankings is yet another defenseman.  Morrissey has intrigued me all season.  His skating ranks with the best of them and plays a very simplistic (but effective) game.  His passes are crisp, can move the puck up the ice, and is a great positional player.  His gap control is a key asset and Morrisey will lay bodychecks, even though he isn't the biggest defenseman on the ice.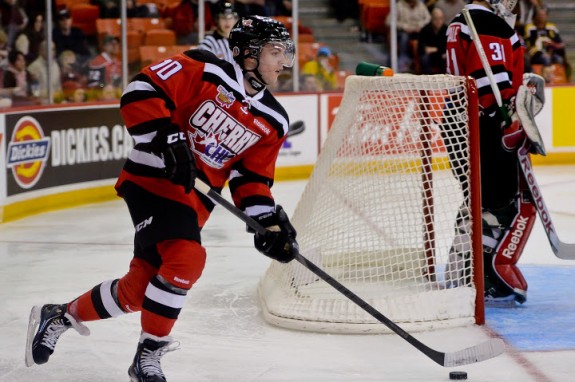 12. Darnell Nurse – D, Sault Ste. Marie Greyhounds, OHL
I think Nurse could very well be in the Top 10, but I like the other players just a bit more.  That isn't to say Nurse is bad – he's not.  In fact, he's the best shutdown defensemen in this year's draft crop.  He's got a mean streak and is sound positionally.  Nurse is a player you love to have on your team, and one you hate to play against.  He clears the area around the net and uses his long reach for pokechecking.  He tapped into his offensive potential this season with 41 points on the year, but he will be used for his defensive attributes in the NHL.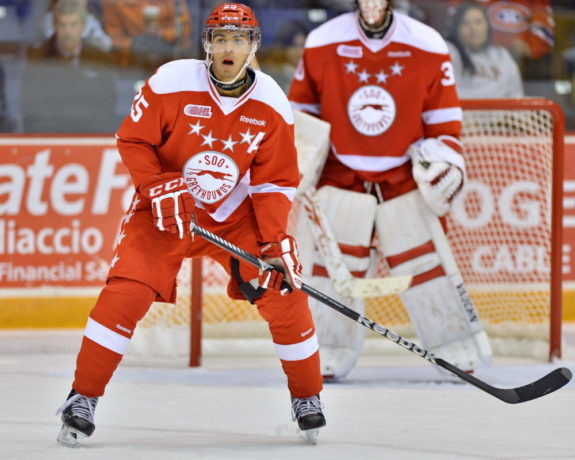 13. Alexander Wennberg – C, Djurgårdens IF, Allsvenskan
I had him ranked 55th in my midseason rankings, but he's shot up the list with a strong performance this year for Djurgårdens and in the U18's.  He's got silky smooth hands and great puck control.  He plays the game similarly to Henrik Zetterberg because of his defensive awareness and determination in his own zone.  A versatile forward, Wennberg is an agile skater who can play any forward position.
14. Nikita Zadorov – D, London Knights, OHL
The London Knights constantly seem to be churning out great defenseman, and Nikita Zadorov is no different.  A big body and standing 6'6″, Zadorov is a mammoth blueliner who has built his game around physical play and truculence.  He's a bruising defenseman that takes a player out of the play with his body and makes opponents second guess themselves before coming into his zone.  He's an adept skater and has a cannon of a shot from the point.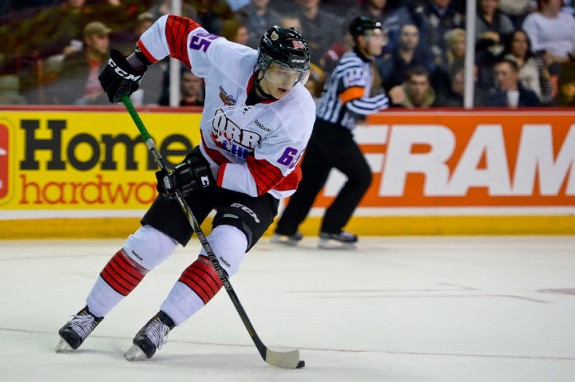 Another riser up my list was Frederik Gauthier.  I was impressed by his skills for such a big man.  He's a tough customer in front of the net and doesn't back down from a battle along the boards.  Gauthier is a key faceoff guy and really did well with Team Canada in the U18's.  With a quick shot and fast release, Gauthier can flourish in the NHL offensively, but his defensive skills are something he prides himself on also.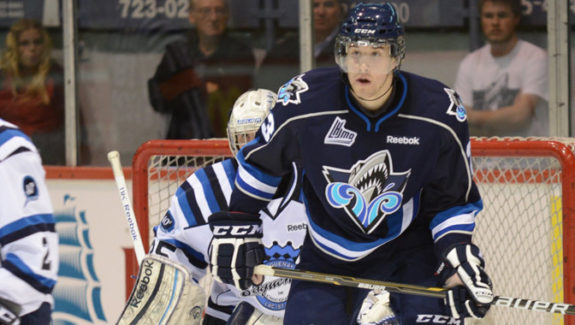 16. Ryan Pulock – D, Brandon Wheat Kings, WHL
The best puck-moving defenseman in the draft, Pulock is a very talented defenseman who isn't afraid to take chances.  He carries the puck well and has great vision down the ice.  His first pass is excellent and he seems to find the open man more often than not.  Pulock is a quick skater and has great offensive instincts.  Sometime his defensive game leaves much to be desired, but you're not drafting a defensive defenseman with Pulock.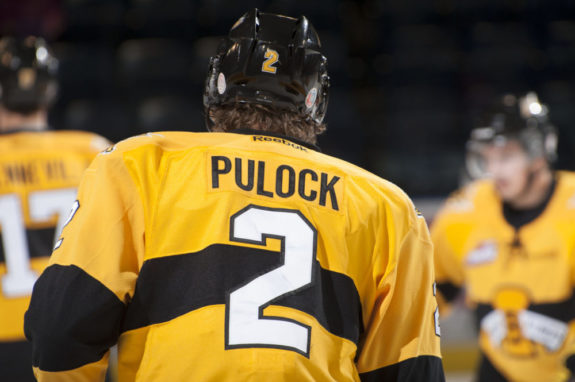 17. Curtis Lazar – C, Edmonton Oil Kings, WHL
Lazar has a powerful lower body which bodes well for his speed and ability to get out of tight situations.  His edgework, agility, and acceleration make him stand out as one of the faster skaters in the draft.  He started a bit slow in the beginning of the season, but turned it up when the season went along.  A phenomenal wrist shot and super quick release has left goalies stone cold in the crease.  But even without the offense, he plays a rough-and-tumble style of hockey.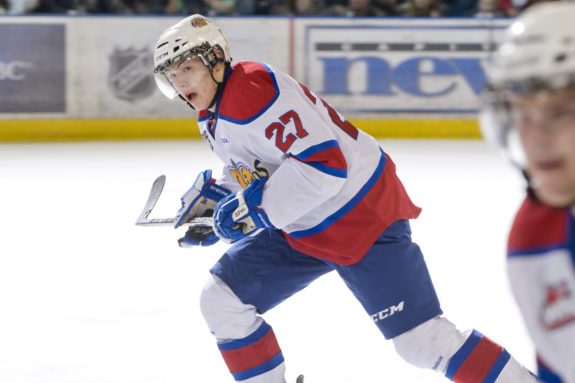 18. Max Domi – C, London Knights, OHL
He will best be known for his "between-the-legs" pass to teammate Bo Horvat during the Memorial Cup Playoffs.  Max Domi is nothing like his father.  While his dad was a pest, Max is an offensive juggernaut with great stickwork and skill.  A player that is always fun to watch, Domi seems to wow people when the puck is on his stick.  I was never that high on him due to his size, but the hype he's been getting is absolutely warranted.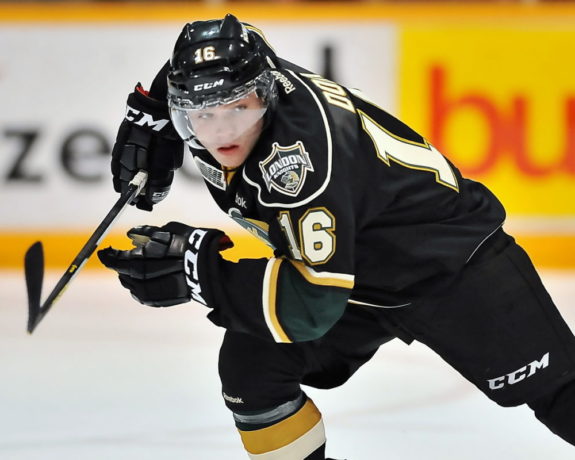 The best defenseman coming out of Sweden is Robert Hagg.  He's a tremendous two-way defenseman who chips in offensively and closes down angles effectively.  He's got the size, poise, awareness, positioning, and great instincts you'd want from a defenseman of his caliber.  Hagg split time between the J20 Modo team and the SEL's Modo team.  He's already played against guys much older than him, which has benefited many aspects of his game.
20. Ryan Hartman – RW, Plymouth Whalers, OHL
Ryan Hartman is a gamer.  He plays the game with consistency, effort, and hard work.  He has a very good shot and deceptive hands that can deke around defenders.  Hartman will chirp your ear off and gets under player's skin.  He's a player I've admired and always liked to watch.  The Plymouth Whaler has very good balance and is an effective bodychecker.  He compares himself to Mike Richards, which is a fair assumption given the way he plays the game – with heart.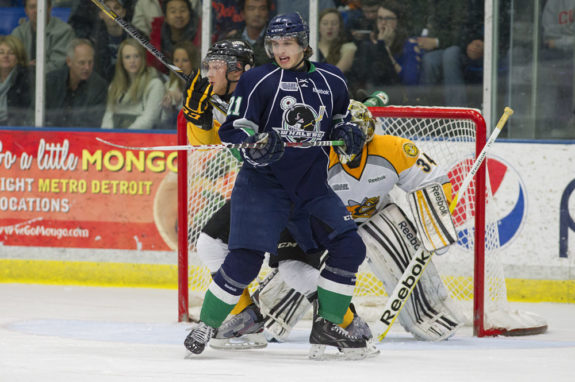 21. JT Compher – F, USNTDP, USHL
Compher has a great work ethic.  With his ability to anticipate what is about to happen, Compher has grown this season with the USNTDP as a two-way forward.  Great on faceoffs, Compher excels with his hockey sense and ability to read the play that is unfolding.  He was a prolific scorer this season for Team USA and was a standout in all their tournaments.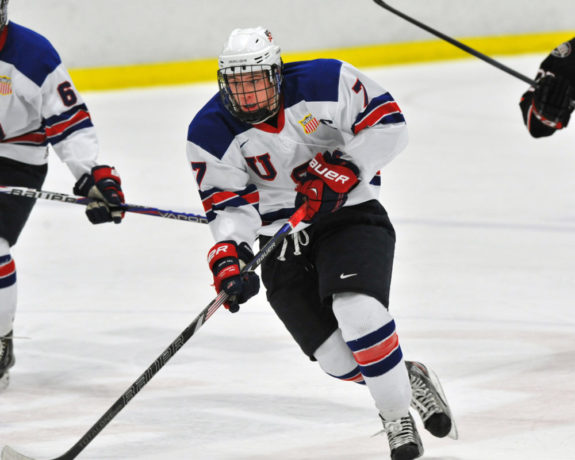 22. Nic Petan – C, Portland Winterhawks, WHL
Portland strikes in the Top 30 again with center, Nic Petan.  A dangerous playmaker, every time the puck is on Petan's stick, there is bound to be a scoring opportunity.  He can thread the needle with his passes and sees the ice very well.  A cerebral passer, Petan shows up every shift and won't go down without a fight.  Standing 5'9″, Petan packs a lot of skill into his small frame, which is why he is ranked so highly in my draft rankings.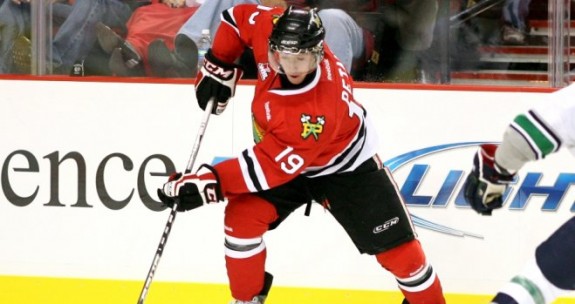 23. Adam Erne – RW, Quebec Remparts, QMJHL
I find Adam Erne to be the best powerforward in the draft.  His blend of hands, powerful shot, board play, and bodychecking is a complete package that is hard to pass up this year.  When he isn't driving hard to the net, he's camping out in front of it waiting for the loose pucks to put home.  He can talk your ear off and has a great compete level.  He reminds me of a John LeClair.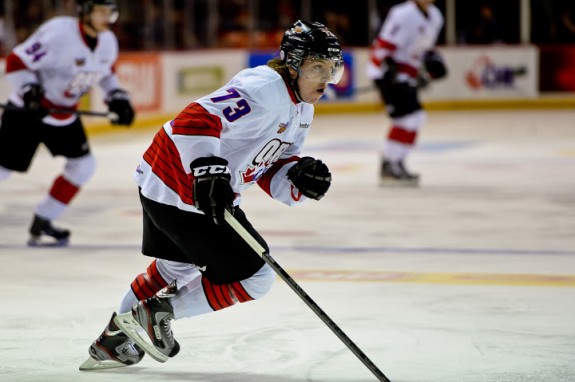 24. Zachary Fucale – G, Halifax Mooseheads, QMJHL
The first and only goalie in the Top 30, Fucale will likely be the best goalie drafted this season.  He was a force between the pipes all year for the Halifax Mooseheads and showed no flaws in his game leading up to their eventual championship.  Fucale can handle the pressure of a long, rigorous season and can recover very well from a goal.  He has great movement and rebound control with maturity beyond his years.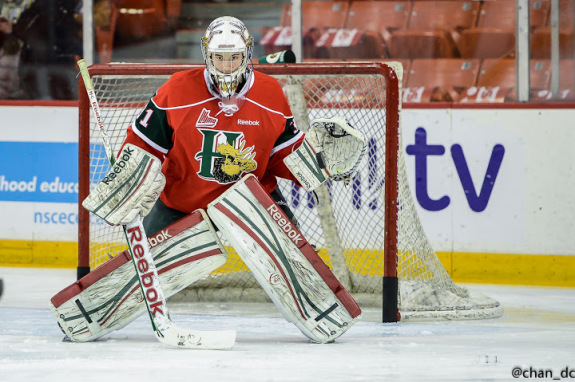 25. Kerby Rychel – LW, Windsor Spitfires, OHL
Rychel has a bit of a mean streak, but he counterbalances that with his speed on his skates, tenacity, and overall will to win every shift.  He drives the net frequently and has a very powerful release.  His shot has potted him 40 goals this season and 41 last year.  On goal scoring alone, Rychel is one of the most gifted forwards that pairs his offensive skills with his gritty play.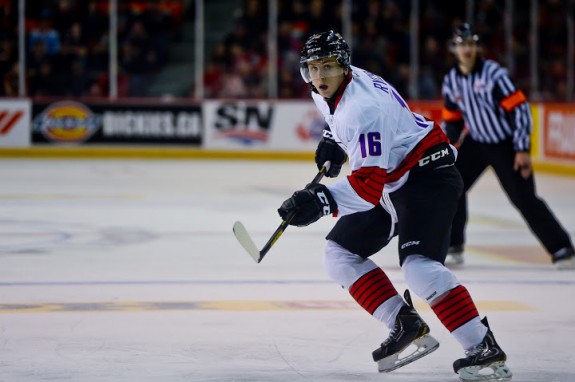 26. Valentin Zykov – LW, Baie-Comeau Drakkar, QMJHL
Another riser, Zykov has faired extremely well in his first season in the Q.  A fluid skater in his own right, Zykov plays with finesse and not much physicality.  He can be a lot to handle in the offensive zone because of his precise passing and offensive instincts.  Zykov's shot is his bread and butter and, as a result, has scored 40 goals this year for Baie-Comeau.  While he's still very raw, he does have a great deal of potential moving forward.
27. Shea Theodore – D, Seattle Thunderbirds, WHL
He's a tall, yet lanky defenseman who is considered an offensive-defenseman.  Skating has to be his best asset since he is agile and can change direction in a split second.  He carries the puck well and always looks up ice to see where the forwards are moving.  The defensive side of his game may need a little work, but a team is drafting him for his arsenal of offensive weapons.  Theodore will likely quarterback a powerplay in the NHL.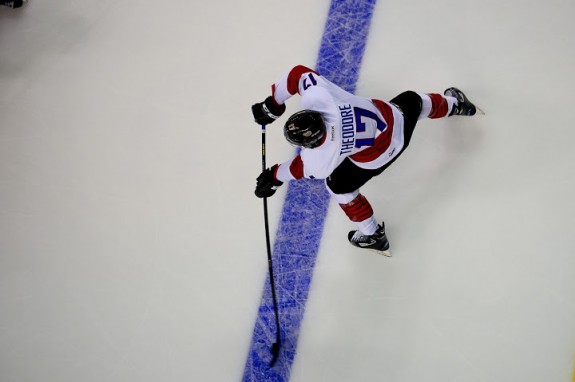 Lehkonen is another young player who flourished playing in the SM-liiga.  As a 17-year old, he had 30 points in 45 games for KalPa.  He's got fantastic finishing ability and a great sense of the game.  Lehkonen knows when to move and where to be for scoring opportunities.  His short stature allows him to be one of the fastest players on the ice at any given time.
29. Samuel Morin – D, Rimouski Oceanic, QMJHL
Another in the long list of big shutdown defensemen, Morin played very well in his own zone all season.  He's an effective pokechecker and plays a simple brand of defense.  He doesn't take many chances with the puck, but his first pass is great out of the zone.  Morin's slapshot packs a punch, but has a tendency to not always be on target.  He's great positionally and enjoys laying hits on opposing forwards.
30. Mirco Mueller – D, Everett Silvertips, WHL
To round out the Top 30 I selected Swiss defenseman, Mirco Mueller.  Mueller plays the full length of the rink.  His poise for a rookie defenseman is leaps and bounds ahead of some older players in the WHL.  He reads the play well, boasts a great hockey IQ, and is efficient in his own end to boot.  Mueller plays every scenario and has been a rock this season for the Silvertips.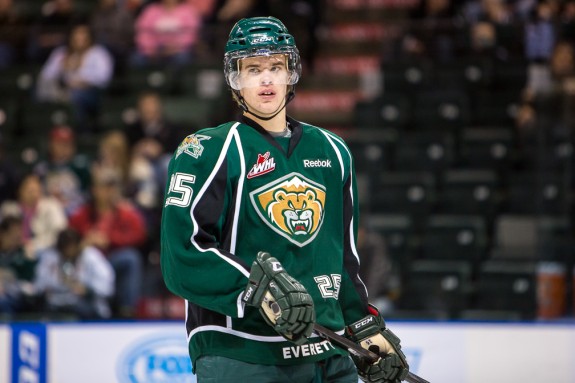 ——————————————————————————————
33. Justin Bailey – C, Kitchener Rangers, OHL
36. Ian McCoshen – D, Waterloo Blackhawks, USHL
37. Chris Bigras – D, Owen Sound Attack, OHL
38. Jimmy Lodge – C, Saginaw Spirit, OHL
39. Madison Bowey – D, Kelowna Rockets, WHL
40. Anthony Duclair – LW, Quebec Remparts, QMJHL
41. Anthony Mantha – RW, Val d'Or Foreurs, QMJHL
42. Dillon Heatherington – D, Swift Current Broncos, WHL
43. Connor Hurley – C, Muskegon Lumberjacks, USHL
45. Nick Sørensen – RW, Quebec Remparts, QMJHL
46. Eric Comrie – G, Tri-City Americans, WHL
47. Nick Baptiste – RW, Sudbury Wolves, OHL
48. Laurent Dauphin – C, Chicoutimi Sagueneens, QMJHL
50. William Carrier – LW, Cape Breton Screaming Eagles, QMJHL
51. Keaton Thompson – D, USNTDP, USHL
52. Ryan Kujawinski – C, Kingston Frontenacs, OHL
53. Ryan Fitzgerald – LW, Valley Junior Warrios, EJHL
55. Zach Nastasiuk – RW, Owen Sound Attack, OHL
56. Michael Downing – D, Dubuque Fighting Saints, USHL
57. Sergei Tolchinsky – RW, Sault Ste. Marie Greyhounds, OHL
58. Eric Roy – D, Brandon Wheat Kings, WHL
59. Taylor Cammarata – LW, Waterloo Blackhawks, USHL
——————————————————————————————
61. Emile Poirier – LW, Gatineau Olympiques, QMJHL
63. Will Butcher – D, USNTDP, USHL
64. Jordan Subban – D, Belleville Bulls, OHL
65. Kurt Etchegary – C, Quebec Remparts, QMJHL
66. Spencer Martin – G, Mississauga Steelheads, OHL
67. Marko Dano – C, Bratislava, KHL
68. Marc-Olivier Roy – RW, Blainville-Boisbriand Armada, QMJHL
69. Brett Pesce – D, University of New Hampshire, NCAA
70. Pavel Buchnevich – RW, Cherepovets Severstal, KHL
71. Lucas Wallmark – C, Skellefteå AIK, SEL
72. Juuso Ikonen – C, Espoo Blues, SM-liiga
75. Anton Slepyshev – LW, Metallurg Novokuznetsk, KHL
76. Gustav Olofsson – D, Green Bay Gamblers, USHL
79. Bogdan Yakimov – C, Reaktor Nizhnekamsk, MHL
80. Teemu Kivihalme – D, Burnsville HS, HS MN
81. Eamon McAdam – G, Waterloo Blackhawks, USHL
82. Markus Søberg – RW, Frölunda, SuperElit
83. Sean Malone – C, USNTDP, USHL
84. Linus Arnesson – D, Djurgardens Jr., SWE-Jr.
85. Gabryel Paquin-Boudreau – LW, Baie-Comeau Drakkar, QMJHL
86. Zach Sanford – LW, Islanders, EJHL
87. Tristan Jarry – G, Edmonton Oil Kings, WHL
88. Evan Allen – C, USNTDP, USHL
90. Calvin Petersen – G, Waterloo Blackhawks, USHL
Follow Shawn Reznik on Twitter: @ShawnTHW