Laurent Dauphin THW Closeup:
Team: Chicoutimi Sagueneens Birthdate: March 26, 1995 Hometown: Repentigny, QC Height: 6′ 0″  Weight: 166lbs Position: Centre Shoots: Left Twitter: @flippers27 THW Ranking: 30th CS Final Ranking: 28th (North American skaters) TSN Craig Button Ranking: 26th  
A player who's stock is trending up, Dauphin has continued to impress as the year has gone on. It started at the CHL Top Prospects game where he barely made it as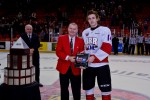 he was
the last player chosen on Team Orr
and was only there because Medicine Hat's Hunter Shinkaruk was out with the flu. He went on to be one of the best players on the ice scoring a goal and an assist in a 3-0 victory, en route to being named game MVP.
He continued to impress and was a key member of Canada's gold medal winning team at the U18 Championships in Sochi, Russia.
He has had a productive rookie season in Chicoutimi with 25 goals and 57 points as a freshman, good for fourth in team scoring. He also led the team with 10 power play goals.
Somewhat undersized at 6'0″ 166lbs, Dauphin has excellent agility and lateral quickness and protects the puck well for someone as small as he is. He's a good skater, but it's an area he can still improve in and get faster.
He also has above average vision, slick hands and an extremely quick and accurate release.
What he lacks in size he makes up for in tenacity and hard work. While he will lose his share of puck battles, he rarely gives up on a play and isn't afraid to go to the dirty areas.
If he continues to progress as he has this season, his value will continue to rise.
Scouts Honour:
The same skill set on display from Dauphin in my first two viewings in Halifax. An above average skater with good agility who protects the puck well for a 170lb. forward. He showed his above average vision off, but with his equally talented linemates created magic for the all QMJHL line of Sorensen-Dauphin-Erne. Dauphin has a stunningly quick accurate release, which he used to perfection on Team Orr's second goal of the game.  – The Scouting Report (Top Prospects game)

Showed up when it mattered most with his best performance in the gold-medal game where he scored a goal and an assist in the gold-medal final.. a fearless and hard-nosed competitor who would always fight his way into the slot or go hard to the net .. skating was exposed at times but made up for it with keen attention to detail and uncompromising work ethic. – McKeens (U18 WC)
Where He'll End Up in June:
Based on his rankings this season and all reports going into the draft, Dauphin will most likely be an early second round pick with a chance of going late in the first round.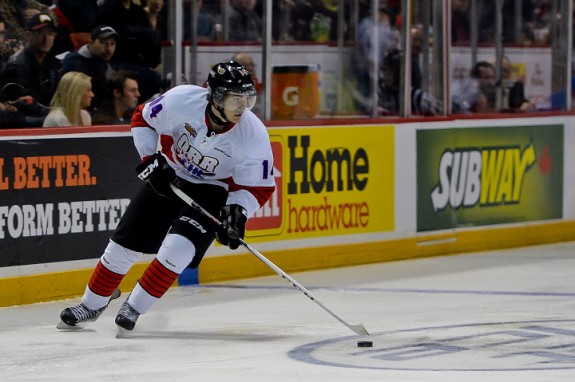 Statistics:
Interviews:
International Tournaments:
2012 U17 WHC – Canada (Quebec) – 1 point in 5 games
2013 U18 WJC – Canada – 6 points in 7 games
NHL ETA: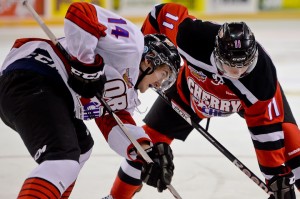 Risk/Reward Analysis:
NHL potential:
Top six offensive forward
Strengths:
Accurate shot
Quick release
Quickness
Vision
Work Ethic
Tenacity
Flaws/Aspects He Needs to Work On:
Add size and strength
Speed
Defensive zone play
Fantasy Potential:
Offensive 8/10  Defensive 6/10
Video:
THW's The Next Ones prospect profile template design architect: Chris Ralph
Follow Carl on twitter @maloney3383 for more articles
Carl covers the Edmonton Oilers for THW as well as providing additional prospect coverage. Follow him on twitter @carlTHW, connect on Facebook or contact at carl.maloney@hotmail.com for questions, comments or if you're interested in him writing for you.