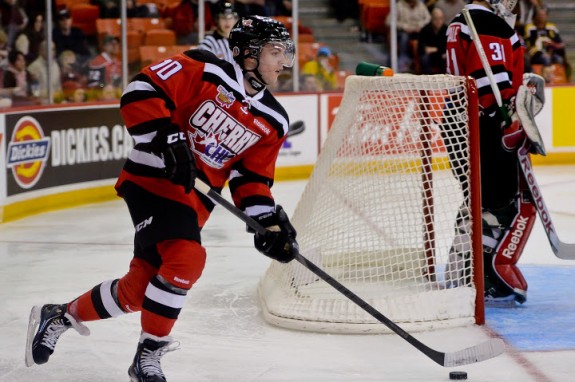 Josh Morrissey THW Close-Up:
(Full name: Joshua T. Morrissey; aka J.T. and Josh Morrissey)
Date of birth: 1995-Mar-28
Place of birth:  Calgary, AB
Ht: 6'0  Wt: 185 lbs
Shoots: Left
Position: Defenseman
NHL Draft Eligibility: 2013 1st year eligible
Twitter:  @Morrissey_10
THW The Next Ones Rankings (Final Top 210): 12th
Other Rankings:
***
[NHL 2013 Draft Guide – The Next Ones Draft Headquarters: Your quintessential draft resource]
***
Morrissey: Student of the Game With Brilliant Future

How many 2013 NHL draft eligible defenseman can say they're a product of a hockey school focused on defenseman? Prince Albert Raiders' blueliner Josh Morrissey can, as his father, Tom, runs the acclaimed D-Rules Hockey. From the website:
"Recognizing a void in quality defence training as the sport of hockey was evolving, D-rules was formed in 2005. Significant rule changes at the pro level has dictated different individual tactics and therefore skill level to succeed in the new envirnment. Tom has initiated and innovated the way players are developed. Key focus is placed on skill and individual tactical details. Skating is paramount. Thinking the game is more important than ever and D players need to learn techniques to read the play and make decisions.

D-Rules continues to evolve and innovate with over 1200 hours of study on D coaching and hockey evolution."
Morrissey has definitely benefited and he seems like the prototypical puckmoving two-way defensemen that any NHL team will covet in today's evolving game.  While he's not the biggest blueliner available this year, especially given the high number of colossal defensemen garnering scouts' attention, he's a battler and opportunistically physical when he needs to be. Like any prospect, he'll have to continue to build strength; even more so, given he projects to be a slightly undersized NHL defenseman.
The number one attractive aspect of his game is his powerful but smooth, scintillating skating ability. He's simply a beautiful and brilliant skater and subsequently makes his way around the rink seemingly effortlessly.
His game is very well rounded overall. Beyond his skating, this centers around his hockey intelligence. But Morrsissey's intelligence extends beyond the rink; he was the CHL's scholastic player of the year this past season.
Sticking with the hockey school theme, if such things were awarded, Morrissey would be on his way to obtaining a Masters degree in skating and a PhD in hockey sense and IQ. He is that good.
He is a very poised defender with a high panic threshold. His hockey IQ and vision enables him to make wise decisions with and without the puck. He makes excellent and accurate first passes out of the zone. He utilizes his stick effectively with stick checks and poke-checks.
There are a number of videos featuring some of Morrissey's greatest hits. Watching him game in, game out, however, you will not see a nasty hitting blueliner all the time. He definitely does not shy away from the physicality nature of the game, but he's more of a cerebral puckmoving quarterback. If he does catch a forward with his head down, he will take the opportunity to dish out a highlight reel hit.
He handles the puck with grace. He has a strong, accurate wrister with a quick release slapper which he utilizes very intelligently. He is an astute playmaker and thus a master distributor of the puck. But much more than a powerplay quarterback…
The team that drafts Morrissey will getting a confident, dynamic skating and all-around defensemen who plays an up-tempo game, contributing in all aspects of the game. He will also toss in leadership ability into the mix. As some scouts have said, "he plays with a bit of sandpaper".  Morrissey will strive to be the best he can be; a cerebral player who can control the tempo of the game and plays with a definite edge. He will be a strong 2-way player with exceptional offensive prowess and solid, physical defensive play; a trait easy to over look when the offensive skills shine. Don't let those who claim there is a size issue fool you: Morrissey will more than hold his own at the next level as he develops physically.
The stats due support his noted offensive and defensive prowess. He played against the WHL opponents top line as a 16 yr old and again in his 17 yr old season and led all defenseman on the Raiders in plus- minus. He was second in U18 scoring in the Memorial of Ivan Hlinka Tournament last August in Slovakia; second only to Nathan MacKinnon. He lead all defenseman in scoring and plus-minus in the U18 World Championship in Sochi.
Where He'll Land in June:
 While he was ranked 12th overall in The Next Ones Final Top 210 Rankings, he landed in his hometown of Calgary to the Flames with their second 1st round pick in The Next Ones Memorial Cup Edition Mock Draft.
Josh has an outside chance of going in the top 10 as teams have coveted puckmoving blueliners in drafts of recent past. A more likely scenario sees him going in the 15 to 22 range.
Flames First Round Targets 2013: Josh Morrissey http://t.co/S7WB3MCNTw

— Kent Wilson (@Kent_Wilson) May 30, 2013
Scout's Honour:
"Morrissey is an exceptionally smooth defenseman that moves the puck at a high level and has the skill set to impact the game in a variety of ways. He is outstanding on the power play where he directs traffic and can unleash a solid wrister on net. He isn't shy in joining the rush and has the puck skills and smarts to be effective when he does. Morrissey isn't overly physical but will take advantage of opportunities to paste an opponent to the boards. I think Morrissey projects to be a first or second pairing defenseman that will quarterback your power play and log a ton of minutes. He is a dynamic defenseman with excellent transition skills."
– Zenon Herasymiuk, Western Scout – Future Considerations/Dobber Prospects
***
"Josh is a modest-sized defenseman with outstanding skating and puck carrying ability. Although Josh still has a ways to go to really prove himself, the team drafting him will be thinking of Duncan Keith and how far he went and hoping to get at least some of that wonderful mobility on their back end."
–  Eldon MacDonald, THW (War Room Series)
*** 
"He's got a physical presence and everyone knows to be aware of him on the ice," Button said. "The foundation of Josh's game is skating. He has excellent quickness and agility, and has really strong balance. It's very hard for anyone to take advantage of him because he's such a good skater. He also has excellent puck skills, always looking to make a really good play."
– Craig Button, TSN Scout
***
"He probably has as much hockey sense and sees the ice as well as anybody. He's so smooth. He's always a step or two ahead of the play. He can slow the play down, or if you want to speed it up, he can speed it up. He's got a little bit of an edge to his game."
– Peter Sullivan, NHL Central Scouting
***
"Morrissey sees the ice well and makes accurate outlets. He also makes very good decisions both with and without the puck, and shows fine hockey sense in all three zones. He's not flashy, but is highly efficient. While he already plays like a 10- to 12-year NHL vet, Morrissey is the smallest defender on this list and is likely a couple of years away from the NHL as he needs to bulk up his 6-0, 185-pound frame.
– Kyle Woodlief of the Red Line Report (via USA Today)
Josh Morrissey can simply dominate on the PP. Amazing how much space he can create for his teammates when the puck is on his stick. #U18MWC

— Ross MacLean (@rossmaclean) April 18, 2013
Statistics:
Bio/Interview(s)/Link(s):
The next prospect in @Sportsnet top 30 countdown is Prince Albert defenceman Josh Morrissey: http://t.co/dIRy9KL4U8

— Patrick King (@PatrickNKing) June 9, 2013
International Tournaments:

The boys singing it loud and proud #anthem @HunterGarlent @ZNasty27 @lotzy30 @Morrissey_10 pic.twitter.com/8x5dJYKfLX

— Connor McDavid (@cmcdavid97) April 30, 2013
(From Elite Prospects)
ETA :
2-3 years
Risk-Reward Analysis:  
Risk = 0.5/5   Reward = 4.5/5 
NHL Potential:
Top 3 puckmoving two-way defenseman

Strengths:
Scintillating smooth and agile skater
Puck poise
Creative powerplay quarterback
Positional awareness; solid use of angles
Excellent hockey sense and IQ
Effective passing and shooting skills
Opportunistically joins the rush
Recoverability
Shiftiness and elusiveness
Adaptability
Superior level of competitiveness and work ethic; always striving to improve his game
Leadership ability
Though slightly undersized, physically capable and effective
Good use of stick on defensive side: pokechecking, etc.
Flaws/Aspects He Needs To Work On:
Continue to develop defensive acumen and add strength to handle the physical rigors of the NHL, especially being slightly undersized.
Fantasy Hockey Potential:
Offensive = 8.5/10   Defensive = 8/10
NHL Player(s) Comparison:
– A blend of Duncan Keith, Oliver Ekman-Larsson, Morgan Reilly, Keith Yandle and Mark Giordano
– NHL scouts have described him as a hybrid of sorts between Kris Letang and Niklas Lidstrom.
– Morrissey patterns his game after Ryan Suter and Erik Karlsson; his favourite player is Kris Letang
– Hall of Fame comparator: TSN's Craig Button has compared him to US Hall of Famer, Gary Suter.
– Cross-sport comparison: Baltimore Ravens running back Ray Rice – a do-it-all slightly undersized dynamic offensive player
Video(s):
Some thoughts on PA Raiders' D Josh Morrissey: http://t.co/TuQUfprE and In-game video: http://t.co/bJC0y3Gl #2013nhldraft

— Anton Tibaldi (@antontibaldi) October 31, 2012
Off The Iron (Interesting Notes):
Morrissey's father, Tom, runs D-Rules Defence hockey camp and website.
Morrissey and MacKinnon birthdays are separated by just one day.
He trains at Crash Conditioning in his hometown, Calgary; "There, he's had an opportunity to train with the Edmonton Oilers' Jordan Eberle, Chicago Blackhawks' Duncan Keith and Washington Capitals' Mike Green." (NHL.com)
He played bantam hockey with Hunter Shinkaruk growing up in Calgary.
#chlawards @PARaidersHockey Josh Morrissey wins Scholastic Player of the Year pic.twitter.com/bHE92z4ZkQ

— The WHL (@TheWHL) May 25, 2013
***
THW's The Next Ones prospect profile template design architect: Chris Ralph