Oh, how the mighty have fallen!  At the beginning of the season, Hudson Fasching was on everyone's first round list.  He was a "can't miss" power forward destined for greatness.  At his point in the season, he's doing his best to stay afloat as a possible 2nd or 3rd round draft selection.
Hudson Fasching THW Close-Up:
Date of birth: 7/28/1995
Place of birth: Apple Valley, Minnesota
Ht: 6'3″     Wt: 214 lbs
Shoots: Right
Position: RW
NHL Draft Eligibility: 2013
Twitter: @Hfasching22
THW The Next Ones Rankings (January 2013): 56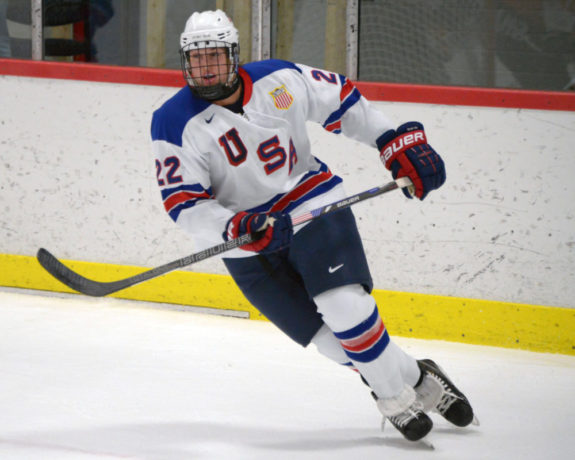 Other Rankings:
THW Warm Room Rankings (April): 72
ISS (May): Not ranked
Future Considerations: Not ranked
Craig Button: Not ranked
Consensus aggregate of several services (NHL Numbers): 47
CS Final Rankings for North American skaters: 70
***
[NHL 2013 Draft Guide – The Next Ones Draft Headquarters: Your quintessential draft resource]
***
Hudson Fasching is, simply put, a power forward.  His hulking body allows him to camp out in front of the net.  He's tough to take the puck away from, and for a man of his stature, has very quick legs.  Fasching is a bruiser in all three zones and displays equally adept defensive skills as offensive ones.
A tough player to handle against the boards and in the open ice, the future Minnesota Gopher uses his brute strength to barrel over players if they get in his way.  He's shown patience in his game, but does cough up the puck too often for his own good on occasion.
The main knock on his game from last season has been his consistency.  Fasching came into the year with so much promise, but hasn't been able to capitalize on his chances throughout the season.
After a promising season with the U17 USNTDP squad, which saw him score 16 goals and 20 assists, Fasching, for whatever reason, was unable to sustain his offensive prowess with the U18's.  There are aspects of his game that are going to be intriguing for general managers around the league, but you can't expect any of them to risk using a 1st (or even 2nd) rounder on a player who hasn't shown the capability to finish.
Where Will He End Up In June:
You may see him selected late in the 2nd round of the NHL draft, but a 3rd selection is more apropos for Fasching.
Scout's Honor:
"Fasching is a projectable power winger who is raw but hold great tools. His skating stride is long and crisp and allows him to drive wide and beat defenders to the net. He possesses a great work ethic, has above average hockey sense and is at his best when charging the net bravely with his stick on the ice looking for a tip, incoming pass or rebounds. He protects the puck very well and shows solid control when shielding it from defenders. Fasching's very difficult to knock off the puck due to his tremendous size and use of his large frame. Not a bruiser as in looking to destroy anyone, but he uses his strength advantage well. He can tease and mesmerize with bursts of stickhandling prowess as he possesses a talent for executing one-on-one moves that are quite uncommon for a player of his height and stature."
Aaron Vickers – Future Considerations
"On a bit of a slide down the rankings, Fasching gave some good reminders as to why he shouldn't fall past the second round on draft day. While he may not have the productivity of a first-round pick, Fasching's potential remains high to be a solid player at the professional level. He led Team USA with six assists, almost all of which were hard-earned. Fasching drew a lot of contact throughout the tournament and oftentimes was difficult to displace from the puck. He got better around the net and utilized his physical strength to absorb contact and in turn, create space for his linemates. Tyler Motte was a big beneficiary of Fasching's work down low. On top of using his size, Fasching showed above average puck skills in possessing the puck and getting around defenders to give himself a shot on goal or make a good feed. Overall, the tournament was a huge showing for Fasching, who remains one of the top Americans eligible for this year's draft."
Chris Peters – United States of Hockey
"The 6-foot-1.75, 213-pounder is a prototypical power forward with good hands in tight spaces and around the net. Fasching impressed the scouts enough at their last viewing to be regarded as an A skater entering the season.

 

"You look at his size and how he moves with his size, and there's potential there," Gregory said. "You just want him to do a little more. He's definitely in the top five in the USHL and he's going to battle and people will always expect so much out of him. Once he adjusts, he'll do fine."

 

Committed to the University of Minnesota next fall, Fasching is very instinctive about using the body to shield and protect pucks in order to get to the net. Scouts rave about his good offensive instincts in the crease as well. He has three goals, seven points and 19 penalty minutes in 11 games for the NTDP U-18 in 2012-13."
Mike Morreale – NHL.com
Statistics:
Bio/Interview(s)/Links:
NHL.com feature on Hudson Fasching
Story about Fasching, his family, and his decision to play for the NTDP
International Tournaments:
Fasching played for Team USA in the U17 World Hockey Challenge and the U18 World Junior Championships.  In 12 total games with Team USA he has four goals and eight assists.
ETA:
3-4 years
Risk/Reward Analysis:
Risk: 2/5  Reward: 4/5
NHL Potential:
2nd or 3rd line power forward capable of playing in all situations
Strengths:
Size
Board play
Crashing the net
Puck control
Goal scoring ability
Top speed
Defensive awareness
Flaws/Aspects He Needs to Work On:
Acceleration
Agility
Defensive Positioning
Consistency
Fantasy Hockey Potential:
Offensive: 7/10   Defensive: 5/10
NHL Player Comparison:
– His blend of physical play, scoring touch, and offensive capabilities bodes well for the NHL.  He can be compared to guys such as Blake Wheeler, Chris Stewart, or David Backes.
Video(s):
***
THW's The Next Ones prospect profile template design architect: Chris Ralph
Follow Shawn Reznik on Twitter: @ShawnTHW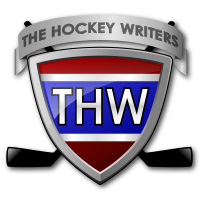 The archives of THW contain over 40,000 posts on all things hockey. We aim to share with you some of the gems we've published over the years.