Saku Salminen THW Close-Up:
Date of Birth: 10/20/1994
Place of Birth: Helsinki, Finland
Height: 6'3″   Weight: 198 lbs
Shoots: Left
Position: Left Wing/Center
THW Rankings: not ranked (April Edition)
Other Rankings
THW Mid-Term Ranking Collation: 215
Check here for THW's NHL 2013 Entry Draft Guide – The Next Ones home page – your best resource for everything on the NHL draft.
Saku Salminen started the season receiving serious consideration as a later round draft choice. He has a power forward type of body standing at 6'3″ and weighing nearly 200 lbs.
Salminen is tremendously strong and has mainly played at center where he is excellent in the face-off circle. His physicality is an asset in both the offensive and defensive skill. His potential as a power forward undoubtedly lies in some pretty decent puck skills. Salminen has shown pretty decent stick-handling even while playing senior hockey for Jokerit in the SM-liiga. The 18-year old prospect also has a pretty firm wrist shot.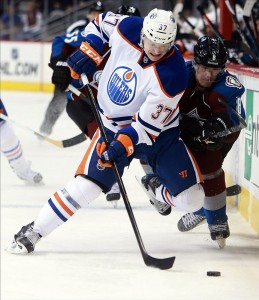 The biggest concern for Salminen is unquestionably his skating ability. His lateral movement is below average and his north-south speed is a real hindrance and a serious that Salminen will need to work upon.
He has mainly played senior hockey this season partly with Jokerit and partly on loan to Kiekko-Vantaa in Finland's second tier. He only managed one goal and five points in 12 regular games for Kiekko-Vantaa, but he did step it up with six points in four relegation play-off games to finish the season.
Salminen is a project whose size and offensive skill set might just make him an attractive enough pick-up in the last couple of rounds. It will really depend on whether NHL teams believe that he can improve his one major flaw, skating, enough to be a viable NHL prospect.
Scouts Honor:
Russ Bitely from Examiner.com:
"He is a late '94 birthdate and stands tall at 6'3" 200 lbs. so you know he is getting some NHL looks. He is a big, power forward type who appeared to play third line center at NJEC with some decent stick skills, but certainly not top notch."
Statistics:
International Tournaments:
-He played in the 2012 IIHF U-18 World Championships tallying five assists in seven games for a Finnish team that finished fourth in the tournament.
-Salminen went pointless through six games during the past U-20 World Junior Ice Hockey Championships.
ETA: 5-6 years
Risk/Reward Analysis: Risk = 4/5 Reward = 2/5
NHL Potential: Third/Fourth Line Center
Strengths: 
Physical play
Puck-handling skills
Face-offs
Defensive/two-way play
Flaws/Aspects He Needs To Work On:
Skating
Playmaking/Vision
Fantasy Hockey Potential: Offensive = 3/10  Defensive 6/10
NHL Players(s) Comparison:
Lennart Petrell
Follow Sebastian Egerton-Read on Twitter: @SebEread
THW's The Next Ones prospect profile template design architect: Chris Ralph
Seb has been writing about the NHL and ice hockey online for over a decade. A long-time passionate Bruins fan, it's a dream of his to be writing about this team, but don't expect him to hold back from telling some hard truths when necessary. Follow him on twitter @seberead