Taylor Cammarata THW Close-Up:
Date of birth: 5/13/1995
Place of birth: Plymouth, Minnesota
Ht: 5'7″     Wt: 157 lbs
Shoots: Left
Position: C/LW
NHL Draft Eligibility: 2013
Twitter: @Cammy12Scores
THW The Next Ones Rankings (January 2013): Not ranked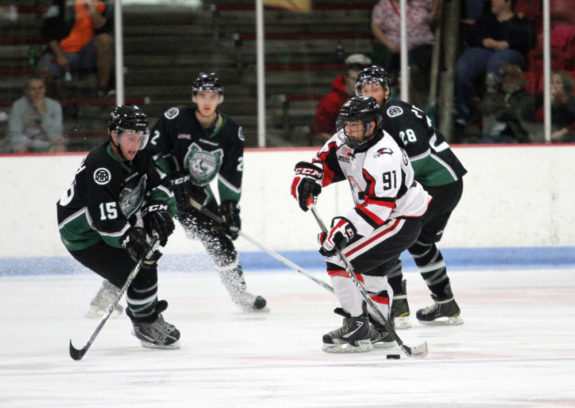 Other Rankings:
THW Warm Room Rankings (April): 112
ISS (May): Not ranked
Future Considerations: Not ranked
Craig Button: 69
Consensus aggregate of several services (NHL Numbers): 65
CS Final Rankings for North American skaters: 193
***
[NHL 2013 Draft Guide – The Next Ones Draft Headquarters: Your quintessential draft resource]
***
The first thing you notice about Taylor Cammarata is his size.  He's short.  There is no way around that and chances are, he's heard it more than he'd like to.  The catch is, Cammarata has a boatload of talent packed into that small frame of his.  He suited up for the Waterloo Blackhawks in what turned out to be a very memorable year.
Taylor was the 1st overall pick in the USHL Futures Draft in 2011.  This season, Cammarata was awarded the Junior Player of the Year award for Waterloo by recording 93 points in the USHL this season.  That point total is the 2nd highest in league history.  On skill alone, Cammarata is one of the most gifted forwards in this year's draft, but his height is holding him down – much like it did Rocco Grimaldi in his draft year.
For a player that stands 5'7″, Cammarata is one tough customer.  He has a low center of gravity which makes it difficult to knock him down.  He's strong on his feet and has very quick strides and blistering speed.  His entire game is fast, from his stickhandling speed, to his release, to his shot, Cammarata seems to have a knack when the puck is in the offensive zone.
You can't blame him for his height, so you shouldn't consider that a weakness to his game.  His defensive game has a couple holes that need to be filled though.    While he is a force on offense, his defensive game could use a bit of work.  Cammarata's backchecking and forechechking could use a bit more effort, along with his positional play.  Playing the center position, it should be a focus to round out the defensive part of your game, so look for Cammarata to do that under the direction of Don Lucia when he joins the University of Minnesota next year.
Where Will He End Up In June:
GM's will be hesitant to pick Cammarata because of his height.  It's a scenario we've seen all too often in drafts.  Based on skill, Cammarata could be a 1st or 2nd round prospect.  Unfortunately, he liked won't be picked that high.  He will likely hear his name called in either the 3rd or 4th round if all goes according to plan.  One GM will come away with an offensive juggernaut.
Scout's Honor:
"Cammarata is one of the most intriguing packages in the 2013 NHL Draft due to his immense talent and tiny stature. He is excellent at creating time and space with deceptive stickhandling and is equally creative with his passing. His speed and agility are also pluses for the pint-sized forward."
Aaron Vickers – Future Considerations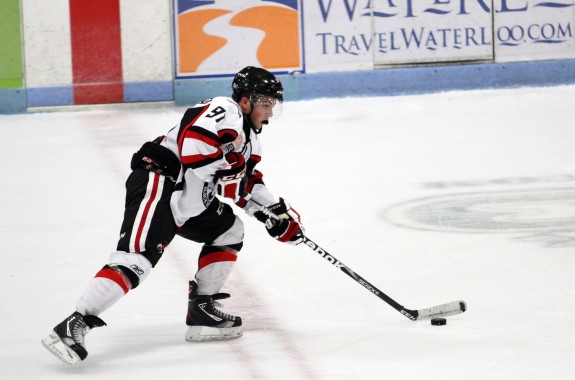 Statistics:
Bio/Interview(s)/Links:
Feature on Cammarata from The Scouting Report
Story about Cammarata on NHL.com
Hockey's Future's profile on Cammarata
The Hockey News' column on Taylor Cammarata
International Tournaments:
Taylor Cammarata played for U19 Team USA.  He scored one goal and three assists in four games.
ETA:
3-4 years
Risk/Reward Analysis:
Risk: 3/5   Reward: 4/5
NHL Potential:
Top 6 scoring center
Strengths:
Stick skills
Speed
Quick release
Heavy wrist shot
Hockey sense
Agility
Offensive instincts
Flaws/Aspects He Needs to Work On:
Defensive awareness
Forechecking
Backchecking
Fantasy Hockey Potential:
Offensive: 8/10   Defensive: 2/10
NHL Player Comparison:
– With his height, it's easy to make a comparison to a player like Martin St. Louis, but I would say Cammarata's style is similar to that of Minnesota Wild forward, Zach Parise.
Video(s):
***
THW's The Next Ones prospect profile template design architect: Chris Ralph
Follow Shawn Reznik on Twitter: @ShawnTHW