Jacob de la Rose THW Close-Up
Date of Birth: May 20, 1995
Place of Birth: Arvika, Sweden
Ht: 6'2" Wt: 190 lbs
Shoots: Left
Position: Center/Winger
NHL Draft Eligibility: 2013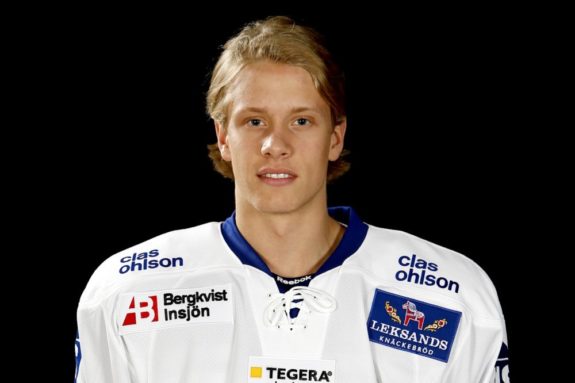 In the later rounds of the NHL Entry Draft, particularly in years such as this one that are touted as being extremely deep, very interesting role players can be found. A player with the potential to develop into a key contributor and role player in the future is Sweden's Jacob de la Rose.
The upside with de la Rose is that he's already got professional experience with Leksands IF in Sweden. Moreover, he was part of the line-up that won a promotion from HockeyAllsvenskan to Elitserien in the annual relegation/promotion playoffs, so he's played (and succeeded) in high-stakes games. He's also got good bloodlines, as his older brother Erik is a professional player in Norway, although his junior numbers weren't as good as Jacob's so he didn't get drafted by an NHL club.
The downside with de la Rose is that he's not an amazing offensive player. For teams that aren't overly familiar with European hockey and that look entirely at statistical production, he hasn't been all that impressive numbers-wise, even as a junior player. That said, he's pretty good at everything that doesn't directly relate to offensive production, particularly away from the puck.
Scouts rave about his skating and hockey sense, and if de la Rose had more of an offensive bend to his game, he'd likely be bandied about as a first round contender. As it stands, he may still develop an offensive side, but he's a tremendously valuable role player for Leksands and has a bunch of pro experience at young age. He's withstood the physical challenges of transitioning from junior to the pro ranks and remained a strong two-way player. With a bit of time to add muscle and adjust to the smaller North American ice, it seems probable that he could do the same for an NHL team.
Scout's Honour:
"De La Rose had a quality season as an amateur in the SEL-2, especially considering he received little opportunity on the power play. He is an all-around type of forward who can make plays in both ends, and play any of the three forward positions if asked. His best skill is his skating, which one NHL scout described as very good, while another called him an explosive skater. He is a strong, hard-working forward, pressuring defenders well with his speed and physical play. He lays crushing hits on occasion, while showing determination in his own end through his backchecking and shot blocking. He kills penalties effectively, making good reads. However, scouts are divided on De La Rose's offensive upside." – Corey Pronman, Hockey Prospectus
"A physical forward with great leadership skills. Will probably never be a big scorer at the pro level, but has some good offensive tools. I see him as a player who could be valuable on your third line, playing against the opponents top players. Is also a good penalty killer." – Uffe Bodin, Editor-in-chief 
HockeySverige.se
"de la Rose likes to do things at high speeds and in a more 'North American' way than your typical Swede… He's relentless on the forecheck where he uses his big frame to finish his checks. While his offensive tools are not high end and still need work, he makes up for it with his tremendous two-way game. He manages to set himself apart from the hyper-skilled prospects with his relentless physicality." –
Patrik Hall, Future Considerations European scout
Statistics:
Bio/Interview(s)/Link(s):
International Tournaments:
De La Rose has lots of experience in European tournaments representing Sweden. Most notably, he's played in two World Under-18 Championships and a World Junior Championship, winning one silver apiece in the U18s and U20s.
ETA:
2-3 years
Risk-Reward Analysis:
Risk 1.5/5, Reward 3/5
NHL Potential:
Third line forward. Penalty-killing specialist.
Strengths:
Great skater.
Smart three-zone player.
Good at anticipating plays at both ends of the ice.
Good frame (he's tall and has room to fill out).
Flaws/Aspects He Needs To Work On:
Needs to add some muscle to battle NHL defenders.
Offensive potential exists, but he's got a lower ceiling as an offensive player than he does as a defensive specialist.
Fantasy Hockey Potential:
Offensive 7/10, Defensive 8.5/10
NHL Player(s) Comparison:
Two examples of what de la Rose may grow into – if he can add some offensive production – are Marcus Kruger and Patrik Berglund. Neither guy is an elite offensive talent, but both combine smart instincts with strong defensive play to really contribute to their teams' success. Kruger and Berglund likely represent de la Rose's ceiling.
When He'll Go In June:
De La Rose lacks showy offensive numbers in a draft class with a lot of players that have them. That hurts his stock a bit and probably pushes him into the late second round, if not somewhere in the third round. He'll almost definitely be gone before the middle of the fourth round, though.