About six million dollars. That's a number that represents how much money the Washington Capitals can afford to take on heading into next season. Amnesty defenseman Jeff Schultz and General Manager George McPhee has about nine million to work with. He faces the question of re-signing Mike Ribeiro Matt Hendricks unrestricted free agency, the plan for Tom Wilson and the restricted free agency of key defensemen Karl Alzner and Tomas Kundratek along with young forward Marcus Johansson.
Surely, McPhee won't be able to have everything a Capitals' fan wants this summer. Ribeiro should easily get close to six million if he re-signs, leaving a tight fit to get Alzner under the salary cap. Hendricks is likely to walk and Johansson should get a small deal. The Hockey Writers breaks down Washington's key RFA's below.
Karl Alzner
Alzner is Washington's top shutdown defenseman and one of the best in all of hockey. He plays a simple and effective game for the Capitals, moves the puck out of the zone efficiently to the forwards and doesn't make very many mistakes in the defensive zone. He was paired with Mike Green at the end of this season, helping out Washington's top offensively skilled defenseman to complete a balanced number one defensive pairing.
He started in the offensive zone only 46.1% of the time, fifth for Washington defensemen that played over 20 games this year. While he only put up five points in 48 games this year, that's not where his talent lies. He's a top penalty killer for the Capitals and will be paid as such. Expect a multi-year deal in the range of 3-4 million dollars per season.
Marcus Johansson
A versatile 22 year old forward, Johansson hits restricted free agency for the first time in his career following the third year of his entry level contract. He posted 22 points in 34 games for the Capitals during the regular season, along with a goal and an assist in Washington's first round series exit against the New York Rangers. He held a cap hit of $900,000 his first three seasons under contract, and should get a raise just over one million in a short term deal.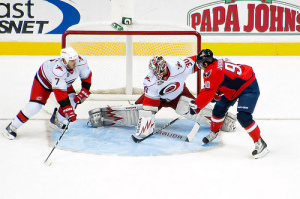 Tomas Kundratek
This former New York Rangers defenseman saw significant and unexpected playing time in Washington this season, but found himself playing where he started the year during the Capitals playoff run, with Washington's AHL affiliate, the Hershey Bears. He's an offensively minded defenseman, but needs to work a lot more on building his frame to face skilled NHL forwards. Kundratek also must work on his defensive game if he ever wants to reach the NHL for a sizeable amount of time, and stay there.
http://youtu.be/foX_U7Yud14
However, he is a very valuable player to have in the system. Offensively skilled defensemen don't grow on trees and with the new CBA; McPhee would be wise to lock up a key piece of the Capitals future. I'd expect a two year deal worth close to 1.5 million annually.
Stay tuned at THW for more info as the Capitals offseason gets underway.
You can follow Matthew on twitter @m_speck and email him at mspeck21@yahoo.com with any questions or comments.