For hockey fans it does not get any better than this — The Stanley Cup Finals have arrived. The hockey playoffs are the most intense tournament in sports and this year we get to see two original six franchises battle it out for the Cup. What could be better? While most hockey fans are drooling over the Boston-Chicago match up, its gut wrenching for Canucks fans.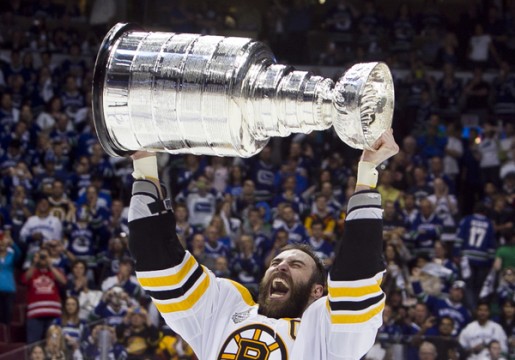 Simply put the Chicago Blackhawks and Boston Bruins are two of the most hated teams in Vancouver. While they are both iconic NHL franchises they represent misery and torture for Canucks fans. No matter who wins, Vancouver fans lose.
As hockey fans what is Canucks nation to do here?
Watching this series will be like watching the woman who broke your heart dating the boss who makes your life miserable all day at work. It would be one thing if only one of the teams made the finals. It would give someone for Vancouver fans to root for – whomever they were playing. The way it is now, one of your bitter rivals will be hoisting the Stanley Cup while you are left wondering which washed up coach should take over for Alain Vigneault.
This is going to be terrible.
Perhaps it stings more because the two teams Canucks fans have come to loathe have both won the cup while Vancouver is still searching. One of them is going to win their second in the last five seasons. Their success makes Vancouver's recent failures hurt even more. Not to mention both of them eliminated the Canucks on route to their first Stanley Cup victory.
Even more depressing is that the two finalists seem built to continue to compete for the Cup in the next few years to come. Is Vancouver? The Canucks are coming off two disappointing early playoff exits, need a new coach, lack any secondary scoring and are not blessed with a loaded cupboard of prospects to fill in the blanks.
On top of all that someone like Duncan Keith, or Brad Marchand, is going to get their grubby mitts on hockey's holy grail for a second time — while Henrik Sedin has yet to touch it.
Despite how horrible this is going to be Canucks fans have to watch. Don't they? What are the options? The NBA? Please.
Canucks fans will watch because above all else, they love hockey. While they watch Jonathan Toews battle it out with Patrice Bergeron they will be excused if they day dream a little. They will think back to the 2011 series and how close they came. Win one more game in 2011 and this series is nothing more than a couple weeks of entertaining hockey. Now it will be two weeks that will feel like someone is slowly sliding bamboo shoots under their finger nails.
The best thing to hope for here is that is over quickly. Root for the sweep, it doesn't matter who wins, as long as they win quickly. The sooner it's over the sooner Canucks nation can get back to arguing about who the coach should be, wondering if David Booth will ever score consistently, wonder what kind of deal Mike Gillis is going to swing for Roberto Luongo and wonder what it will be like when the Canucks finally do win the Stanley Cup.
To make you feel better, here is a happy Canucks moment: