After falling to the New York Rangers in the first round of the 2013 Stanley Cup playoffs, Caps' fans heard once again a familiar tune as the summer approaches. Like their game seven loss against the Pittsburgh Penguins a few years back, also at Verizon Center, the team came up short at home in the biggest game of the season once again.
There are some major question marks surrounding Washington as the offseason gets underway at the end of June. Does Washington re-sign talented center Mike Ribeiro? What's the price tag for restricted free agent defenseman Karl Alzner this summer and will Jeff Schultz be traded or bought out? The Capitals have only about six million dollars in cap space heading into what should be an interesting summer, with questions regarding their defensive core and the toughness of their forwards moving forward.  The Hockey Writers takes a look below at Washington's unrestricted free agents below and gives a prediction as to who General George McPhee should let go or keep and why.
Mike Ribeiro
While many Capitals' fans that I've talked to have advocated for Washington's second line center and power play specialist to stay in D.C., retaining Ribeiro would hinder the future of the Washington Capitals. With only around six million in cap space without even re-signing RFA's Karl Alzner and Marcus Johansson, keeping a 33 year old veteran with almost no even strength ability would be a bad idea by McPhee.
The former Dallas Star should easily earn close to six million per season on a multi-year deal when he hits the open market this summer. With the hopeful arrival of Capitals prospect Evgeny Kuznetsov to Washington's lineup at some point next season and a potential stop gap of Mathieu Perreault at second line center for the first part of the year. Ribeiro would take away playing time from players like Kuznetsov that McPhee's been waiting a long time for. Washington's General Manager could also look at some buy-low free agent centers till Kuznetsov arrives, including veteran center Matt Cullen.
Matt Hendricks
A fan favorite, Hendricks has a 50-50 shot to return to the Capitals. Unfortunately, performance from the past two years isn't on his side at the negotiating table with McPhee. After signing a two year deal following a 25 point campaign during the 2010-2011 season, Hendricks managed only 17 points in the next two seasons, playing in a combined 126 regular season games.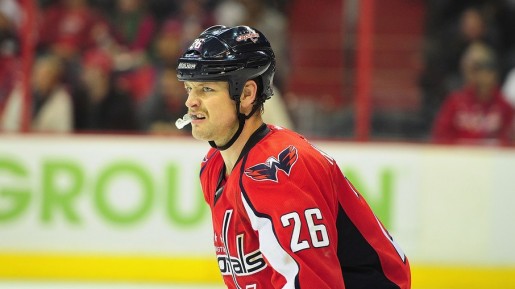 Only forwards Aaron Volpatti, Mike Ribeiro and Jay Beagle had a worse On-Ice Corsi rating than Hendricks (-6.74), proving his lack of point producing has been made by being dominated by other lines he faces during even strength play. He finished second for Washington in penalties taken per sixty minutes (1.5); only Jason Chimera had a higher rating for forwards with over 30 games played. One of the more shocking things that I found after reviewing Hendricks season was his offensive zone starts. He started in the offensive zone for the Capitals 48.7%, sixth for Capitals forwards with over 30 GP, higher than Martin Erat and Troy Brouwer, but reaped almost no benefits offensively.
Hendricks could stay in Washington, but likely only a one year deal worth less than one million annually. With gritty forwards like Jay Beagle, Jason Chimera and Eric Fehr filling out the bottom two lines, there's not much need for an aging Hendricks.
Poti, Crabb and Wolski Gone
In what was expected news, the Washington Post reported than defenseman Tom Poti and forwards Wojtek Wolski and Joey Crabb won't be returning to the Capitals next season.  Poti was a reclamation project following injury, but Washington just had too many bodies to fit him in the lineup.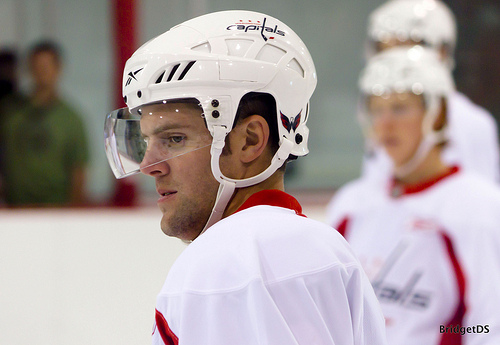 "I definitely won't be back in Washington. I was never really in Oatesy's plan," Poti told the Washington Post after the season. "I'm just going to continue to train and work out this summer, my agents will be working the phones so I can get a new contract for next year and find a place for me to play."
Wolski, like Poti, joined Washington following injuries in hopes of stabilizing his career. McPhee signed the former Florida Panthers forward to a one year deal this summer, but it never worked out.
Crabb, like Wolski never really found his niche in Washington. He earned a spot on the team due to his penalty kill and fourth line reputation, but never earned a solid amount of playing time.
"The Caps haven't shown any interest in resigning Joey but I think he wouldn't have any interest in signing back there either," Crabb's agent Kevin Epp told The Hockey Writers this week.
Stay tuned at THW for news on Washington's unrestricted free agents along with a future article on their RFA's.
You can follow Matthew on twitter @m_speck and email him at mspeck21@yahoo.com with any questions or comments.