Zach Fucale THW Close-Up:
Team: Halifax Mooseheads
Date of Birth: 5/28/1995
Place of Birth: Rosemere, QC
Ht:  6'1″     Wt:  176 lbs
Catches: Left
Position: Goalie
NHL Draft Eligibility: 2013
Twitter: @Fucale31
THW Rankings: 35
Other Rankings:
ISS: #1 Ranked Goalie
CSS (North American Goalies): 1
Future Considerations:
Craig Button: 9
***
*Check out THW 2013 Draft Guide: The Next Ones, your quintessential draft resource*
***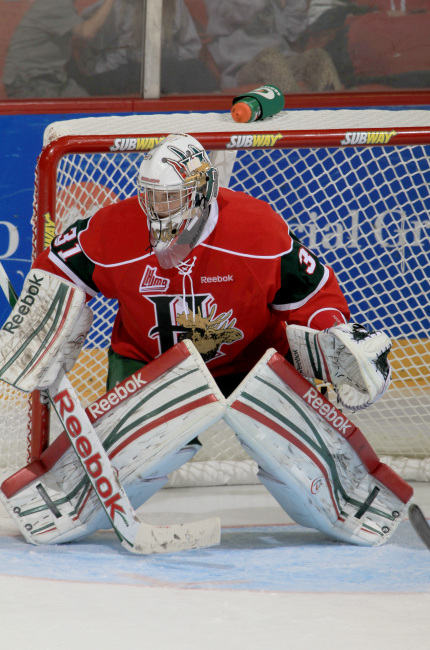 This Year's Best Goalie Prospect?
Over the last couple of years, Canadian goalies such as Mark Visentin and Malcolm Subban have been selected in the late first round of the NHL Entry Draft. With this year's NHL Entry Draft being several weeks away, there is a good chance that yet another Canadian goalie will be selected in the first round of the draft.
Much like Visentin and Subban, Fucale comes with a fair amount of hype attached to him, but it is certainly warranted. As a member of the Halifax Mooseheads, Fucale has shown tremendous growth over the last few seasons while playing in 113 games for his team. While Fucale drastically improved his peripheral statistics this season (an especially noticeable feat for a goalie playing in the offensively powered QMJHL), the butterfly goalie might be a bit overlooked since he plays on the same team as Jonathan Drouin and Nathan MacKinnon – a team that Fucale just happened to backstop all the way to a Memorial Cup Championship victory.
Despite the fact that Drouin and MacKinnon will likely be first round selections, Fucale shouldn't be too far behind his teammates as he possesses the poise, vision, athleticism, and talent necessary to be a successful NHL player sooner rather than later. Some may question the worth of selecting a goalie in the first round, especially since goalies chosen in later rounds can potentially blossom into strong starting netminders. However, Fucale has made his case for first round selection with a phenomenal regular season and a very formidable postseason showing.
Fucale might not be the flashiest goalie in the draft, but he employs the butterfly style very well and his positional play is just as sound. On the one hand, Fucale's natural talent and athleticism make him a force in net, but evaluating the netminder based on athletic ability would be doing him a great disservice.
Not only does Fucale possess the physical abilities to be a starting goalie in the NHL one day, his mental acuity undoubtedly sets him apart from the other goalie prospects in this year's draft. Whether or not Fucale will be selected late in the first round or early on in the second round remains to be seen, but high draft pick or not, the goalie will certainly please the team that decides to invest their pick on him.
Scout's Honour:
"He's so economical with his movements and so composed in the net. That's where you see the maturity in his game; He doesn't necessarily rely on his athleticism although he obviously has it. His game is more centered and focused on being in the right place at the right time, trying to absorb as many loose pucks as possible, cleaning up the loose change around his crease  area and instilling a lot of confidence in the players around him and the defence in front of him."
– Justin Goldman, The Pipeline Show
"Fucale was nothing short of outstanding in his first year with the Mooseheads," Lafortune said. "He showed outstanding stamina all season, starting in 58 games in the regular season, an additional 17 in the playoffs and five games for Quebec in the U17s to top it off. He consistently comes up with big saves, and is great under pressure.  He carried the Mooseheads the entire season and many thought he was their rookie of the year."
– Aaron Vickers via Matt LaFortune, Future Considerations
"Top goalie prospect in North America at this juncture. Last season he lead his team in the first round of the QMJHL playoffs with four wins and an under 2.00 GAA, until the talent-laden Remparts lit him up. This season he has lost very few games. Displays good lateral mobility, and strong techincal skills. Cool, calm competitor with an aggressive style who stands tall and square up well, and has good fluidity."
– Bill Placzek, Draftsite.com
"He is very quick in the net, especially with his legs as he does an excellent job taking away the bottom of the net. Fucale has an excellent glove hand, and flashes the leather regularly to take away the top half of the net. His rebound control is remarkable for a 17 year old draft eligible prospect… He is able to get from post to post very quickly and square himself up to the puck. He covers a lot of ground, but is economical in his movements, rarely going too far or getting himself out of position. Overall, his technique is extremely refined for a 17 year old."
– Ben Kerr, Last Word on Sports
Where He'll End Up In June:
Fucale might draw interest from a lot of teams, but the consensus seems to be that he will be a late first-round or an early second-round draft choice.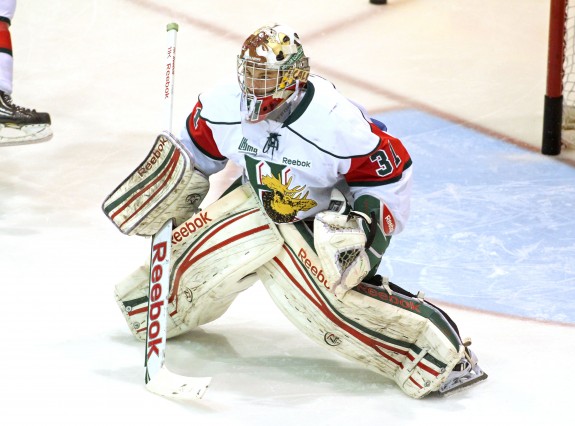 Statistics:
Bio/Interviews:
A Conversation with Zach Fucale by Justin Goldman via The Goalie Guild
Halifax Goalie Fucale Has Look of NHL Player by Mike G. Morreale
THW Draft Feature by David O'Connor
International Tournaments:
2012 Ivan Hlinka Memorial Tournament (4-0, 2.00 GAA, .925 Save Percentage) – Gold Medal Placement
NHL ETA:
3-4 Years
Risk/Reward Analysis:
Risk: 2/5 Reward: 4.5/5
NHL Potential:
Number one starting goalie.
Strengths:
Athleticism
Good rebound control
Good glove hand
Ability to stay calm under pressure
Excellent mental acuity and ability to read plays
Good at taking away lower part of the net
Efficient movement in net
Character
Durability
Flaws/Aspects He Needs to Work On:
Slight tightening up of rebound control
Fantasy Potential:
Goaltending: 9/10
NHL Comparable:
Henrik Lundqvist
Cam Ward
Video:
*** THW's The Next Ones prospect profile template design architect: Chris Ralph