Zach Fucale isn't the Halifax Mooseheads' star player.
But really, no one else is, either. It's not because Fucale isn't good enough to be the star; it's more about Fucale being one of three elite players on Halifax's roster.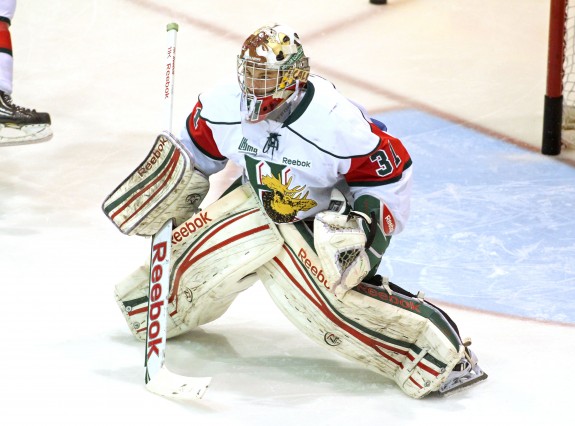 The Mooseheads' trio of Jonathan Drouin, Fucale, and Nate MacKinnon is set to dominate the first round of the upcoming NHL Entry Draft. Both Drouin and MacKinnon, two forwards, are expected to be off the board by the time the fourth overall pick rolls around. That'll leave Fucale, a goalie, as the final member of Halifax's elite core to be sitting and hoping, actively waiting to hear his name called.
Odds are, he won't be waiting long.
"It's no secret [MacKinnon and Drouin] have exceptional talent and it's obviously great to be practicing with them every single day," Fucale has said of being part of the superstar trio. "They keep pushing you, but I feel we all push each other and that's a great thing. We help each other progress, compete and contribute to team success."
At this point, Fucale is set to be a mid-to-late first round pick in June. But the question still remains: How wise is it to select a goaltender inside the first twenty picks of an NHL draft?
Let's take a look at what's been written in recent years about picking netminders with high picks:
"Every time I see a team spend a first round draft pick on a goaltender, I think the same thing: what a terrible waste of a precious commodity. When it comes to goalies…professional scouts do a terrible job of identifying talent. " – Jonathan Willis, Edmonton Journal

 

"If you can potentially acquire an excellent goaltender in the 5th round or later, but can only get a great forward in the first round of the draft, then you'll learn quickly that forwards are of far greater value at the draft since goaltenders can be easily acquired with later (historically less valuable) picks." – House of Puck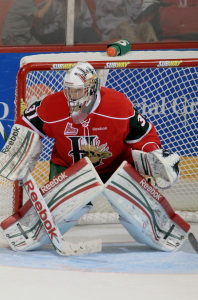 Those ideas are commonly shared throughout the world of hockey media. While some of those points may or may not be true – the "professional scouts do a terrible job" line is terrible in its own right – if the goaltender is the best player available, why not take him? All signs suggest Fucale will more than likely be the best prospect still up for selection at some point in this year's first round.
"When I first saw Zach play, I saw NHL written all over him; there's not a doubt in my mind," NHL Central Scouting's Al Jensen told NHL.com. "He's not a flashy goalie, so if you're looking for someone like that, you need to look elsewhere. He reads the play, is smart and backs that up with quickness. When he moves laterally, he's always in position.
"Net coverage in the NHL is so crucial and Zach's got that, and that's why he's way ahead of the other goalies in this draft," Jensen said. "His net presence is excellent; he always gives himself a chance to stop the puck, and that's big because players today can shoot the puck and they don't need many holes to find the back of the net."
Alright, on to the next scout.
"Not only has Zach been perceived as the top goalie available all season long, but he's playing better for Halifax as the QMJHL playoffs roll along," said Justin Goldman (also known as The Goalie Guild), Director of Goalie Scouting for McKeen's Hockey, during the Mooseheads playoff run. "He allowed just one goal in each of the first four games against the Saint John Sea Dogs, and then posted back-to-back shutouts in the first two games of the series against Gatineau. He is not facing a ton of shots or scoring chances, but his ability to make a few timely saves each game is a testament to his focus and mental preparation. In my mind, there is no question he'll be the first goalie selected in this summer's draft."
Clearly, survey says Fucale goes quickly in the draft. Just how quickly it happens depends on, obviously, how the chips fall. Does he go in the top ten? Probably not. Top fifteen? Unlikely. But that fifteenth overall slot is where things will get interesting.
The New York Islanders hold that pick, and should be looking with great intensity at Fucale. Take a quick look at their depth chart of prospects, and it's apparent they could use a little help between the pipes. On defense they're fine, and down the middle they're set, but they could use some depth on the wings. However, at that point in the draft, wingers aren't the true strength. And so, Fucale could be an option.
Let's say Fucale slips by Long Island. Do the Buffalo Sabres step up to the plate and take a chance? With Ryan Miller being an unhappy camper assumed to be on his way out, Fucale would be a logical choice if he's the best player available. But with the Sabres' addition of Matt Hackett at the trade deadline, does Buffalo need to pick a goalie in the first round? The answer is, quite simply, no.
After those two picks, Fucale could find himself dropping out of the top twenty-five. However, let's re-visit that top ten. And let's focus specifically on the New Jersey Devils.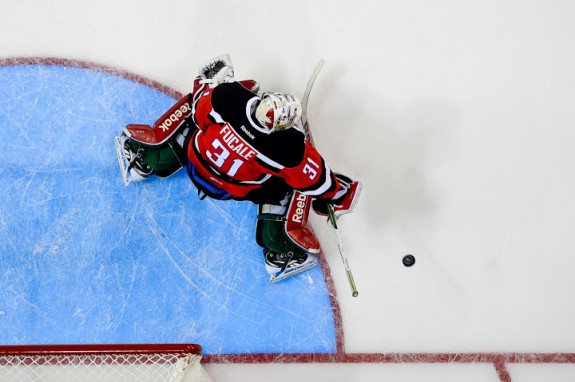 Martin Brodeur won't be around forever. That's a reality Devils fans have come to face, and while he might be around for another season, Brodeur is on the back nine of his career. Right now, outside of Scott Wedgewood, New Jersey doesn't really have a potential starting goaltender in their system. Fucale, who's being called a future cornerstone in front of the mesh, would be a fantastic addition to their pool of prospects. The Devils' main problem here: they own the ninth overall pick.
So, does New Jersey trade down? Do they tough it out, pick the best skater on their list, and hope for some luck in the following rounds that will allow them to take a solid netminding prospect? Or do the Devils take Fucale in the top ten?
In today's National Hockey League, there are approximately 15 goalies who were chosen in the first round of their respective draft years. Everyone from Jonathan Bernier to Cam Ward falls in that list. But picking a 'tender in the top ten is a whole different ballgame.
Brodeur went in the first round back in 1990, but he was pick number twenty. With Fucale, the plot is similar, but the setting isn't. As much as Fucale has star potential, New Jersey's scouting staff will have a difficult decision on their hands come June 30.
Ryan Pike looked at the best round to pick a goaltender, and concluded that "in short, there's really no best time."
Goalies are known as a unique breed; their draft day stories are no different. And just like MacKinnon and Drouin will elsewhere, Fucale would find himself in an interesting position in New Jersey. Add in that the draft itself is taking place in Newark, and well, it should be a good time, to say the least.
___________________________________________
David O'Connor is a managing editor with the Sunbelt Hockey Journal. His writing has been on the Los Angeles Times' website, among other places. O'Connor also does some scouting work for the local Junior B hockey club. Please feel free to contact him at davidoconnorhockey@gmail.com.