The Pittsburgh Penguins have experienced ups and downs throughout the 2013 NHL Playoffs. The Pens have juggled around their top two scoring lines in an attempt to satisfy the needs of their top-six forwards. The Pens started the Stanley Cup Playoffs with Sidney Crosby centering the first line between Pascal Dupuis and Chris Kunitz. Evgeni Malkin anchored the second line between Jarome Iginla and James Neal once Neal returned from a lower body injury.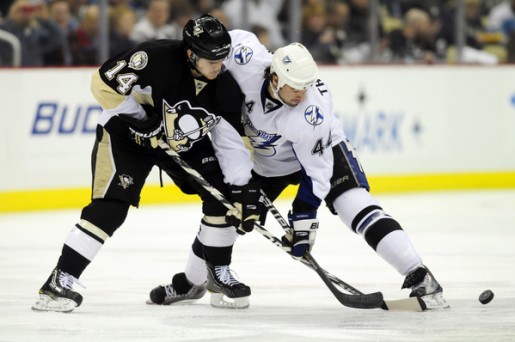 With these line combinations as they were, Crosby came out and tallied two goals in his first game back after missing nearly a month. In Game 3, Crosby may have played one of the best playoff games of his career. He dominated from start to finish and was on a different level from anyone else on the ice. Crosby also recorded three assists including Kunitz's game-winning power play goal in overtime in the same game.
The Dilemma
As Crosby was thriving with his line-mates, the second line was struggling. Midway through the New York Islanders' series, Dan Bylsma decided to experiment with his top-two scoring lines. In order to give the second line a boost and make Iginila more comfortable, Bylsma switched Iginla and Kunitz so Iginla could play the right wing on Crosby's line.
After Iginla and Kunitz switched spots, the second line started to become more effective. When Iginla was playing on the second line, Malkin was taking a lot of heat for ill-advised giveaways and undisciplined penalties even though he continued to average nearly two points per game. After Kunitz showed up on Malkin's line, these criticisms disappeared. Malkin has looked like a man among boys and people are no longer talking about the Pens parting ways with Malkin at season's end.
Since Kunitz left Crosby's line, Crosby has continued to get his points but has not looked like the same player. Crosby hasn't possessed the puck as much as he did early on in the playoffs and his legs do not have the same jump. In Game 1 against the Ottawa Senators, Crosby was pretty ineffective and did not stick out as the best player on the ice as did Malkin.
The Difference Maker
There is one factor that is making one line better than the other. This factor comes in the form of the Honey Badger, Chris Kunitz. When Kunitz has played on Malkin's line, this line has been the better line out of the top two at both ends of the rink. Kunitz has showed to have the same impact when he's played on Crosby's line. Whatever line carries Kunitz has played better. To cement this point, Kunitz leads the Pens top-ranked playoff power play with three PP goals. The PP is the only time when Kunitz is on the ice with both Crosby and Malkin.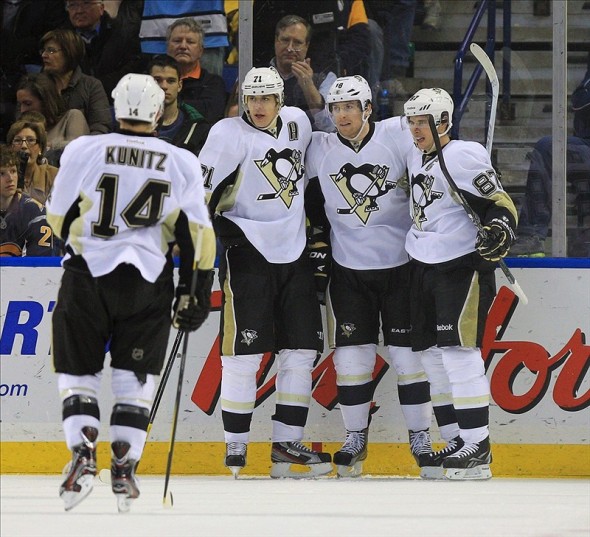 While Malkin and Crosby get headlines and Dupuis has received recent accolades for his play, Kunitz quietly flies under the radar for making the entire team better in every facet of their game. When Kunitz plays on the first line, they dominate play. When Kunitz is on the second line, this improves the play of Malkin and Neal.
Bylsma is again putting Kunitz back on Crosby's line to help spark Crosby's play. Kunitz took part on the Crosby and Dupuis line at practice yesterday. It is believed that Kunitz will spend the majority of his playing time on this line in Game 2. Hopefully, this does not take away from the way Malkin has been performing of late.
If there were only two of Kunitz to go around so Crosby, Malkin, and their line-mates could play at their best at the same time. As long as the Pens have playoff life, maybe Bylsma is going to switch Kunitz back and forth between both lines to spark whatever one of his superstar centers needs a boost in their play. The physicality and work ethic of Kunitz helps Malkin and Crosby gain puck possession more easily so the Pens' two-headed monster can do their thing. One thing is for certain, Kunitz is the key to getting the best out of the top two scoring lines.
Justin Glock has covered the Pittsburgh Penguins for The Hockey Writers since 2011. As a lead writer, his Penguins knowledge traces back over two decades. For any requests, please feel free to contact Justin via email: JGlock10@gmail.com.