Shea Theodore THW Close-Up:
Slick Skating Defenseman Turning Heads
Date of birth: August 3rd, 1995
Hometown: Aldergrove, BC
Ht:6'2  Wt: 175
Shoots: Left
Position: Defense
NHL Entry Draft Eligibility: 1st time eligible 2013
*Click here for Notes Up Front for various topics covered below in the live updated NHL 2013 Entry Draft Guide – The Next Ones home page – your quintessential draft resource.
THW Ranking: 37 (April)
Other Rankings:
If you catch the Seattle Thunderbirds play it won't take you long to notice Shea Theodore on the ice. For starters, he logs a ton of minutes and it seems that he never takes a break. More importantly, you will notice how fluid of a skater he is as he darts up the ice, around defenders and finds an open teammate that nobody else in the building saw open. It's that skill that makes Theodore a top NHL prospect in the 2013 draft.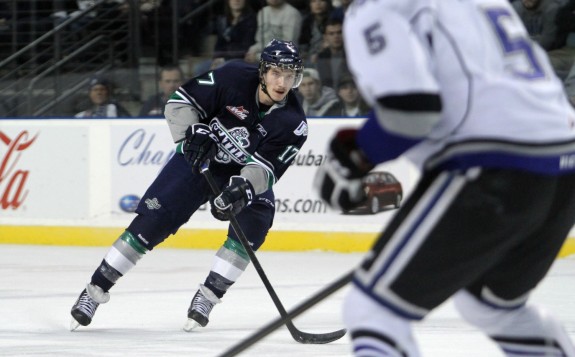 After getting thrown to the wolves last year as a 16-year-old, a year he led the team in assists, Theodore stepped his game up even more in 2012-2013. He came back this season with a much improved slap shot that saw his goals scored total jump from four to 19. He can skate with the best of them and has an incredible on ice vision that allows him to see his teammates and get the puck to them in good scoring areas. Theodore often makes opposing skaters look foolish as he dekes his way around them and now has become a dual threat to either score or pass.
His point totals jumped from 35 his rookie season in the WHL to 50 this past season and he drove Seattle's power play.  It's in his own zone that he needs to improve on the most. Early in the season he struggled and head coach Steve Konowalchuk worked with him to become a more consistent player.
He seemed to learn from those early mistakes and really picked up his game at both ends of the ice in the second half of the season.  It will be interesting to see if that commitment to defense in the second half improves his stock in the eyes of NHL scouts.
Like many WHL offensive-minded defenseman Theodore is not the most physical player and needs to improve on his strength in order to excel at the next level. After taking his lumps to a total of minus-36 as a 16-year-old Theodore started to improve as this past season drug on. While still finishing in the minus he did improve, which was evident in Seattle's seven game playoff series against the offensive minded Kelowna Rockets. Theodore ended that series as a plus-one player.
Theodore played in the CHL Top Prospects game and will be representing Team Canada for the IIHF U-18 World Championships this spring.
Scout's Honour:
"He is a player some scouts are going to love and some are going to hate; a strong skating offensive specialist that plays with energy but lacks the strength to handle tougher opponents. He has elite on-ice vision; ability to see passing and shooting lines immediately and exploit them with pinpoint accuracy.  However, he will need to add a lot more muscle his lanky frame in order to become consistently effective in the defensive zone and to round off his game." – Daniel Chan, Future Considerations
"Number one (strength) is his skating. He's just so agile, he can really really skate and beat people with the puck one-on-one. His vision is very good, his skills are good. He's adjusting, he plays defense but he's not strong yet. The knock is the physical element, the upside is that I think he's going to be a real good offensive defenseman. Someone is going to see him on a bad night and think 'oh I don't know' and then someone's going to see him on a good night. I think they're going to get a real good player, he's going to get better every year." – Russ Farwell, Seattle Thunderbirds General Manager
" Theodore is a high-end offensive force on the backend. Often compared to Mike Green of the Washington Capitals he possesses many of the same attributes. He can skate, score, play the point on the powerplay and can find the open areas on the ice with ease. He needs to work on his defensive game and put some more weight on as he is surprisingly undersized. Can skate like the wind and has a great range of motion and holds all the intangibles that most NHL clubs value in a young player." – Bill Kellett, Dobber Prospects
Bio/Interview(s)/Link(s):
ETA = 3 yr
Risk-Reward Analysis:
Risk = 2/5   Reward = 4/5
NHL Potential:
Exciting offensive defenseman who will move the puck and quarterback your power play. Potential to put up big point totals.
Strengths:
*See "THW Close-Up" section above.
Exceptional skating ability
Great vision
Big shot
Accurate passer
Energetic player
Flaws/Aspects He Needs To Work On:
Needs to get stronger
Continued improvement in own end
NHL Player(s) Comparison:
Mike Green
Where he will end up in June:
While most agree that Theodore needs to improve his defensive zone play he has the potential to be an elite scorer from the back end. His skating ability, vision and shot just might be enough to have him go in the late first round. He improved defensively as the season wore on and it just takes one team to value the offense enough to be patient while he continues to progress. He is ranked anywhere from late first to early second and it will be in that zone that he gets selected.
THW's The Next Ones prospect profile template design architect: Chris Ralph
Andrew writes about the WHL and NHL Draft Prospects. He also covers the Seattle Thunderbirds for 710 ESPN Seattle and spent two years with Sportsnet. Follow him on Twitter @andyeide.