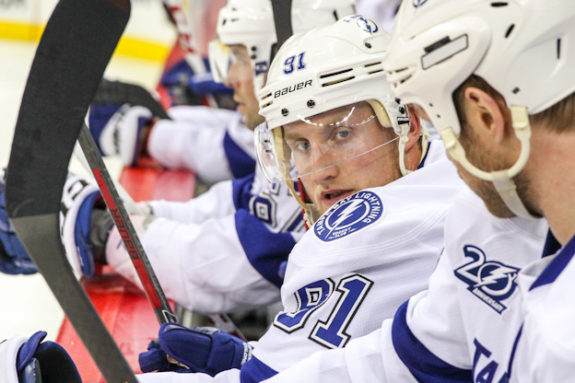 As the Tampa Bay Lightning sit nine points out of a playoff spot with six games to go it is all but known that they will not see the post season. It is time to start looking ahead to Lightning players that could represent their country at the World Championships this season.
The World Championship may see an increase in the quality of player that comes over this year and we are heading into an Olympic year. A good showing in this tournament can put the players on their respective team's radar when it comes time for Olympic selections. This year the World Championships will be held jointly between Stockholm, Sweden and Helsinki, Finland and will run from May 3rd to May 19th.
USA
Ryan Malone would be a prime target for team USA. His health could be of concern to the Lightning organization, however if he is healthy I would be surprised not to see him invited. Malone played for Team USA at the 2004 World Championships where he contributed three goals in nine games towards a bronze medal. In 2006 Malone was a member of Team USA at the World's again. This time putting up four points in seven games.
Most recently Ryan was a member of the Silver medalist entry at the 2010 Winter Olympics. He was a vital member of that team with five points in six games.
Matthew Carle has become a solid all around defender since the 2009-10 season. He has put up 132 points in 286 games, which is 0.46 points per game. That is a good number for a defenseman.
He has a history in the US National Team Development Program where he spent 2000-01 to 2001-02 developing. He was a member of Team USA at the 2002 World Junior Championships where he contributed three points in eight games. His last action with team USA came in 2004 at the World Championship where he provided one point in six games.
Ben Bishop has shown himself to be a capable NHL goaltender with a 2.58 GAA and 0.922 SV% in 36 NHL games since 2008-09. He has not played for Team USA in the past but spent 2005-06 to 2007-08 playing for the University of Maine in the NCAA's Hockey East.
Sweden
Victor Hedman is a virtual lock to be invited to play for Team Sweden a the upcoming World Championships. I am sure Lightning General Manager Steve Yzerman will greatly encourage him to gain this experience.
His game has made great strides since his rookie NHL season in 2009-10. He also showed during the lockout that he can be very effective on the big ice. He played for Barys Astana in the KHL contributing 21 points in 26 games with a +8 rating. He has an extensive history playing for Team Sweden. He was a member of the World Junior Under 18 Championship team in both 2007 (Bronze medal) and 2008.
He also played at the World Junior Championship winning Silver medals in both 2008 and 2009. His last time representing Sweden was at the World Championships in 2010, helping the team to a Bronze medal.
Anders Lindback would be a good choice for Sweden to take to the World Championships in 2010. He played in Sweden from 2003-04 to 2009-10 prior to joining the NHL with the Nashville Predators in 2010-11.
He, like Bishop, has become a fairly solid NHL goaltender. Whether he can become a consistent starting goaltender remains to be seen. He has a 2.53 GAA and 0.914 SV% in 38 NHL games. The experience at the World Championships will assist with his development. His only International experience with Team Sweden when they won Bronze at the World Championships in 2010.
Finland
Sami Salo is a veteran presence that Finland would be lucky to have, if he remains healthy. He has 321 points in 802 career NHL games. He has represented Finland Internationally six times allotting 19 points in 38 games. This includes three Olympic appearances (2002, 2006, 2010).
For his International efforts he has one Bronze medal (2006 Olympics) and two Silver medals (2006 Olympics and 2001 World Championships).
Canada
Let's assume that Vincent Lecavalier, Martin St. Louis and Eric Brewer will take their off seasons to rest their bodies instead of making the trek to Europe. That leaves Brett Connolly, Teddy Purcell and Steven Stamkos as the likely candidates to be invited to Team Canada.
Brett Connolly is an emerging young Canadian talent. He has a long history with Hockey Canada winning two Silver medals (2009 World U-17 Hockey Challenge and 2011 World Junior Championships), one Bronze (2012 World Junior Championship) and one Gold (2009 Ivan Hlinka Memorial Tournament).
He has shown this season in the AHL that his offensive skills have translated to the pro level scoring 60 points (30 goals) in 68 games. I am also sure that Yzerman wants him to gain more experience with NHL calibre players.
Teddy Purcell the undrafted Newfoundlander took the long road to the NHL. He finally broke out in the 2010-11 season with Tampa Bay scoring 51 points in 81 games. He followed that up with 65 points in 81 games in 2011-12 and has continued that success this season with 34 points in 42 games. He has never played for Canada before but he may have attracted enough attention to get shot this year at the World Championships.
Steven Stamkos is a no brainer to be invited to the World's, but will he go? With an Olympic year coming up I cannot see a scenario where he would not go. He is especially motivated after not being included in the 2010 Olympic squad despite going on to past 51 goals in the NHL that season.
He has gone to the World Championships in both 2009 and 2010, winning a Silver medal in 2009. He also has a Gold medal with Team Canada from the 2008 World Junior Championship. I would be shocked to see Stamkos left off the 2014 Olympic roster for Canada. But doing his duty and attending the World`s will show the Team Canada brass how serious he is.