www.ottawasun.com/2013/04/07/coach-paul-m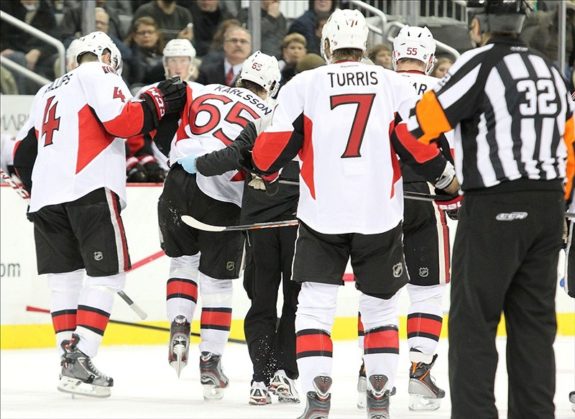 It was an image that was supposed to represent a loss of hope. Instead of one of the National Hockey League's smoothest skaters slicing through neutral zone coverages, a skate blade sliced through an Achilles' tendon, crushing dreams of playoff glory in Canada's capital city.
But with just a few games left in the Ottawa Senators' regular season, fans are suddenly confident their team has what it takes to make playoff noise.
"It's been the farm system," says passionate Sens supporter Brent Pletsch. "Binghamton won the Calder Cup last year, so it's not like our guys don't know how to win."
That's certainly an interesting way to look at Ottawa's current situation. The general consensus is that the Senators lack of winning experience is exactly the problem. And yet, some fans accustomed to the Senators' style believe the team's best asset right now – outside of defsenseman Erik Karlsson – is a group of young players driven to prove doubters wrong.
Pletsch also notes that this hard-working, young talent isn't just among skaters, but strong goaltenders as well.
"Our goalies have really stepped up. When [Craig] Anderson went down, [Ben] Bishop and [Robin] Lehner did an excellent job filling in."
No kidding. Both Bishop and Lehner were playing regularly in the American Hockey League last season, but the duo played admirably in the absence of a goaltender who, at the start of this shortened season, was being called a potential Vezina Trophy winner.
"Lehner showed flashes of brilliance. All this success can be attributed to our goalies stopping 40-50 shots a night."
The Swedish netminder has played in eleven games for Ottawa this season, all of them starts. That's over 600 minutes of ice time, and he's kept up a .936 save percentage while backstopping a roster of inexperienced NHLers. Then consider that one of those inexperienced players is Lehner himself.
Bishop has since been traded to the Tampa Bay Lightning, but the return Ottawa received showed that general manager Bryan Murray knew he had to sell when Bishop's price was high.
"Jakob Silfverberg has filled in well, too," says Pletsch. "He definitely looks like he could be the next Daniel Alfredsson. And [Mika] Zibanejad has developed into a solid second line centre. He's filled the hole we've had since Mike Fisher left for Nashville."
Calling Silfverberg the next Alfredsson may be a stretch, but Pletsch's main idea still stands: youth have taken over, and veterans have learned how to utilize their younger teammates' competitive attitudes.
_____________________________________________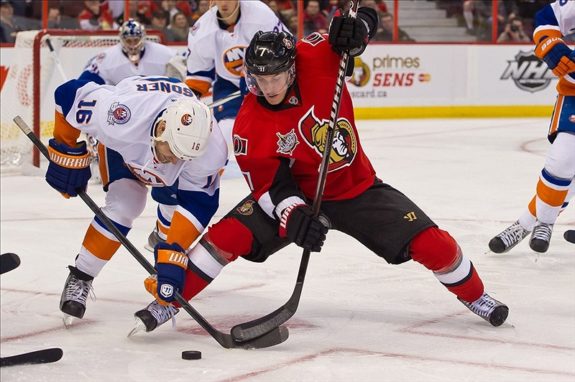 It was always supposed to be this way. There was a reason scouts had rated Kyle Turris as one of the best prospects available in the 2007 NHL Entry Draft. Turris shone as a 16-year-old playing in the British Columbia Hockey League, considered Canada's prime Junior A circuit. The following season with the Burnaby Express, Turris was named the 2007 Canadian Junior A Player of the Year.
After being picked third overall in Columbus, Ohio by the Phoenix Coyotes, Turris moved on to join the NCAA's Wisconsin Badgers. And after leaving the red and white, Turris sat down on a sled that was set on taking him to the bottom.
Simply put, Turris never seemed to fit into Phoenix's system.
"We clearly differed on his game," Coyotes general manager Don Maloney said following Turris's trade from the desert. "We thought he would be better suited lower down in the lineup, and he didn't think so."
Being "lower down in the lineup" isn't typically an idea top-three draft picks agree with. And so Turris moved to Canada's capital, once again donning the two colours he wore as a highly regarded, drafted prospect.
"He can really skate and can really shoot the puck," Senators head coach Paul MacLean said shortly after the deal. "He brings a dimension to our team and it really solidifies that second line and centre position that we've been looking to fill and we're excited to have him."
And there it is. Right there. Those words made a difference. Why? Because no longer did Turris have to prove himself worthy, no longer was he expected to be someone he isn't. It's confidence that has Turris leading the Sens in scoring, and as a result, Turris understands his improvement is a never-ending cycle.
"Faceoffs, I always want to get better," Turris said. "Little things defensively. Anticipating breaking out of our zone to get more odd-man rushes. Offensively being stronger on the puck and creating more. Just getting more good scoring opportunity shots, putting myself in that position type thing. There's lots that I'm trying to work on."
Turris's 24 points in 42 games are nothing to parade past Parliament Hill about, but they are significant. In his second year with the Senators, Turris is leading an NHL team in scoring. That he isn't putting up the same numbers as Patrick Kane and James van Reimsdyk – the two players drafted before him – is irrelevant. The former Badger has arrived and shown what he can do while playing in a depleted lineup.
The recent return of Milan Michalek should only benefit Turris's game. And Alfreddson's leadership on the right wing can be considered a big part of the New Westminster, BC native's arrival.
_____________________________________________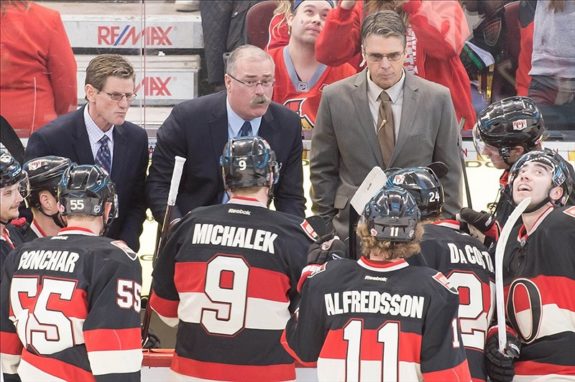 Paul MacLean's moustache has a life of its own.
Clearly, so does the rest of the team. Losing key members of any club almost always sends a team into a downward spiral. Somehow, with Anderson, defenseman Jared Cowen, Karlsson, Michalek, and forward Jason Spezza all missing serious chunks of time, MacLean has put Ottawa in a playoff position.
Advanced stats fanatics would tell you that just isn't possible.
But don't forget about MacLean's assistants. Dave Cameron and Mark Reeds are both in their second season with the Sens after coming from the Ontario Hockey League as championship-winning coaches with Mississauga and Owen Sound, respectively. Then throw in goaltending coach Rick Wamsley, widely considered to be one of the best in the league.
Even with the loss of the NHL's best offensive blueliner, these coaches have led a young, mostly inexperienced crew, and have been successful doing so.
"Losing Karlsson affected our playing style," Pletsch says. "Without Karlsson and Spezza it's really cut down on our ability to score while on the rush. We've become a more conservative team trying to set up point shots."
MacLean has provided Ottawa with the coaching leadership necessary to succeed with such an injury-filled lineup.  Right now, he's a favourite to win the league's Jack Adams Award given to the the coach contributing most to team success. Changing styles from an aggressive rushing team to a "conservative" one may not be as exciting, but the end result has been worth it.
The Senators head coach has given a young group responsibility to manage themselves, but he's also stepped up and been strict when it's been needed.
"The last couple of games we haven't come out and started very good,"  MacLean on the first Sunday of April. "And we tend to stay on the ice for pre-game skates and play stupid pet tricks maybe a little bit longer than we should. We just wanted to make sure, with a 6 p.m. game, that we managed our time a little bit better. I decided to take charge of managing the time as opposed to letting them do it."
As evidenced by his both his actions and words, MacLean has no problem letting loose. But he also knows when to buckle down. And that's made all the difference in Ottawa.
Throughout the Senators lineup, rookies have emerged, high draft picks have taken high expectations and benefited, and coaches have controlled a young dressing room using class and character.
What was once considered a hopeless battle has turned into a youth movement inspiring a nation's capital.
___________________________________________
David O'Connor is a managing editor with the Sunbelt Hockey Journal. His writing has been on the Los Angeles Times' website, among other places. O'Connor also does some scouting work for the local Junior B hockey club. Please feel free to contact him at davidoconnorhockey@gmail.com.