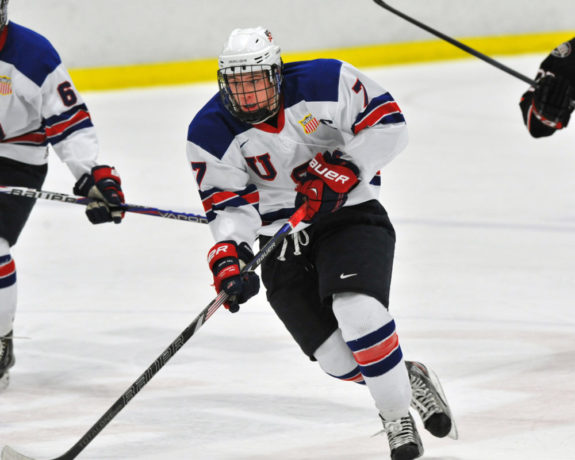 JT Compher THW Close-Up:
Date of Birth: 4/8/1995
Place of Birth: Northbrook, Illinois
Ht:  6'0″     Wt:  161 lbs
Shoots: Right
Position: Center
NHL Draft Eligibility: 2013
THW Rankings (January 2013): 28
Other Rankings:
The past few years the U.S. National Development Program have been spitting out top talent left and right.  The last three drafts have seen a total of nine USNTDP players picked in the first round.  JT Compher would like to add his name to the list in June.
Committed to the University of Michigan for the Fall of 2013, Compher is a great two-way center with adept defensive abilities.  He has great hockey IQ and can be placed in various situations.  His skating is a bit suspect at times, but his control of the puck and ability to make simple, yet effective, plays is what makes him such an adroit forward.  Compher's work ethic stands out amongst his peers and he certainly puts an all-out effort every shift he's on the ice.
The future Wolverine is scoring at just over a point-per-game pace this season and is continually improving his all-around game.  He is ranked all over the 20-30 range for the upcoming draft, so it is no wonder with his skills, many scouts see him as a 1st-round pick.  With such high praise, Compher will more than likely be another USNTDP player selected in the top 30 in Pittsburgh come June.
Scout's Honor:
David Gregory of NHL Central Scouting:
"J.T. has a great combination of skills; he has great hockey sense and can do things with the puck, but he also has skating ability and work ethic to go with it.  That makes him this kind of tough package to play against and to contain if you're trying to defend.  He's going to be a high pick."
"Compher finds himself a spot in the middle of our Top 30 as a competitive two-way centre.  Compher has the ability to anticipate the play and has strong hockey sense and puck awareness in offensive and defensive situations.  While not the most prolific player offensively, Compher is more than adept and could top out as a quality 2nd liner at the NHL level.  His committed and tenacious style of play resonate well with coaches and Compher's work ethic is second to none.  Moving forward, Compher will need to show continued improvement with his skating while also adding some much needed strength and bulk to his frame to support his style of play.
"Compher is a talented agitator who plays an irritating game.  Always yapping and always in an opponents face after the whistle, Compher has the ability to get opponents off their game and draw penalties.  He also has the skills to back up his chirping as he has the speed, vision, and passing ability to be an extremely effective playmaker.  He also has a very good shot and release, and knows how to put the puck in the back of the net.
Statistics:
Interviews:
International Tournaments:
-Played in the U17 World Hockey Championship where he scored 9 points (3 goals, 6 assists) in 5 games.
-Won the gold medal with Team USA at U18 World Junior Championships notching 5 points in 6 games.
-Will play in the upcoming U18 World Hockey Championships.
ETA: 3-4 years
Risk/Reward Analysis:  Risk = 1/5   Reward = 4/5
NHL Potential = 2nd line center
Strengths:
Work Ethic
Shot
Grittyness
Two-way play
Stickchecking
Puck control
Hockey sense/IQ
Vision
Flaws/Aspects He Needs to Work On:
Fantasy Hockey Potential:  Offensive = 6/10    Defensive = 6/10
NHL Player(s) Comparison:
Mikko Koivu

Jordan Staal
Travis Zajac
Follow Shawn Reznik on Twitter: @ShawnTHW
THW's The Next Ones prospect profile template design architect: Chris Ralph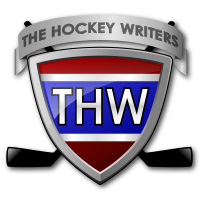 The archives of THW contain over 40,000 posts on all things hockey. We aim to share with you some of the gems we've published over the years.