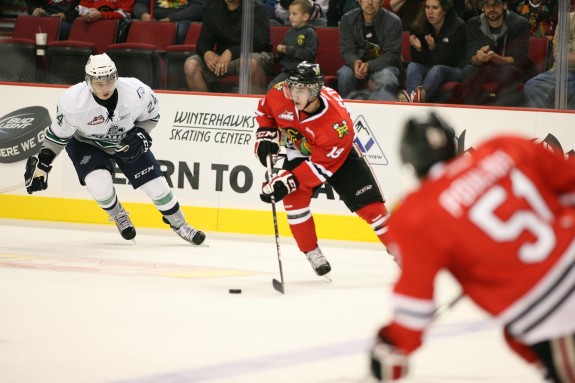 Nic Petan THW Close-Up:
Date of birth: 3-22-1995
Place of birth: Delta, B.C.
Ht: 5'9″  Wt: 166
Shoots: Left
Position: Center
NHL Draft Eligibility: 2013 1st year eligible
Twitter: @petan19
THW The Next Ones Ranking (January 2013): 46
Other Rankings (If available)
·                       THW War Room Rankings (April):  27th
·                       ISS: 29th
·                       Future Considerations: 30th
·                       Craig Button: 27th
·                       Consensus aggregate of several services (NHL Numbers): 32nd
[NHL 2013 Draft Guide – The Next Ones Draft Headquarters: Your quintessential draft resource]
***
Portland's Dynamic Center is a Big Time Scorer
After an encouraging rookie campaign with the Portland Winterhawks in 2011-2012 Nic Petan exploded into one of the top scorers in the WHL this past season. His numbers jumped from 14 goals and 35 points as a rookie to leading the league in scoring with 46 goals and 120 points. He shared the lead league with his line-mate Brendan Leipsic and the two were unstoppable in the WHL.
Petan is a dynamic player in that he can skate with the best of them, pushes the play up ice and has atremendous vision. He is most deadly in Portland's transition game turning opponent's mistakes into dangerous rushes the other way. He notched 74 assists this past season because of that great vision and while it might be easy to dismiss his success because he played with Leipsic and St. Louis Blues prospect Ty Rattie, it's just as likely those two guys had the seasons they had because of Petan. Leipsic's point totals doubled this year playing on a line with Petan.
Some NHL teams may be turned off by his diminutive stature but he flourished in the WHL this past season and never seemed to shy away from contact. He played on a line with guys with similar builds and the three were the top scorers in the league. They manged fine without protection. Petan can play in the NHL at 5'9″ tall and any team that uses that as an excuse to pass him up may have to pay for that decision as he fills their nets with pucks.
As is consistent with most junior players he can improve on his strength which will make him that much more dangerous at the next level. Obviously he will face more physical punishment as he progresses up the pro ranks and he will need to prove that he can grind out a full pro season. So far he has shown that size is not an issue while playing in one of the top development leagues. Because of the team he played for he did not need to play too much at the defensive end and will also have to show that he can do that consistently to play in the NHL. With his skill there is no doubt that he can excel there as well.
Where Will He End Up in June:
Most draft prognosticators have him listed as a late first rounder. His size is the main reason he is ranked that low — if he were 6'3″ tall he'd be ranked up with his teammate Seth Jones at the top of the draft. Teams will pass him up because he does not fit the prototype from central casting and because of that will end up with a good team at the end of the first round. Look for a team at the end of the first round to jump at the chance to get a dynamic scorer like Petan.
Scout's Honour:
"Nic plays with a high compete level. Not a physical player but tenacious on the puck. Tremendous skater combined with the ability to make plays on the rush make him dangerous. He thinks the game at a high level and is a power play specialist. Nic has really improved his game away from the puck. Committed to the backcheck and takes pride in playing a 200 foot game." – Matt Bardsley – Director of Hockey Operations, Portland Winterhawks
"A dynamic play maker that plays with tons of creativity and confidence. He has amazing vision with the puck and is a dangerous threat every time he hits the ice. His size is the only major question but he rarely gets victimized for it as he is able to be extremely elusive and has a magnetic touch with the puck. Still, his lack of size will worry some scouts but his skill level is undeniably elite" Daniel Chan, Future Considerations
Statistics:
Bio/Interview(s)/Link(s):
·
International Tournaments:
Team Pacific, 2012 World U17 Championships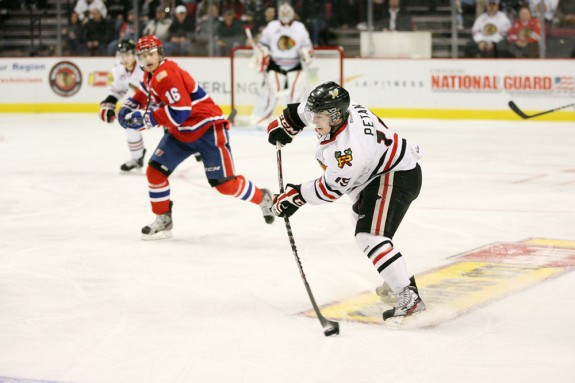 ETA : 3 years
Risk-Reward Analysis:
Risk =3 /5   Reward = 4/5
NHL Potential:
Exciting play-maker and scorer
Strengths:
Speed
Skating
Vision
Play Making
·Flaws/Aspects He Needs To Work On:
Strength
Defensive zone coverage
NHL Player(s) Comparison:
-Martin St. Louis, Derick Roy
Video:
Off The Iron (Interesting Notes):
Petan was Portland's first round pick (16th overall) in the 2010 WHL Bantam Draft
THW's The Next Ones prospect profile template design architect: Chris Ralph
Andrew writes about the WHL and NHL Draft Prospects. He also covers the Seattle Thunderbirds for 710 ESPN Seattle and spent two years with Sportsnet. Follow him on Twitter @andyeide.