Physicality? Check. Penalty kill on the money? Check. Strong goal tending? Also, check.
The Pittsburgh Penguins flexed their #1-seed muscles last night at Consol Energy Center in 5-0 drubbing of the 8-seeded New York Islanders.
The goal scorers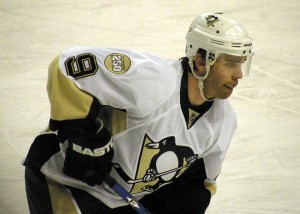 Beau Bennett, Pittsburgh's rookie left winger, kicked things off at 3:30 of the first period with an incredibly accurate seeing-eye shot that beat Isles goalie Evgeni Nabokov far side and over his right shoulder. Bennett took a feed from Evgeni Malkin, skating down the right side at the tail end of a Pens power play, and threw the wicked wrister in the net for the 1-0 Penguins advantage.
Then, just about ten minutes later, following a brief scrum in front of Nabokov, Pascal Dupuis pounced on a loose puck (this would be recurring theme tonight) and fired it in to give Pittsburgh the early 2-0 lead.
In the second period, just under a minute into the action, the Islanders' Marty Reasoner took a tripping penalty. On the ensuing Pens power play, Jarome Iginla found Kris Letang in the left faceoff circle, and Letang scorched a wrist shot past Nabokov for the 3-0 Pens lead.
No more than 20 seconds later, Nabovov took a rocket a Jarome Iginla slap shot directly off of his forehead that temporarily disoriented him. He crumbled to the ice waiting on a member of the Islanders' training staff. After a few minutes of chatting with the trainer, Nabokov decided to stay in the game. And that was a mistake, as within 30 seconds of Letang's goal, Pascal Dupuis struck again, in the same fashion as before. Finding a loose puck from a Mark Eaton shot that Duper cooly slipped a backhand shot past a down and out Nabokov for the 4-0 lead. That would end Nabokov's night, as Isles' head coach Jack Capuano put it "I wasn't going to leave him in there and hang him out to dry."
Tanner Glass would hammer home the final nail in the Islanders' game 1 coffin by beating new goaltender Kevin Poulin for the final 5-0 margin, and the route was complete.
Penalty kill finds past form
The Islanders had four power plays, and the Penguins penalty kill kept them at bay all night. The Pens had their sticks in the passing lanes, not allowing many cross-ice passes to get through. If a Penguin player found the puck, he cleared it. The Islanders didn't cause a whole lot of traffic in front of Marc-Andre Fleury, either. All told, in four man-advantages, the Isles couldn't even muster much zone time, let alone many shots. They had six total in the four power plays.
Fleury beginning to exorcise demons
He faced 26 shots. He made 26 saves. Marc-Andre Fleury began these playoffs in the same way he ended his regular season: by being stellar in net. It helps when your teammates play good defense in front of you, but Fleury did everything he had to to preserve his team record-tying 6th playoff shutout (Tom Barasso).
Multiple chants of "Fleury, Fleury, Fleury!" were heard throughout the Big Coal Mine all night, and especially as the clock wound down under one minute to go in the game. The fans knew what this shutout meant for Fleury and his confidence.
Final thoughts
This was domination at it's best. The Penguins befuddled the Islanders at every turn. They were physical with the top two Isles' lines, and he Pens cashed in when the opportunity presented itself. All in all, this was a team win in every aspect that it could be. Offense, defense, goaltending and special teams all played a major factor, and the Penguins came out on top in every category.
That said, I fully expect the Islanders to come out in game 2 with more fire, passion, and intensity. The youngsters have now tasted playoff hockey. It's up to them to take their game to the next level. If they don't, this will be a very short series.
Of note
James Neal left the game just after absorbing a hit during the shift in which Dupuis scored his second goal. Neal remained on the ice through the shift and the goal being scored, but he did not return. He was seen leaving Consol Energy Center this afternoon with a noticeable limp, but no cast or other visible signs of an injury. Head coach Dan Bylsma offered no update on his condition.
Jussi Jokinen also left the game with just over two minutes remaining after taking a vicious check from Marty Reasoner. Reasoner was assessed a 5-minute major for kneeing and a game misconduct. In the scrum the followed, the Islanders' Travis Hamonic, Matt Moulson, and Casey Cizikas, along with Pittsburgh's Pascal Dupuis, Douglas Murray and Jarome Iginla were all assessed 10-minute misconduct penalties.
Jokinen did speak with the media this afternoon and announced himself ready to go for tomorrow night, although I'm sure Dan Bylsma's lineup will be a game-time decision.
That's all for now, dear readers. Check back often for my game recaps and expanding story lines for the series. The playoffs are in full swing, and I for one, couldn't be happier!
Twitter is the best way to keep up with me, and if you're not following me, then shame on you for six weeks. Please do so here: Follow @TDT_Pens4Life
One last thing: if you are following me on Twitter, please retweet my articles any chance that you get. I would greatly appreciate that! Thanks for reading!!
Here in Pittsburgh:
"It's a great day for hockey!!"
Pittsburgh, Pa. Class of 2000 graduate from Robert Morris University with a B.A. in Mass Communications. Full-time objective sports fan.