A raucous capacity crowd at the Bell Centre was stunned to silence late in the second period as a pool of blood collected on the ice, gushing from the nose of Lars Eller. As Eller received a breakout pass from Raphael Diaz, Ottawa's Eric Gryba stepped up and flattened the Habs center with a blindside hit.
Gryba was given a five minute major and ejected from the game; Eller was taken off the ice on a stretcher and eventually brought to hospital with a broken nose and probable concussion. Whether Gryba will face additional discipline isn't yet known and whether he deserves it is up for debate. Have a look at the video below and decide for yourself.
Eric Gryba's open-ice hit on Lars Eller
What's clear is that Eller won't be back on the ice for game 2 of the series, and probably much more than that. If he did suffer a concussion he will likely miss the rest of the playoffs.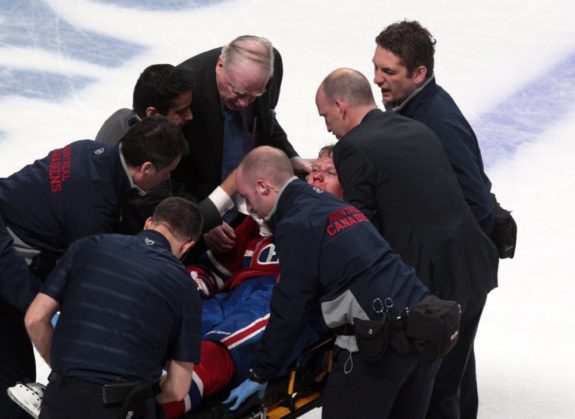 What isn't clear is whether or not supplemental discipline is coming for Gryba. TSN's panel, including former NHL referee Kerry Fraser, unanimously agreed that the hit was not suspension-worthy. In fact, the panel even debated whether there should have been any penalty called on Gryba at all. Fraser's view is that Gryba did a good job lining up Eller and made clean, body to body contact.
Montreal Gazette writer, Dave Stubbs, offered a completely different view of the hit on Twitter.
That was headhunting in the worst way imaginable on a player who was completely vulnerable #Habs #Sens

— Dave Stubbs (@Dave_Stubbs) May 3, 2013
After the game, Senators coach Paul MacLean placed the blame squarely on Raphael Diaz for making the pass and on Lars Eller for accepting it with his head down. Speaking about the hit, MacLean said "If I'm Eller… I'm really mad at (Diaz). I think that it's a hockey play that ended up going bad for Lars Eller." And MacLean was not alone in his view of the play.
Kevin Paul Dupont of the Boston Globe perhaps summed up these collected viewpoints best. His view of the reaction to the hit was this:
Blame the passer.Blame the receiver.Exonerate hitter.Got it. It wasn't the hurricane that tore my house apart, but where I built it.

— Kevin Paul Dupont (@GlobeKPD) May 3, 2013
Even Dave Stubbs changed his tune by morning, not quite placing the blame on Diaz, but certainly exonerating Gryba:
Tweeted last night Gryba headhunted. I was wrong. Confluence of events produced horrific hit w/ awful end. Hope Eller mends well #Habs #Sens

— Dave Stubbs (@Dave_Stubbs) May 3, 2013
While the loss of Eller, and subsequently, the loss of game 1, will certainly hurt the Habs' chances of advancing to the second round, coach Michel Therrien remained confident. "I thought our effort tonight was good and we got to keep playing the same way," Therrien said after the game.
He may very well be right. After all, if the Canadiens can out-shoot the Sens 50-31 every game and take a lead into the third period, you can expect the Habs to win more often than not.
Rob has been blogging about the Habs since 2011 at MontrealHockeyTalk.com and can usually be heard before every Canadiens games on the MHT Pregame Show.