The 2013 Colorado Avalanche season has mercifully come to an end. The season, as a whole, was definitely a disappointing one for the Avalanche, who had such high hopes at the start of the season.
Finishing dead last in the Western Conference is not where this team should be, but there it is. Perhaps some of these grades will help to explain why the team finished as low as they did. So, here is my second part of my grades for the Colorado Avalanche during the 2013 season.
Grading the Forwards
P.A. Parenteau: Grade – A+
Parenteau might have been the best offseason move of any team in the NHL, let alone just the Colorado Avalanche. His production was just barely beneath a point per-game and he was simply fantastic. He had great chemistry with Matt Duchene, helped the power play and was everything that the Avalanche could have wanted and more. He earned every penny of his contract with his production and by not missing a game all year.
Matt Duchene: Grade – A+
Duchene also had a fantastic year and finished the season tied for the team lead in scoring with Parenteau. Duchene really came into his own this season after a disappointing season a year ago. He re-dedicated himself in the offseason, changed his diet, increased his workout regiment and it all paid off this year. Duchene was a stronger, faster, healthier and more confident version of himself than we've ever seen. Can't wait to see what he does with next season.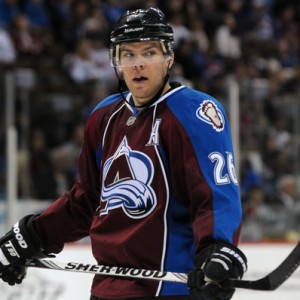 Paul Stastny: Grade – C
Stastny battled through injuries and through having to play with a non-existent David Jones. He was used a lot as a defensive center this season and his numbers suffered a bit for it. Nonetheless, he continued his streak of finishing in the top three on the Avalanche in scoring, even though he played seven fewer games than the others near the top. Stastny will hopefully be used better by his next coach and get back to his 70 point form.
Jamie McGinn: Grade – C
McGinn scored 11 goals this season and also had 11 assists. He went through a bit of a slump in the middle of the season before finally finding his game. McGinn really turned up his physical game later in the season and has shown flashes of great play this year, just none of it was consistent enough. McGinn had an okay year, but nothing really to brag about.
John Mitchell: Grade – B+
Mitchell gets a very high grade because nobody expected the type of production out of him that he gave this year. 10 goals was definitely not something that Avalanche fans were expecting from the guy expected to replace Jay McClement on the third/fourth lines. Mitchell even ended up on the top line as a left-wing towards the end of the season. That really didn't make any sense, but it showed how much faith the team had in him. He will likely return to that third/fourth line center position next year.
Ryan O'Reilly: Grade – B
20 points in 29 games for O'Reilly, which isn't bad at all. The main storyline with O'Reilly for the year, however, was his hold out. It definitely wasn't entirely O'Reilly's fault for letting the contract issue get as out of hand as it did, but he does share a great deal of blame. Once he got back on the ice he definitely looked ready to be a player for this team. He looked faster and stronger than a year ago and his production was good. Now we can just hope that another one of those ridiculous contract disputes isn't waiting for us at the end of next season.
Gabriel Landesk0g: Grade – C
Landeskog had a tough season this year, and there's a lot of reasons why. Second year in the league, spotlight of being the youngest captain in NHL history and, most importantly, dealing with injury. Landeskog dealt with a head injury early in the season and had some issues coming back from it. He just didn't seem the same. Landeskog did, however, manage to tally three shorthanded goals this year.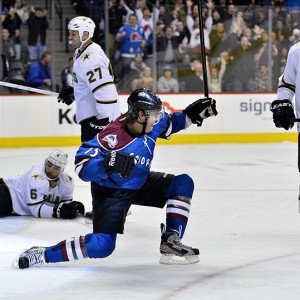 Cody McLeod: Grade – A
Cody Mac finally got a chance to show everybody what he could do this year and didn't disappoint. McLeod proved that he is more than just a guy who can fight, he can be on the ice whenever you need him. McLeod earned time on Colorado's second line, second power play and penalty kill with his impressive play this year. Even ending up with a five goals in five games stretch near the end of the season. Huge props to McLeod.
Milan Hejduk: Grade – Incomplete
Hejduk was a healthy scratch a lot towards the end of the year and also dealt with some injuries. It was very sad to see Hejduk being sat out in what could be the final year of his career. He deserved to go out on better terms.
David Jones: Grade – F
David Jones signed a big contract at the end of last season and did absolutely nothing to show it was worth it this year. Jones had three goals all season long and was a consistent healthy scratch down the line. He was horrible all year.
Aaron Palushaj: Grade – Pass
A wavier-wire pickup early in the year, Palushaj brought a lot of energy to the Avalanche. He found himself in and out of the lineup a lot but was still able to produce some energy and some points when in the lineup. There is still a lot to get to know about Palushaj, but he proved that he belongs on an NHL roster.
Chuck Kobasew: Grade – Pass
Another guy who was in and out of the lineup a lot this year, but you expect that with Kobasew. He played his role well and did what was expected of him, so he gets a passing grade.
Mark Olver: Incomplete
Olver pretty much became the guy that traded healthy scratches with Aaron Palushaj, which didn't really seem right. Olver gives strong effort every night and can play in a lot of situations. In one fewer game, Olver had more goals than Colorado's $16 million man, David Jones. When Olver is in the lineup the team is usually scrappier, so it never really like it when Olver gets caged.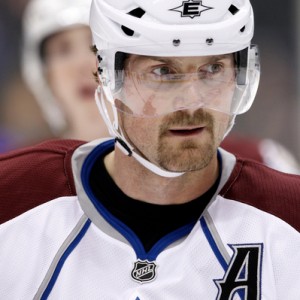 Patrick Bordeleau: Grade – A
Bordeleau proved that he could be both a legitimate NHL Heavyweight but also be a responsible player for his team. Bordeleau has spent all of his career in the minors, before this year. So to see him not only get the shot to make the NHL team but then become a mainstay was great to see. After fights like this one, don't be surprised to see him stick around for a long time.
Players Not Graded
Brad Malone, David van der Gulik, Tomas Vincour, Steve Downie and Michael Sgarbossa all played in only a handful of games, so they will not be graded.
Forwards Grade As A Whole – D+
Some great highs but far too many disappointments as a whole for these forwards. Hopefully a new system will help them figure things out when the 2013 – 2014 NHL season begins.
I'm a Denver native who has been a fan of the Avalanche since they came to town and a fan of the game before that. I started writing my own blog a couple years ago before moving to Bleacher Report and becoming a Featured Columnist there. You can also find me the Burgundy Brigade Podcast