Milan Hejduk has worn only one jersey his entire NHL career. He has never known another NHL home crowd than those that have crowded the Pepsi Center and the old McNichols Arena. He has had so many wonderful memories as a member of the Colorado Avalanche, and he now comes into what may be the final games of his NHL career.
As we count down what may easily be the final days of Hejduk's career, it has become obvious that Father Time has caught up with the old sniper. Hejduk's numbers have plummeted each of the last two seasons, but even with that drop in his production he has not deserved to be the consistent healthy scratch he has been of late under Joe Sacco.
I do believe Hejduk will play his last game Saturday in the Pepsi Center, and it's a shame that such a brilliant career will have to come to an end the way that it has.
Young Stud
Milan Hejduk has flown under the radar on the Avalanche ever since the beginning of his career. It started right at the beginning when, despite leading rookies in scoring, fellow Avalanche rookie Chris Drury took home the Calder Trophy and was under a biggest spotlight.
It's true that Drury always had a knack for scoring big goals, but Hejduk showed his ability to do so early in his career as well, scoring winning goals in the playoffs during his rookie season. Hejduk made a huge jump in his second year, tallying 36 goals in his second season and improving his overall point total of 24 points.
In his third season with the Avalanche, a year in which Colorado won the Stanley Cup, he broke the 40 goal mark for the first time in his career. That same season he had his best playoff statistics as a professional, putting up 23 points in 23 playoff games on the way to Colorado's second Stanley Cup championship.
Yet, even with all these accomplishments in his first three seasons, Hejduk was never really the talk of the Avalanche. Part of that was because he played with future Hall of Famers like Joe Sakic, Patrick Roy and Peter Forsberg (Yes, I know Forsberg has yet to be inducted to the Hockey Hall of Fame), but the other part of it is how he has always carried himself. He's not a flashy guy. With one very notable exception, Hejduk has never been a guy with big celebrations after he scores. He scores, puts his stick up and then joins the celebration. No need for and any theatrics.
Career as an Avalanche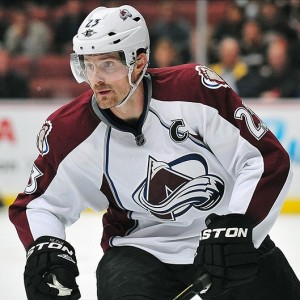 Hejduk's career numbers are outstanding, especially when you remember that he played much of his hockey during the "Dead Puck" era of trap defenses. Since the team moved to Colorado, nobody has played more games in an Avalanche jersey than Milan Hejduk, who has over 1000 games in the burgundy and blue. Joe Sakic holds the all-time franchise record, if you go all the way back to Quebec, but even "Super Joe" hasn't worn the sweater as long as Hejduk has.
Hejduk's 805 points are second in the history of the Colorado Avalanche, only to Joe Sakic. He is also second to Sakic in goals as a member of the Colorado Avalanche, but not by much.
Sakic has a grand total of 625 goals in his career, but only 391 as a member of the Avalanche. Hejduk's 375 goals fall well short of Sakic's career numbers, but speaks volumes about the time period he spent on the Avalanche and his ability to keep pace with the greatest of all the Avalanche.
Looking at the all-time leaders for the major statistics, Hejduk is part of all of them. Goals, assists, points, plus/minus, all of them include the name Milan Hejduk. Keep looking at shots, game-winning goals, power play goals, you get the point.
Accomplishments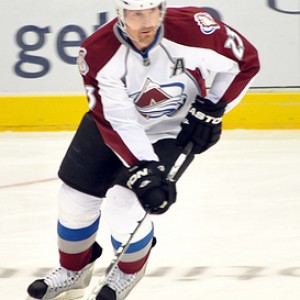 The stat sheet is pretty impressive for Milan Hejduk, but his trophy shelf is also pretty amazing.
Hejduk was impressive right from the start of his career, making the 1998-1999 All-Rookie Team. Hejduk continued to impress and has appeared in three All-Star Games, and was a second team All-Star in 2002-2003. His consistency was also amazing, which was illustrated by his 11 straight seasons of scoring 20 goals or more.
His scoring touch certainly helped Hejduk earn some recognition as he captured the 2002-2003 Rocket Richard Trophy as the league's leading goal-scorer and also won the Bud Light Plus/Minus award in the same season. Hejduk was also a Stanley Cup Champion in 2001.
Hejduk was also very successful in international play. Hejduk has an Olympic gold medal (1998) and bronze medal (2006). He also has a bronze medal for the World Championships back in 1998. He simply has been successful in everything that he has done that is hockey related.
Final Farewell?
If this is indeed Hejduk's last season, which is still up in the air, his last two seasons will not have been indicative of what a great career he has had. It will also be a complete disgrace to the franchise that they will have allowed one of their all-time greats to be constantly, and embarrassingly, scratched by a coach who has no idea how to formulate a lineup.
Milan Hejduk is one of the top-five Avalanche players of all time, and he deserves better treatment and more respect at the end of his career. No matter what, Avalanche fans will always remember what an amazing player Hejduk was. Consistent, classy, team-oriented and brilliant. Colorado loves you, Milan.